Bitcoin (BTC) could see some short term upside as the price is consolidating and in a good position to test the 38.2% fib retracement level from current levels. That move might also coincide with a test of the previously broken ascending channel. In my opinion, for the price to begin a strong downtrend, we have to see a retest of the previously broken trend line support turned resistance. A rejection at that trend line will be key to the price changing direction but at the moment, the RSI and the Stochastic RSI on the 4H time frame indicate that there is ample room for the price to rally short term. BTC/USD is struggling to break past the 21 EMA on the 4H time frame while it has found support on the 50 EMA.

Recent developments in the market have confused a lot of traders into believing that we might be on the verge of a major uptrend. A lot of influencers on Crypto Twitter that had been silent for a long time came out to start talking about how "this is the last time to buy Bitcoin (BTC) under $10,000". Bakkt trading volume has suddenly spiked by 800% which is bullish news for retail traders because this is all that matters to them. They do not want to think about lawsuits against Tether/Bitfinex or what central banks are thinking about privately issued digital currencies. In my opinion, there are some serious threats looming over but nobody wants to think about that when we have such big pumps to the upside that gets everyone all excited again.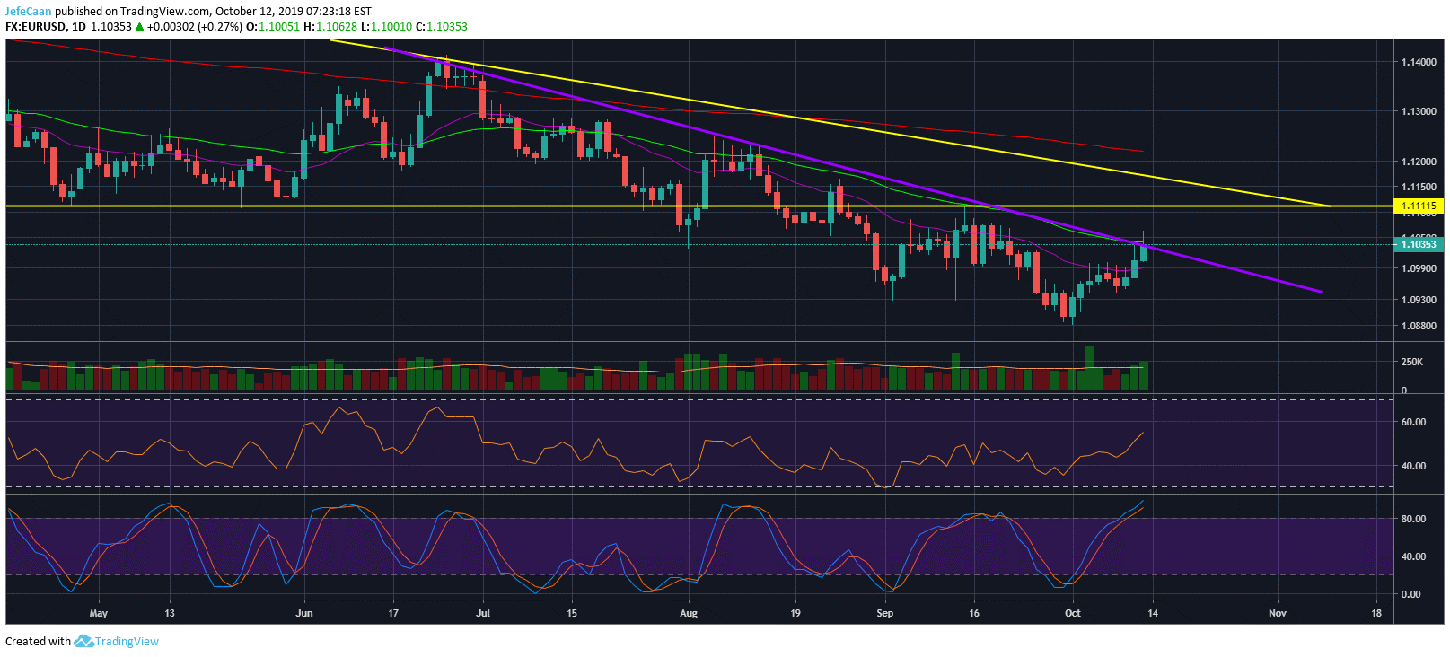 The EUR/USD pair recently showed a lot of bullish signs and we saw it break above the 50 day EMA but interestingly enough, it had to close below the 50 day EMA just as it did before in August, 2019 after which a major downtrend followed. In my opinion, what is happening on larger markets like in the EUR/USD forex pair and the S&P 500 (SPX) influence what happens in smaller markets like the cryptocurrency market for the most part. This is why I think the Friday's close in EUR/USD forex pair hints that we might see another downtrend next week.
Bitcoin (BTC) is very fond of making moves on weekends when larger financial markets are closed. These moves are often misleading but they have serious implications. This is why I think we are still likely to see a big move in BTC/USD this weekend despite the bearish outlook of major financial markets. It could be an attempt to shake out the bears and trap in more bulls before the inevitable begins to happen. I think it is important for traders to keep a level head and not be distracted by short term movements in this market because it may be easier for the market makers to influence the price short term but it is not easy for them to change the big picture.