Bitcoin (BTC) could rally a lot higher from current levels if EUR/USD ends up breaking a key trend line resistance. This would have a very high probability of leading BTC/USD into doing the same. If Bitcoin (BTC) ends up breaking the downtrend it has so far respected, then we're looking at a rally towards the 61.8% fib retracement level and potentially higher. This would be around $9,200 but the price could rise further to shake out some bearish positions and to lure retail traders into longing the market. Such a breakout would mean that the price might rise above the 200 EMA on the 4H time frame which would make it very hard not to be bullish on Bitcoin (BTC) near term.

We have been repeatedly discussing the bearish case both long term and short term but now a changing outlook on the EUR/USD could mean further short term bullishness for the cryptocurrency market. We alluded to this in some of our previous analyses. Even though the EUR/USD forex pair has yet to confirm a trend reversal, the probability of it doing that is quite high at the moment considering how the 50 day EMA was breached. This would be the ideal time for traders to look for potential long opportunities both on EUR/USD as well as Bitcoin (BTC). However, it is very important to realize that the trend remains bearish short term until we have a breakout that confirms a trend reversal. In the case of EUR/USD, this would be successive daily closes above the 50 day EMA whereas in the case of Bitcoin (BTC) it would be a rally past the existing trend line resistance.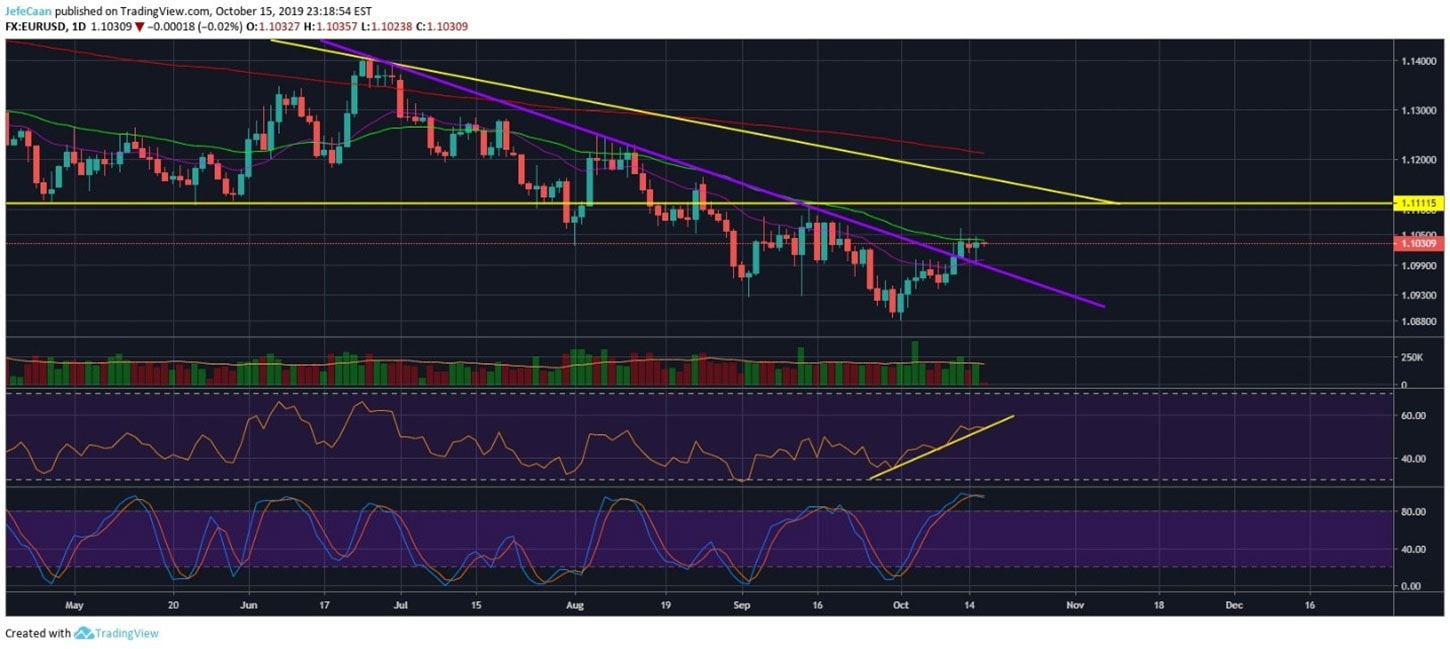 The daily chart for EUR/USD shows that the pair is still struggling to break past the 50 day EMA. It beached the 50 day EMA previously after it pierced through the 21 EMA but soon faced a strong rejection and failed to break above the 50 day EMA. At the moment, we see a bullish outlook on the RSI that signals further upside but the Stochastic RSI tells us that any upside from here would be short-lived. In my opinion, this would give Bitcoin (BTC) enough room to test the 61.8% fib retracement level. As for EUR/USD, if we see a trend reversal that would mean a retest of the previously broken support turned resistance at the descending triangle.
There is not much that supports a long term bullish outlook on EUR/USD or BTC/USD but short term we could see further upside to inflict more pain on retail bears. It is quite unfortunate how retail traders fall for the same antics over and over again but if it weren't for this, we wouldn't have a market. It's a zero sum game meaning someone has to lose money in order for others to make money. This means that someone has to buy or sell at the wrong price. It is thus important to understand the moves of people that control the market in order to make good trades in this market.