The owner of the 'Aiea shop started making chocolate-dipped strawberries as a Valentine's Day treat when she was still in high school.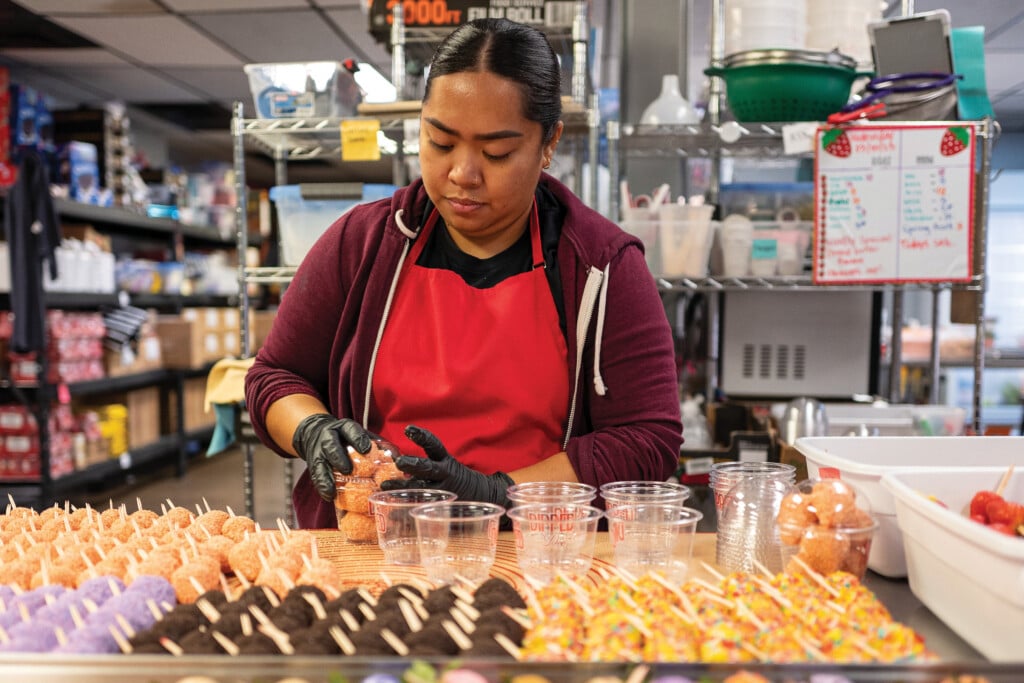 One of Dipped by Dee's 20 employees prepares a cup of Berry Bitez: stemless strawberries dipped in white chocolate with a strawberry shortcake topping. Chocolate-dipped strawberries, along with caramel apples and cheesecake cups, are the 'Aiea business's most popular products.
Owner Daniela Fry started making chocolate-dipped strawberries as a Valentine's Day treat nine years ago while a senior in high school. She says she loved the reactions she received from her friends, family and classmates, who kept asking for more. She studied business at the University of New Mexico and used her winnings from business plan competitions to launch Dipped by Dee in Hawai'i in 2018.
Each day, the Dipped by Dee team handmakes 500 to 800 dipped strawberries, plus 75 to 100 caramel apples and 50 cheesecake cups. The strawberries come in 10 flavors, including dark chocolate, cookie butter and ube. The apples come in 25 flavors, and the cheesecake cups in four. The business also sells cheesecake tarts, breakable chocolate hearts and other sweets.
Fry says team members spend three to four hours each morning dipping strawberries and apples into chocolate. The most time-consuming part is preparing the fruit, she adds.
Dipped by Dee uses about 50 pounds of chocolate a day. Fry says much of the design inspiration comes from social media and her passionate and dedicated team, though customers also request custom orders. Dipped by Dee recently made caramel apples that looked like Stitch from the movie "Lilo and Stitch," and the ears were made from Rice Krispies treats.
"We pride ourselves in creating products that are pretty and packaged nicely," Fry says. "A lot of our customers sometimes say that some of our apples, especially the super detailed ones, or even the strawberries that are super detailed, are too pretty to eat. But I think the best part of our product is not only do they look good, but they taste better than they look."