Ethereum (ETH) is on the verge of a massive decline as it nears a break below the descending triangle. This move is going to be extremely devastating for Ethereum (ETH) amid waning altcoin confidence. Some contrarian traders are taking this is an opportunity to buy Ethereum (ETH) and other altcoins hoping the sentiment would reverse but it is important to realize that the market can stay irrational longer than you can stay solvent. Ethereum (ETH) and other altcoins have taken a massive hit against Bitcoin (BTC) but that does not mean things can't get worse if the market begins to decline from here. We are now on the verge of a major decline in Ethereum (ETH) that might see confidence in altcoin decrease further as they fall more aggressively than Bitcoin (BTC).
The 4H chart for ETH/USD shows the price testing the top of a descending triangle. It is now close to making a decisive move. Either it will break to the upside and break past the descending triangle which is not only unlikely but also unreasonable. It will raise a lot of doubts and professional traders would be reluctant to get in. It could still happen though if there are retail bulls left that the market makers can shake out, but they would also be risking the shorts stacking up in the case. In any case, this is one of the worst times to be buying Ethereum (ETH) or any altcoin. Best case scenario, we might see a failed rally to the upside which might be followed by further downside. Worst case scenario the price could decline sharply and you may not be able to get out of your positions on time.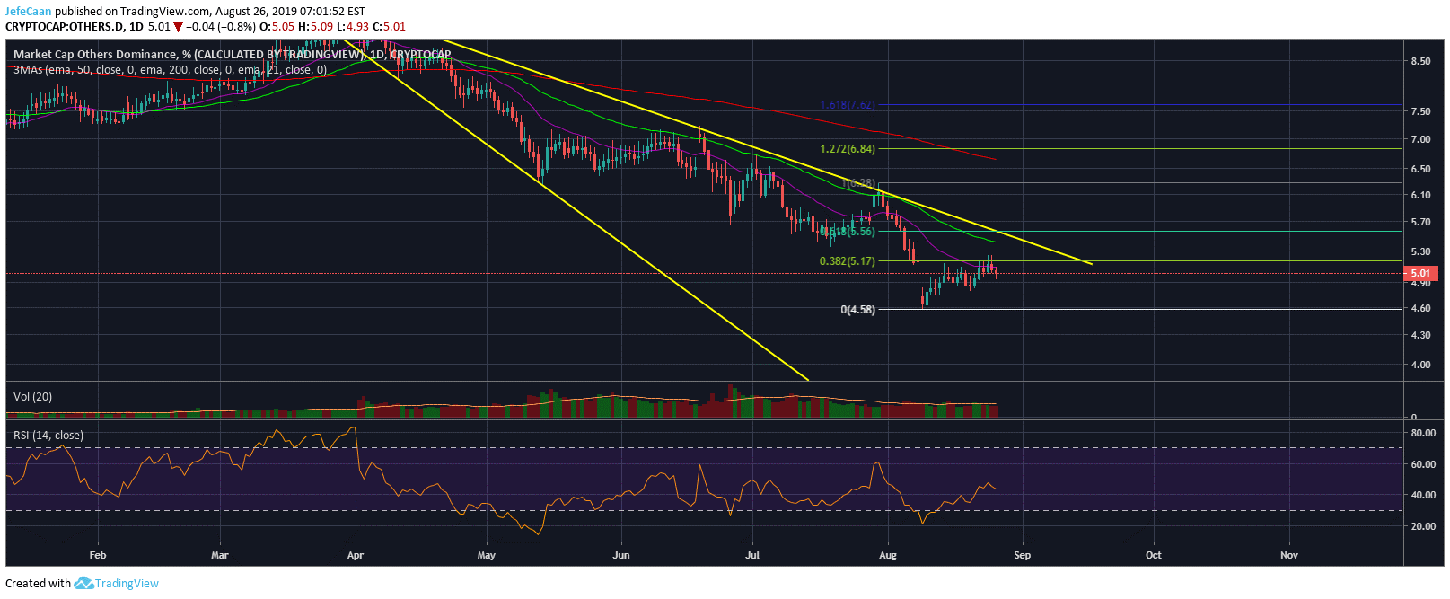 The daily chart for Altcoin Dominance (Others.D) shows that we now have a rejection below the 38.2% fib retracement level. This might be an indicator of further downside to follow in altcoin dominance. If we look at the chart, we can see that altcoin dominance has a lot of room to fall if it fails to rise above the 38.2% fib retracement level again. This means that as tempting as it may be to get into altcoins at this point in anticipation of a trend reversal, the risk/reward just isn't worth it.
Ethereum (ETH) and other altcoins have little purpose to serve in times of a financial crisis. While Bitcoin (BTC) may be used as digital safe have asset like Gold in the best case scenario for Bitcoin (BTC), Ethereum (ETH) and other altcoins have no such use case. Unlike Bitcoin (BTC), Ethereum (ETH) does not have a limited supply and is not as decentralized or widely adopted. This is why it may not be a good time to start buying Ethereum (ETH). If you do buy Ethereum (ETH) at these prices, then if you are lucky you may see a short term move to the upside which will eventually be followed by significant downside as the bear market is not over yet. On the other hand, if you are not lucky, you might see the price decline to $80 and eventually lower than that in the weeks and months ahead.