Ethereum (ETH) is on the verge of one of a devastating decline. No number of relief rallies to the upside that temporary raises bullish morale is going to change that. There is a difference between bullish sentiment and bullish setup. Sentiment does not take much to change but the setup takes a lot to change and what we see before us on the 4H chart for ETH/USD is a bearish setup. The price is trading within a strong downtrend inside of a descending triangle. This triangle is now very likely to be broken to the downside during the next decline which is what all this stop hunting to the upside has been about. The market makers do not want the bears onboard when the price crashes to $144 from here and eventually decline below $80.
 At every point, the bulls will be given a chance to buy the dip and when they do, they will be trapped. The market makers will try to milk the market for as much bulls as possible while keeping a balance. They can trap a lot of bulls and shake out a lot of bears if they keeping pumping the price up with wash trading and Tether pumps but they also have to take into account the fact that shorts are going to pile up if they keep doing this. So, if the price goes up retail bears try to short, if it goes up even higher, professional traders get in and if it goes even higher institutional investors spot a play and they get in. So, most of these exchanges that rely on 90% of fake wash trading cannot afford to play such games with the big boys, so they keep it small and manageable. In other words, they know their limitations well.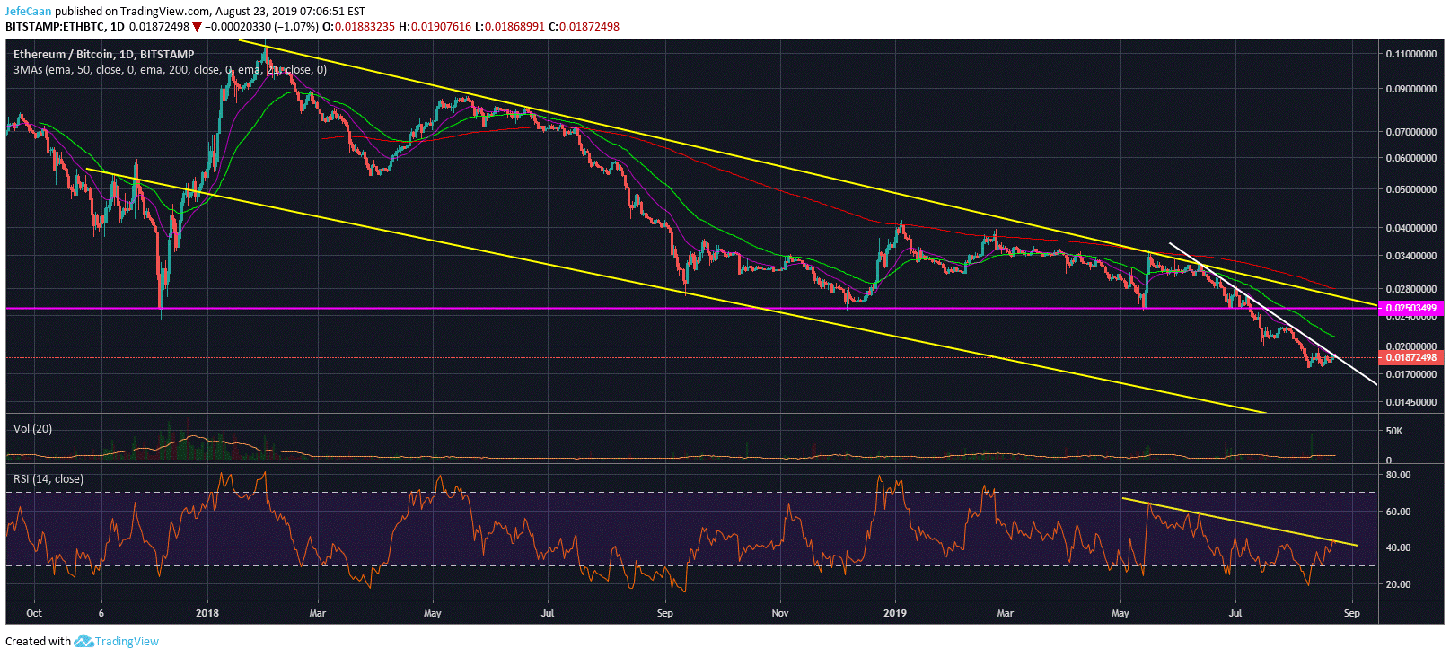 Ethereum (ETH) is not only primed for a major decline against the US Dollar (USD) but it is also primed for a massive crash against  Bitcoin (BTC). The daily chart for ETH/BTC shows that we are now close to seeing the pair decline to the bottom of the descending channel. This crash is going to be brutal and all that bullish euphoria that we see in the market right now will be obliterated in every sense of the word. That being said, this is not the maximum pain scenario.
Maximum pain was traders shorting BTC/USD at $5,000 only to see it rising close to $14,000. What will be the maximum pain scenario for the bulls? Imagine buying at $10,000 only to see the price fall to $1,200 towards the end of the bear market. If you have margined longs then there is a high probability that you will be liquidated unless you are using low leverage or have your risk management game in place. We have finally seen cracks within the foundation and this whole thing is going to collapse like a house of card very soon as the forex, stock and bond markets make their next big move. If you are holding Ethereum (ETH), your concern should not only be how low it is going to fall, but whether it will survive the crash or not.