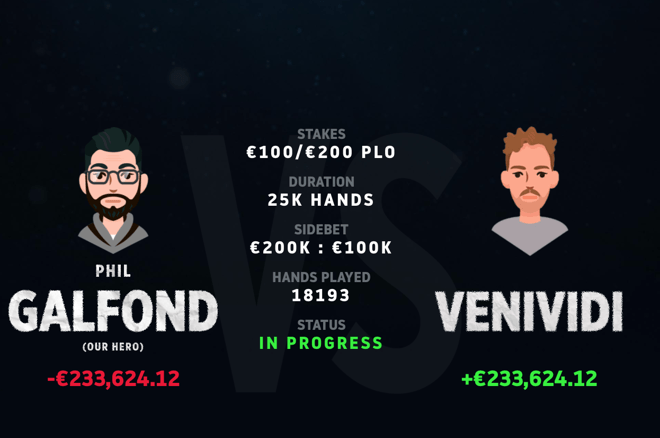 After Phil Galfond delivered a series of six-figure beatings to "Venividi1993" in their heads-up €100/€200 pot-limit Omaha match on Run It Once Poker, the mystery grinder decided he needed a break.
Just like when Galfond was stuck nearly €1 million, the €600,000 swing in Galfond's favor evidently weighed on Venividi enough to have him request a break and be willing to pay the €3,000 per day penalty. After several days away from the tables, they got back to it for the 29th session of the challenge.
They played a swingy session that saw Galfond rocket up to €160,000 ahead, giving hope he could get the deficit under six figures. However, Venividi stormed back and booked only a mild loss. Still, the stage is set for an exciting finish as about 7,000 hands remain.
SEE ALSO: PLO Poker: A Beginner's Guide to Pot-Limit Omaha
Check out the latest promo on Run It Once Poker: Splash the winnings, where Phil Galfond redistributes some of the money he wins in his Challenge matches!
Day 29
Galfond got off to a good start as he stacked Venividi right off the bat in a hand that wasn't captured on the archived video. He also won several other pots and was ahead around €35,000 moments in.
A huge upward swing started for Galfond about 160 hands in when he called a three-bet with a trashy
and flopped all three pairs on a rainbow board. Venividi opted to check-raise pot with nut wrap and two backdoors but bricked out as wheel cards hit the turn and river. Venividi then bluffed all in drawing almost dead on
. Galfond had flopped a full house with
while Venividi needed the
holding
. A six hit but it was the
and Galfond was suddenly north of €90,000 in profit.
About 75 hands later, Galfond slowplayed the flop with
on
and was rewarded when Venividi potted most of his stack on the
turn. He had improved with
for a double gutter and a flush draw, but the river was a
. Just a few hands later, Galfond potted for €7,200 on
and Venividi crammed for €16,400 with
for two pair and a spade draw. Galfond had better two pair with
and held on the river.
It looked like another six-figure Galfond feasting was in the offing, but Venividi started to turn things at about the 350-hand mark. He got extremely lucky after check-called pot for €3,600 on
, seeing an
river. He checked and shoved for €15,400 over Galfond's half-pot bet. Galfond called with sixes full of sevens but Venividi had hit a two-outer with
.
Galfond crept back up to +€160,000 but the final 150 hands or so were almost all Venividi. Galfond bluffed off a stack check-raising all in on the river with a flush blocker, only to have Venividi make a nice call with a small flush. Galfond tried his own hero call with a nine-high flush as Venividi bet small on
then shoved three-quarters pot on the
river. Much to the fans' chagrin, Venividi had it with
.
Having cut his deficit to five figures, Venividi wasn't done. He cut Galfond's win to €60,000 before Galfond recovered during the closing stretch to book a medium-sized win.
Hands Played: 642
Results: Phil Galfond +€85,271.31
Full session video