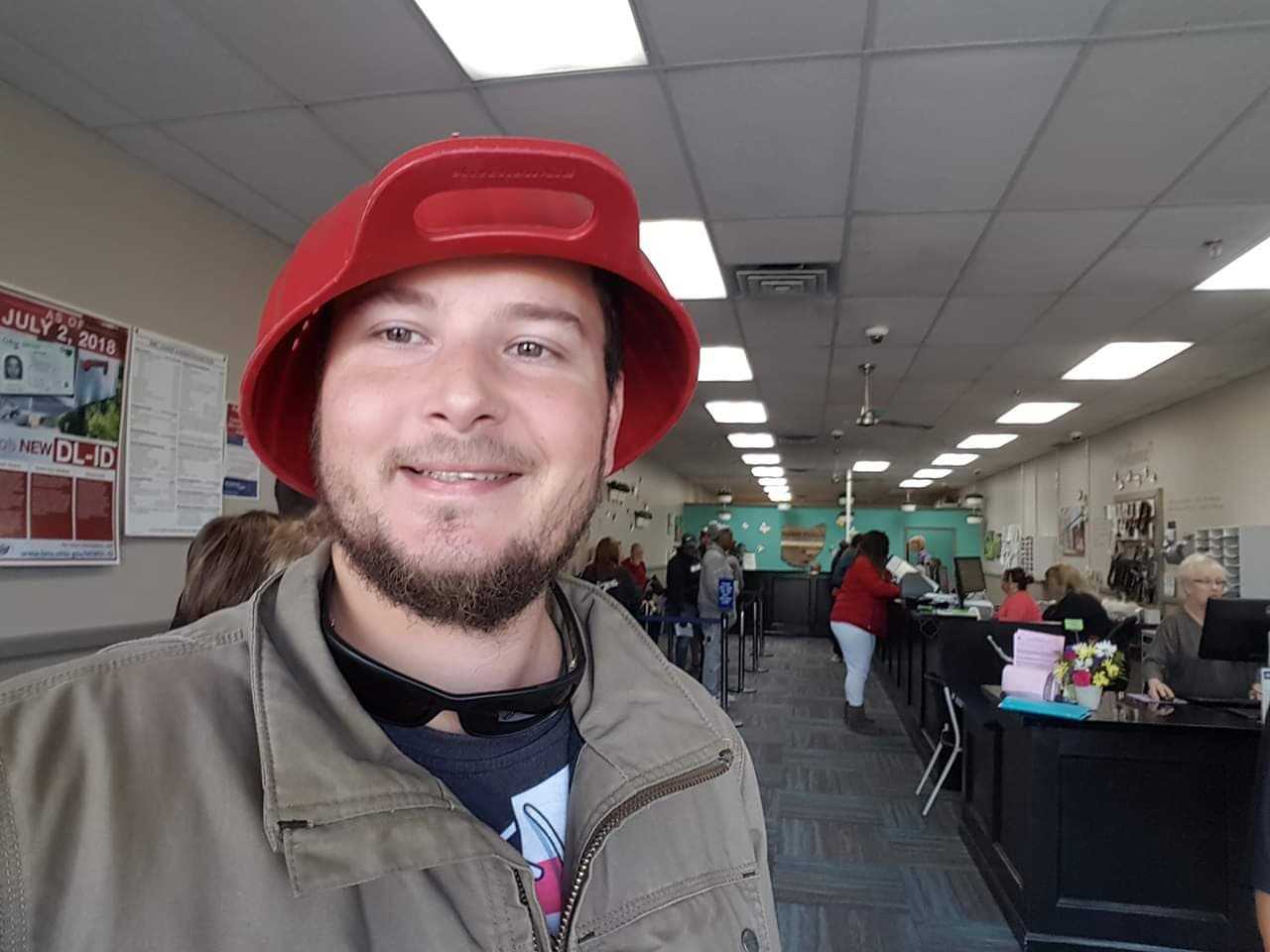 An Ohio man claiming religious discrimination in a fight for him to wear a colander on his head as part of his driver's license photo has a national organization fighting on his behalf.Richard Steve Moser III, of Cincinnati, went to several Ohio Bureau of Motor Vehicles locations last year in an attempt to find a one that would take his photo wearing the pasta strainer but was unsuccessful, The Columbus Dispatch reported.Moser told the newspaper that the colander he's attempting to wear in the photo is a religious symbol of the satirical Church of the Flying Spaghetti Monster."Every other religion, they're allowed, so why shouldn't I be?" Moser told The Dispatch.The American Humanist Association is fighting on his behalf, claiming the Ohio Bureau of Motor Vehicles' denial is unconstitutional and discriminatory.Moser has even started a Facebook group for other Pastafarians in Cincinnati, which has nearly 200 members.However, in a letter dated Oct. 11, the Bureau of Motor Vehicles contends the pasta strainer could only be considered proper religious headwear for license photo purposes as "a head covering used in conjunction with a recognized religious purpose but only if usually and customarily worn whenever the person appears in public."In 2015, a Massachusetts woman and Pastafarian was granted the right to wear a colander in her driver's license photo, according to the American Humanist Association."As a member of the Church of the Flying Spaghetti Monster, I feel delighted that my Pastafarianism has been respected by the Massachusetts RMV," Lindsay Miller said at the time. "While I don't think the government can involve itself in matters of religion, I do hope this decision encourages my fellow Pastafarian Atheists to come out and express themselves as I have."
CINCINNATI —
An Ohio man claiming religious discrimination in a fight for him to wear a colander on his head as part of his driver's license photo has a national organization fighting on his behalf.
Richard Steve Moser III, of Cincinnati, went to several Ohio Bureau of Motor Vehicles locations last year in an attempt to find a one that would take his photo wearing the pasta strainer but was unsuccessful, The Columbus Dispatch reported.
Moser told the newspaper that the colander he's attempting to wear in the photo is a religious symbol of the satirical Church of the Flying Spaghetti Monster.
"Every other religion, they're allowed, so why shouldn't I be?" Moser told The Dispatch.
The American Humanist Association is fighting on his behalf, claiming the Ohio Bureau of Motor Vehicles' denial is unconstitutional and discriminatory.
Moser has even started a Facebook group for other Pastafarians in Cincinnati, which has nearly 200 members.
However, in a letter dated Oct. 11, the Bureau of Motor Vehicles contends the pasta strainer could only be considered proper religious headwear for license photo purposes as "a head covering used in conjunction with a recognized religious purpose but only if usually and customarily worn whenever the person appears in public."
In 2015, a Massachusetts woman and Pastafarian was granted the right to wear a colander in her driver's license photo, according to the American Humanist Association.
"As a member of the Church of the Flying Spaghetti Monster, I feel delighted that my Pastafarianism has been respected by the Massachusetts RMV," Lindsay Miller said at the time. "While I don't think the government can involve itself in matters of religion, I do hope this decision encourages my fellow Pastafarian Atheists to come out and express themselves as I have."