Ripple (XRP) shorts rose more than 70% today as XRP/USD kept on rising. The price has now retraced below its 50 week moving average and the bears are starting to gain control. Ripple (XRP) has been a poor performer since the beginning of the year and as we have seen in the past few months, it is no longer the go to cryptocurrency for traders looking to profit the most off a market rally. XRP/USD to be quick to react to market movements and was the cryptocurrency that would make the most gains in the least time during a market rally. This was when Ripple (XRP) was considered by a large majority as a better alternative to Bitcoin (BTC) and that it might even end up replacing it in terms of adoption and use.
The cryptocurrency still has a lot of potential long term but it is no longer the hottest investment around. In fact, a lot of investors are still concerned about Ripple (XRP)'s legal status. The company's management of the escrowed XRP has also been a growing concern. Ripple (XRP) has been on a roll for the past two days but the cryptocurrency will be at risk of significant sell off if the price closes the week below the 50 MA. RSI and Stochastic indicators also point to room for a decline to the trend line resistance turned support in the days and weeks ahead. Regardless of Bitcoin (BTC)'s recent 'rallies', it is clear that Ripple (XRP) just like most altcoins is not yet ready for a trend reversal. Ripple (XRP) in particular is still expensive at current prices considering the cryptocurrency did not correct much with the rest of the market.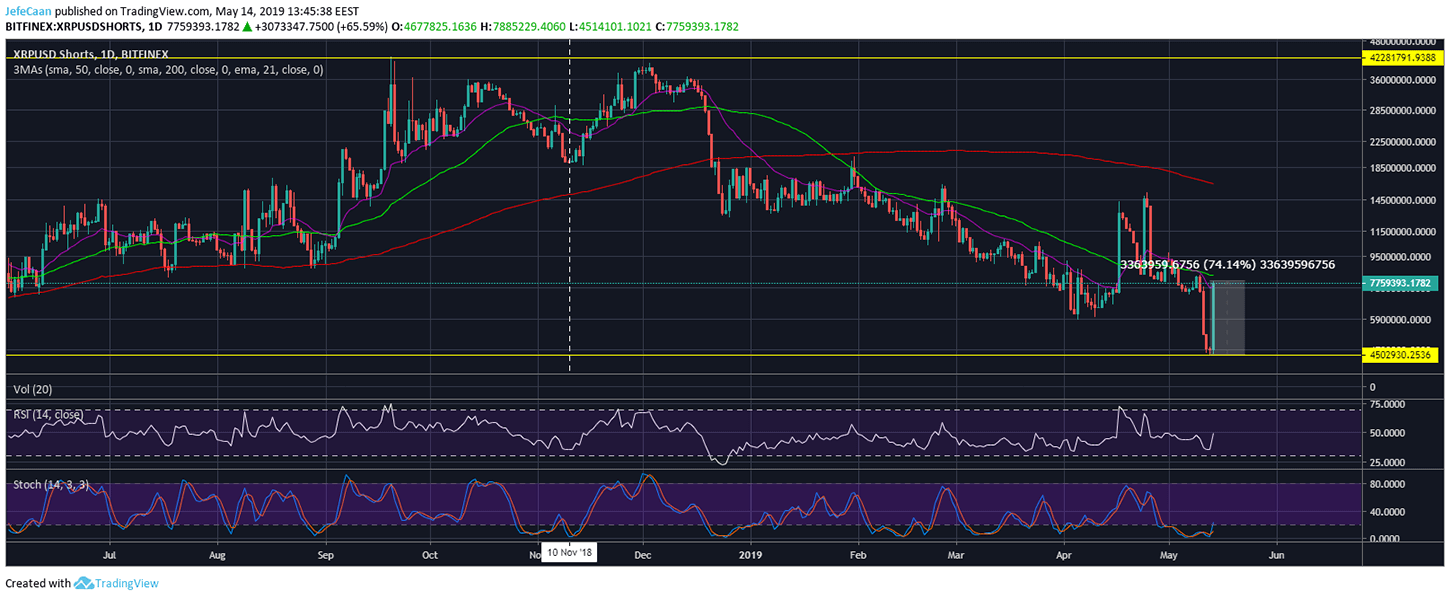 Ripple (XRP) bears were quick to open short positions as the price started to rise. In fact, XRPUSDShorts shot up 74% today. This goes on to show that the bears are about to take control as the price seems to have topped out after an artificial rally. Neither the rally in Bitcoin (BTC) nor the one in Ripple (XRP) has much to do with people getting interested in buying cryptocurrencies all of a sudden. It started with the USDT exit buying on Bitfinex and turned into a desperate buying frenzy soon afterwards. Needless to say, XRP/USD is expected to retrace sharply now that this rally seems to have come to an end.
The price of Ripple (XRP) is currently down 88% from its all-time high which seems to be a very good deal to a value investor. However, given the current outlook of the market, the price could fall a lot lower than this and will take a lot longer to recover. If XRP/USD falls down to $0.20 or lower levels in the weeks and months ahead, we will see it trade below its current price for a long time as investors will keep selling to break even every time the price nears the levels they bought it. Considering the whales have triggered a buying frenzy at current prices, we can expect this to be the level that most of these emotional traders will sell at which is why the price will take a lot longer to recover after it falls again.