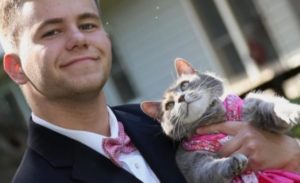 Cat people can be a little crazy when it comes to their feline companions. Most cat lovers own the fact and embrace it. Just like Sam Steingard when it comes to his family cat, Ruby.
The 10-year old cat has been his best buddy for years and when he had trouble finding a date for the prom, Ruby was an obvious choice to join him for an evening of sparkles and fun.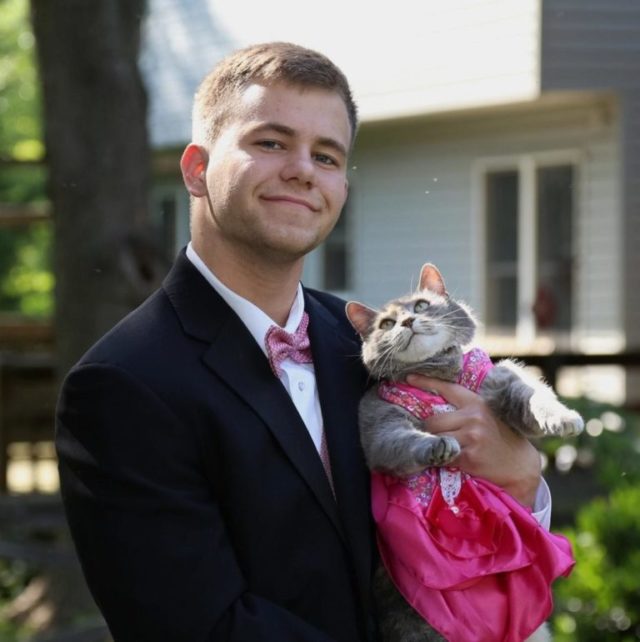 @RubythePrettyKitty/Instagram
Sam and Ruby became a viral smash once this picture hit social media. How could it not? Ruby steals the show with her adoring look for Sam. Joann, Sam's mom, earns credit for dressing the pair, choosing Sam's tux and deciding on a "dress and sparkly collar" for Ruby, according to Sam's sister, Caroline, in an interview with LoveMeow.
The photo garnered so much popularity, it became the inspiration for many a meme. Perhaps you remember this one?
Or this one?
A Cat with Love for All
The family says Ruby is the nicest cat ever and has been close with Sam and his sister, Caroline, since all three of them were young. Caroline recalls, "When I was younger, she would walk with me to school and then when we arrived she would walk herself home and meet me there after school."
The family found her behind a Ruby Tuesday's restaurant so choosing her name was simple. Ever since becoming part of the family Ruby offers lots of love and purrs whenever she is held. She spreads this affection around too. Neighbors get the sweet feline treatment when they meet her out and about.
But, Sam is her bestest buddy.
Caroline says, "She loves Sam because he likes to talk to her in a baby voice and he will give her treats once in a while."
The Kids Are Grown but They Still Come Home for Visits
Both Sam and Caroline are off to college now, but the siblings come home to visit their furry sister often. Home on a summer break, Sam built Ruby "a little cat fort out of a cardboard box and an old tee shirt." She loves Sam's effort, "even though she has a $40 heated cat bed, she prefers the homemade fort," claims Caroline.
The family's love for Ruby is beyond evident. But it's not every day a guy loves his cat so much, he takes her to prom. And, while the ladies at the dance were surely beautiful too, it's supposed Ruby was the sparkling belle of the ball in Sam's arms.
H/T: LoveMeow
Feature Image: @RubythePrettyKitty/Instagram
The post Teen Takes His Kitty Queen to Prom appeared first on iHeartCats.com.