Over the past week, details have begun to emerge into a months-long investigation by U.S Commodity Futures and Trade Commission (CFTC) into beleaguered cryptocurrency margin trading platform Bitmex.
Ripples immediately began to spread as accusations of allowing U.S citizens to illegally trade, weaponizing their own trading desks against their clients and various other malpractices began to be voiced and discussed in the public sphere.
While many point to long-standing claims that Bitmex has been flaunting laws and regulations, the past week has seen a dramatic upscaling of focus on the platform's infidelities, with renowned crypto-skeptic, Nouriel Roubini, leading the most recent charge.
Roubini and the CEO of Bitmex, Arthur Hayes, both sat on a panel together during the Asia Blockchain Summit, where Roubini is reported to have called out Hayes and Bitmex on what he has stated is "systematically illegal activity". 
Following Hayes' reluctance to release a taped recording of the debate, Roubini doubled down last week by releasing an article with claims against the trading platform that includes siphoning customers' savings into a "liquidation fund" and having terrorists and criminals laundering money through the site. 
Two days following the release of Roubini's exposé of Bitmex, Bloomberg broke the news that the CFTC has been running an ongoing investigation into whether or not the trading platform has allowed U.S citizens to freely trade.
A Predictable Collapse of Trading Volume
It's safe to say that traders are unanimously indifferent about a platform allowing users from the U.S to trade on Bitmex. The same cannot be said for the perception that Bitmex has been rigging the game and working against their own clients, and this recent news has already had a cataclysmic effect on trading volume.
Mirroring Bitmex's dwindling confidence among traders, analysis of Bitcoin trading volume over the past days has shown a slump of 33%.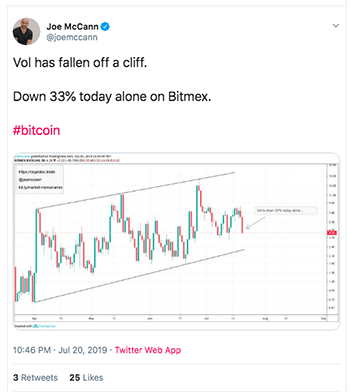 To fully understand the gravity of Bitmex's current woes when compared to other major trading platforms, look no further than @TokenAnalyst's staggering assessment of the damage.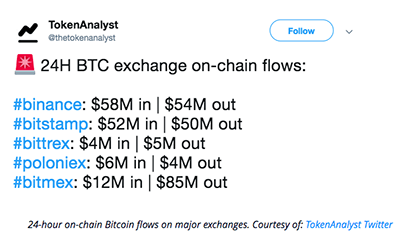 While platforms like Binance are seeing a net positive 24-hour exchange flow of $4 million, Bitmex leeched more than $85 million with only $12 million in-flow, as traders migrate to other platforms that are providing crypto margin trading.
PrimeXBT Absorbs an Influx of New Clients Since Bitmex's Investigation Commenced
While the past week has been disastrous for Bitmex from both legal and PR standpoints, representatives from the competing crypto margin trading platform, PrimeXBT, have shared that they have seen an influx of registrations since Bitmex's investigation commenced as the troubled exchange's ex-clients search for a safe alternative.

While a number of platforms offer relatively low leverage on a limited number of assets, PrimeXBT is fast becoming the only platform with high leverages of up to 1:100 that is safe, secure and technologically-capable of dealing with peak volatility.
With this week's heightened drama, PrimeXBT has taken on a record number of new traders into its fold. While the first half of 2019 has seen increased growth of not only volume but also features and options being provided by the platform, this recent news regarding the impending collapse of Bitmex has provided many traders with the ideal opportunity to see what else is available on the market.
Moving from Strength to Strength
The CFTC investigation comes at a time when the lifecycle of Bitmex appears to be running its course.  Bitmex grew large and fast when there was no real competition on the market, and now it seems that growth may have potentially been based on a range of unfair and possibly illegal practices.
This comes at a time where PrimeXBT has spent the best part of this year introducing powerful upgrades for the platform, including the recent release of the PrimeXBT Android app and iOS app, and the introduction of over 30+ new forex, commodities, and stock indices instruments. 
These new features complement the original value propositions of the platform such as being the only safe platform to access 100x leverage, not only on Bitcoin but on the 5 largest cryptocurrencies by marketcap, shorting on all fore-mentioned crypto-assets, aggregated liquidity from 12 separate sources, and a powerful trading engine and interface that is robust against the pressure of increased activity.
In one of the strongest signs of the legitimacy and future of the platform, PrimeXBT has announced its joining of the CryptoValley Association in Zug, Switzerland, and their upcoming relocation from a .com to the corresponding Swiss .ch domain, PrimeXBT.ch.
On Reflection
The formation of trust with traders who, some, are putting a substantial percentage of their funds in your hands, is hard to build and crucial to keep.  At some point, or maybe from the beginning, Bitmex seems not to have understood this.
Newer yet more advanced crypto trading platforms like PrimeXBT can't afford to risk the trust of their userbase and have to work to become 10x better than what is already available to build the momentum required to become known for quality and security. 
With crypto traders becoming ever more aware of the alternatives that are available, no one platform can take liberties such as Bitmex has and not expect to be punished by their clients.
Moving into the second half of what has already been a busy year for crypto, the findings of what could be the largest investigation of its kind, will no doubt have a lasting effect on how other platforms choose to do business in the future.