Since February 8 Bitcoin has gained a little over 50% and currently the digital asset stares $6,000 smack dab in the face.
Let that settle in for a minute.
The most recent surge from $5,488 to $5,966 ($6,300 on Bitfinex thanks to the Tether – Bitfinex debacle) has turned even the staunchest crypto critics and bearish analysts are beginning to suggest that now is the time to buy Bitcoin. Even the Wall Street Journal is positively discussing Bitcoin again. So the questions remains, is the bear market over?
A quick glance at each of these points will provide valuable insight that could help answer the question that has proven to be the most intriguing topic of discussion for 2018 and the first half of 2019.
Increasing Volume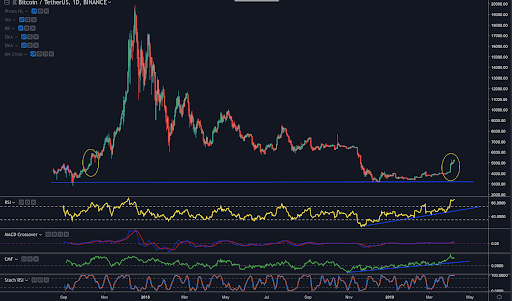 Data sourced from TradingView
Throughout 2018 low volume translated to thinly traded markets which were susceptible to sharp price fluctuations, the majority of which took on a bearish tone. Since the last catastrophic Bitcoin correction in November, steady increases in crypto trading volume have strengthened the market and improved overall investor sentiment. In April, Bitcoin volume reached an all-time high on Binance and as crypto analyst Kevin Rooke pointed out Bitcoin volume has increased by 150% over the past 5 months.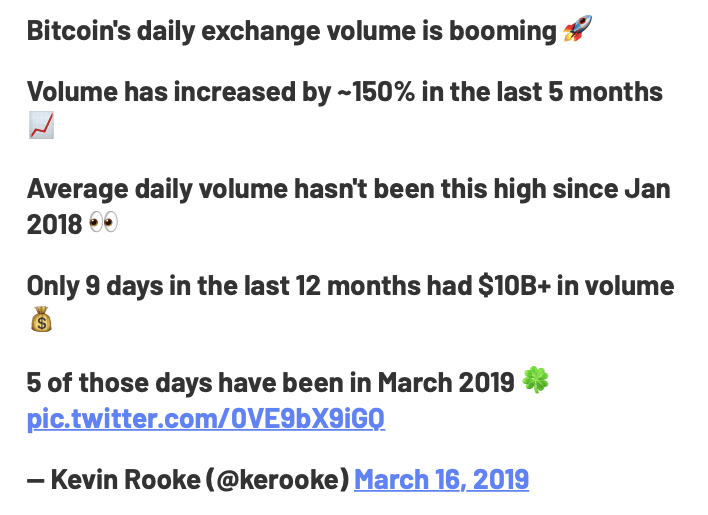 So far Bitcoin's hashrate has risen by 38% and is only 6% away from all time highs even though Bitcoin's price is still a great distance from its USD all-time high. Ultimately, higher purchasing volume provides greater depth to the market and protects against whipsaws while also bolstering investor confidence which ultimately helps to sustain the current gains.  
Institutions Build infrastructure and Voice their Support for Digital Assets
2018 was forecast to be the year institutional investment would flood the crypto market and push crypto prices well above their previous all-time highs. As we know, this did not happen but the real story should be about all the building that took place behind the scenes. Since 2017 a nearly uncountable number of crypto and non-crypto-related companies have built investment platforms and services aimed at making it easier for institutional investors to engage with the market and financial megaliths like Fidelity Investments, Goldman Sachs (Circle), and Bakkt have developed their own crypto-platforms which will soon be available to the thousands clients whose funds are managed by these financial giants.
A recent Greenwich Associates study commissioned by Fidelity Investments found that 47% of institutional investors firmly believe that every portfolio requires a fractional allocation in cryptocurrency and 72% of the survey participants expressed a desire to purchase investment products that provide exposure to cryptocurrencies. 57% of participants said that they would rather invest directly into cryptocurrencies and 22% of institutional investors said their firm already owned digital assets. Currently, retail investors comprise just 0.2% of Q1 2019 Bitcoin purchases so that begs the question, who's responsible for driving the 150% increase in volume which has propelled Bitcoin to successive 2019 highs?
Crypto Whales Begin to Shift Funds Again
While retail investors hit the trenches when Bitcoin dropped 42% in November 2018, crypto whales and institutional investors began to accumulate and continued to stock their stores all throughout March and April of 2019.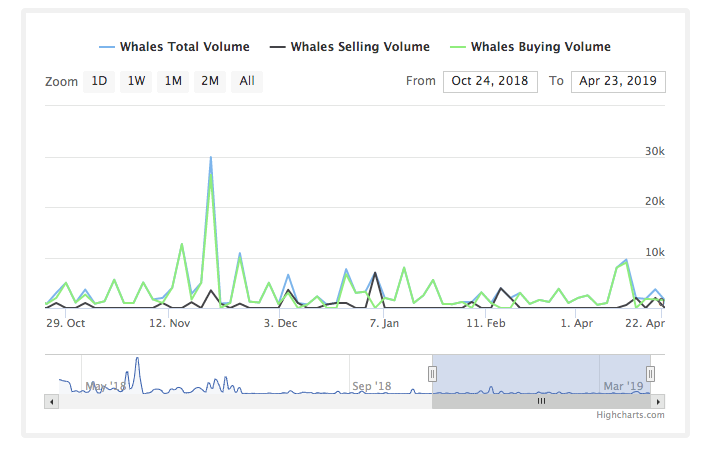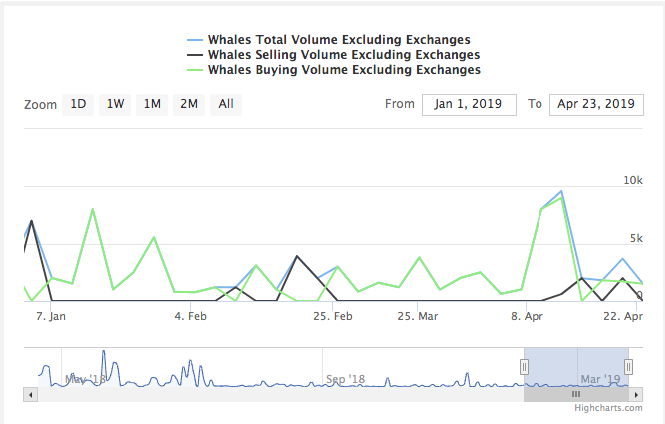 As shown by the graph above, whales went on a buying spree over the last six months and their most recent acquisitions correspond with what might be the end of crypto-winter (April). Even more encouraging is data from Weiss Ratings which shows from January to February 2019, 100 of the largest Bitcoin wallets accumulated 150,000 BTC.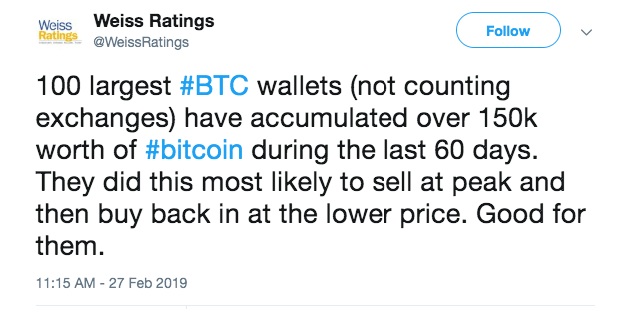 While 2018 and the start of 2019 saw a decline in the purchasing volume of retail investors, whales and institutional investors steadily acquired digital asses through over-the-counter (OTC) deals and data from Circle and Morgan Stanley shows that OTC desks processed more than 10,000 OTC trades in 2018 at a monthly trading volume of $2 billion.
Now that upward momentum has been restored to the overall market, a growing number of analysts are suggesting that whales and institutions will soon begin to trade spot on cryptocurrency exchanges to influence Bitcoin's price.
Crypto Startups, Investors and Exchanges Circumvent Regulators
Another signal that the 15-month long bear market has come to an end is the growing popularity of Initial Exchange Offerings (IEOs). After waiting nearly 2 years for clear legislation from global financial regulators, many in the crypto space were left without any useful answers, except for the US Securities and Exchange Commission hunting down and fining handfuls of companies for hosting ICOs in 2017. Exchanges attempted compliance by instituting know-your-customer (KYC) and anti-money laundering (AML) procedures but ultimately this hasn't led the ratification of a universal framework for crypto startups.  
Rather than wait any longer, Binance, Kucoin, Huboi and OKEx found a way to circumvent the regulatory rigamarole and IEOs have proven to be an incredibly lucrative way for startups and retail investors to participate in a fundraising method which could eventually be as successful at the previous ICO boom. Crypto whales are also drawn to IEOs and data from Blockchain.com shows that a whale connected to this address recently sent $1 million worth of BTC into an upcoming IEO with the message "In Roobee I Trust". While not much is known about the IEO a little digging and investigation into the message and associated wallet addresses found that "Roobee" is a blockchain investment-based service that uses AI and transparent public statistics to assist investors with building and managing their investment portfolios. Apparently the startup received the investment from a "prominent" whale and its co-founder Artem Popov told Forbes that Roobee will soon host an IEO on a major exchange and their goal is to "provide retail clients with the same investment opportunities and level of security as the largest financial market players, but with a minimum investment as low as ten bucks."
While there are bound to be those who are extremely skeptical about the prediction that IEO's will replicate the ICO boom of 2017, the extreme success and overwhelming demand by investors looking to participate in the BitTorrent, MultiVac, Fetch and Celer IEOs show that whales and retail investors are growing increasingly interested in trading cryptocurrency and this is a strong signal that the crypto winter has ended.