BTC/USDT has been consolidating around $11,000 for 3 days, and its price has gone up to $13,136 early this week. The move indicates a sharp rise could be on the horizon as BTC price continues to trade above Vera band limit, which identifies the upward or downward trend. However, in a complete bullish market, along with the upside trend, there must be several retracement. At the early period of the bullish run, when price retreating back to 120-day line level will be the best time to invest in Bitcoin spot. 
Why take 120-day moving average as the basis of trend prediction?
Since 2014, 120-day moving average has been an important position in BTC k line trend – a strong support during the bullish run as well as a strong resistance in bearish market. 
For example, in 2015's bear market, it switched to a real bullish run after pulling back and hitting the 120-day moving average for 3 times. 

In addition, in the unprecedented bull run in during 2016 – 2017, BTC price also bounced back after retreating to MA120 for 6 times. 

2018's bearish run also started when it struggled to bounce and break above 120-day moving average, but failed.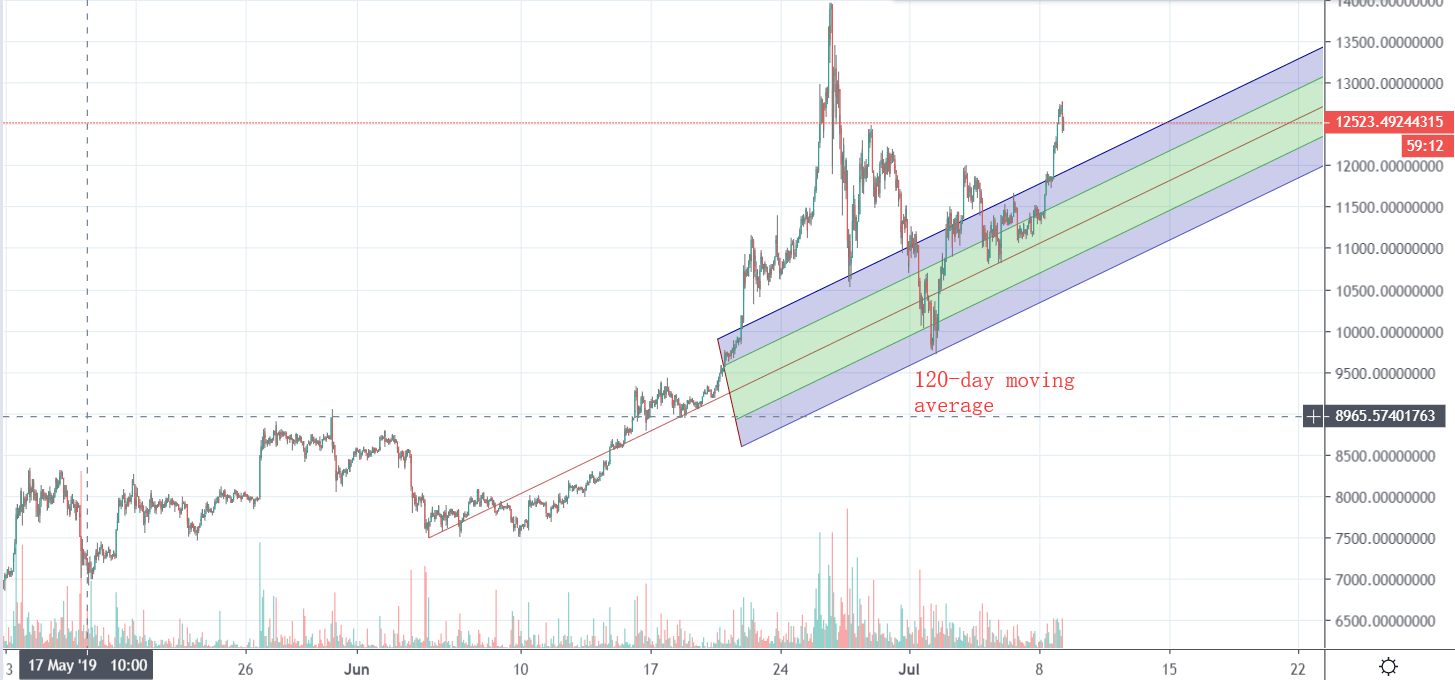 Let's take a look at the BTC market trend since March, breaking above 120-day moving average to start the rally. We believe that there will be the first correction in the soon coming future since the bullish run early this year. And it will launch the next bullish run after repeated price shocks and hit the MA120. According to Bexplus analysts prediction, BTC price will step back to the 120-day line at around $8000 – $9000 at the end of July. If you want to invest in Bitcoin spot, it might be the best time. 

Bexplus: Take Traders to 100% profitability with XBT futures trading
During the massive price swings, many traders are rushing into the xbt futures market for a great opportunity for profits. XBT futures market enables traders to go long or go short BTC price and take advantage of the price fluctuation. Besides, traders can increase their buy power by using leverage. For example, if trader hold 1 BTC at hand and want to buy 100 BTC contracts, he/she can choose 100x leverage xbt futures. Meanwhile, with 1% price up or down, the profits can also be leveraged 100%. 

Bexplus is a professional bitcoin futures exchange equipped with bank-grade infrastructure and ultra-fast trading processor. Bexplus provides 100x leverage futures trading for BTC, ETH, LTC, EOS and XRP with no spread charge. With the easy-to-use trading interface, Bexplus also become one of the most popular bitcoin exchanges among beginners in the futures market. Moreover, trading simulator with 10 free btc is available in Bexplus platform to help investors learn more xbt futures trading tricks.