Bitcoin (BTC) bulls to fail the do or die level of $10,800 and now it is all set to decline below $10,500. If the price ends up falling below $10,000 this time, all bets are off. A lot of traders would realize that the price is going to go much lower from there. However, those that are super bullish would consider it a minor pullback to buy the dip and they will get trapped in before the next downtrend. The symmetrical triangle on the chart shows how the price got stopped out close to the line of bisection of the triangle. This is incredibly similar to what happened in 2014 and if history is any indication, we are going at least 80% lower from here. 
The daily chart for BTC/USD shows that there could be confusing or misleading moves short term to scare off the bears and trap in the bulls. For instance, if we take a look at the price action around July 15, 2019 we can see that the price first attempted to break past the 21 day EMA and it kept on showing signs of fake strength but as we can see it declined aggressively after that. As the actual downtrend nears, we are likely to see more and more of such shows of fake strength because the market makers want to trap in as much of these retail bulls as possible. It is easy money because 70% of retail traders are long on Bitcoin (BTC) and if they help the price crash from here, they would be liquidating a lot of these retail bulls to line their own pockets.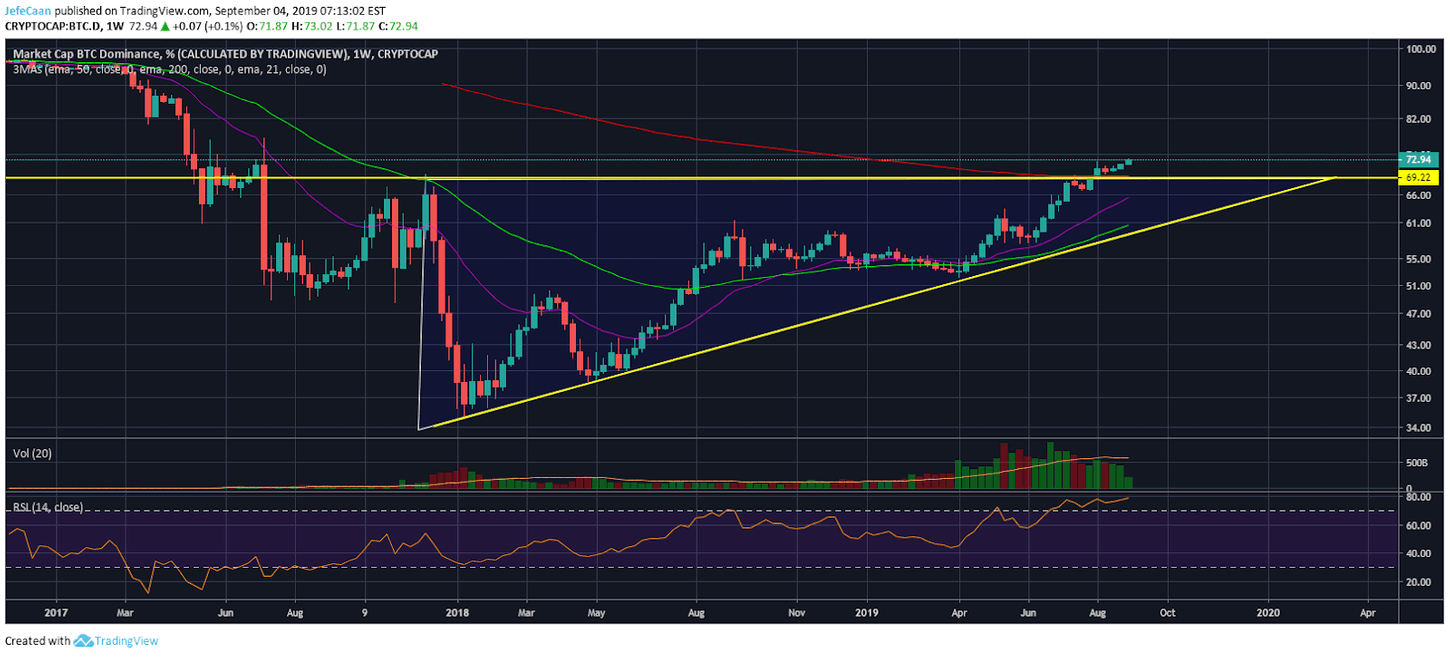 Normally, there would be nothing wrong with someone making money off traders making bad decisions. This is the world we live in and people keep making the same mistakes over and over again for a lot of reasons. That being said, there has to be fair play. In other markets, the role of a market maker is to provide liquidity and if there is an attempt to influence the price, that is kept in check by regulatory bodies like the Securities and Exchange Commission. However, in the case of Bitcoin (BTC), market makers not only provide liquidity, they strongly influence the direction of the price. 

Ask yourself this, "Do you really think the founders of these large exchanges that keep on tweeting and asking you to buy more are naïve enough to not know what is going to happen next?" It is all staged and I can't wait to see how all of this is going to go down as the SEC and other regulatory bodies begin to crack down on this. Bitcoin (BTC) and other cryptocurrencies might have a future long term but not in this state. The daily chart for Bitcoin Dominance (BTC.D) shows that we have reached a new yearly high for Bitcoin dominance. This would not be happening if we were in a bull market or on the verge of one.