Bitcoin (BTC) has broken below the symmetrical triangle that many of the bulls have been counting on for a sharp breakout to the upside around the Bakkt launch. We have now seen that Bakkt was a non-event and there has been no impact on the price so far. This has left a lot of traders glum and they might be selling their bags soon in anticipation of a strong correction to the downside as generally investors "buy the rumor and sell the news". If that happens this time, then we might not only see BTC/USD decline to the bottom of the descending but potentially lower than that to the 200 day EMA. RSI on the daily time frame shows us that the downtrend has been almost a mirror image of the uptrend and thus a sharp decline to the downside could be expected any time.

That being said, major financial indicators, for instance the stock market and the gold market have yet to show the red light for investors to consider shorting selling Bitcoin (BTC). For the risk averse investors, it may not be time to short sell just yet but it is certainly not the time to be buying either. A small move to the upside is not worth risking it for the large potential downside that could soon come into effect if the S&P 500 (SPX) begins its downtrend or Gold (XAU/USD) declines below its trend line support to lower levels. Bitcoin (BTC) has established correlation with both Gold and the S&P 500 (SPX) which is quite surprising. In my opinion, the correlation with the stock market is more reliable because Bitcoin (BTC) remains a risky investment and it is not a safe haven asset or digital gold despite what some in this industry may have you believe.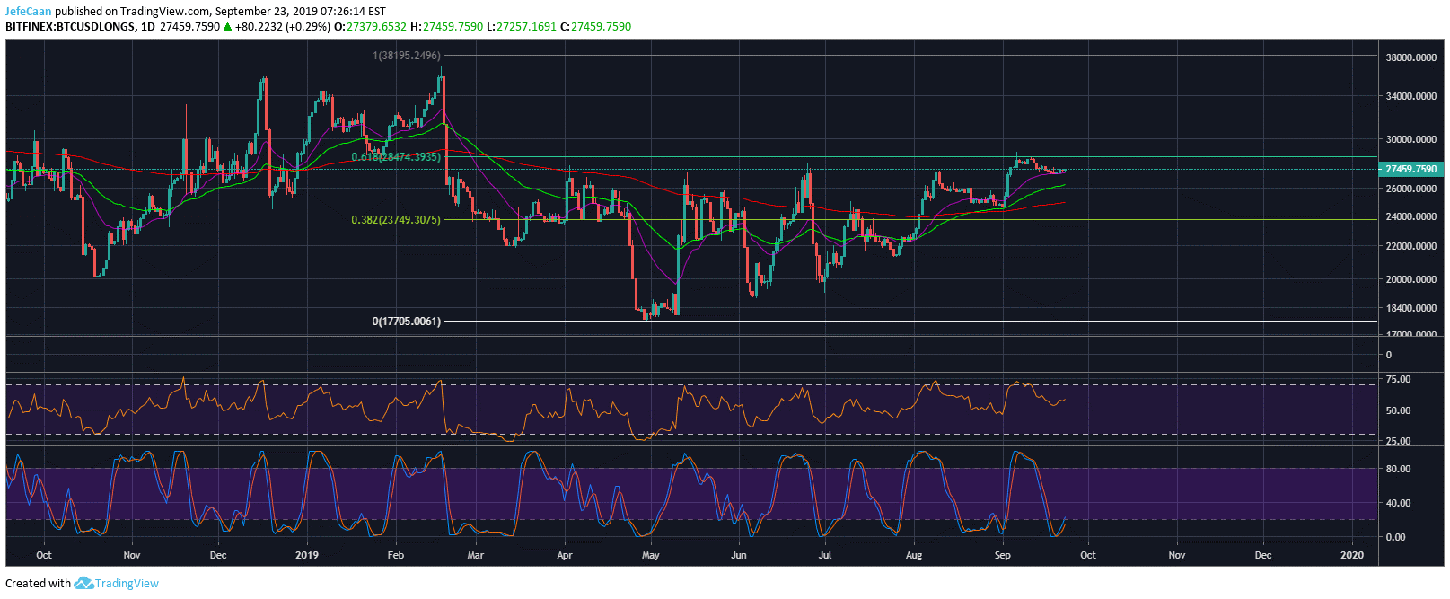 Bitcoin (BTC) has been trading sideways but Bitcoin Longs (BTCUSDLongs) are beginning to rise. The Stochastic RSI shows us that there is plenty of room for Bitcoin Longs (BTCUSDLongs) to rise from current levels. Usually, this coincides with a strong move to the upside. So, while we have discussed the bearish case for Bitcoin (BTC), it is pertinent to note that another move to the upside could confuse a lot of traders once again and get them trapped in with aggressive longs.
If BTC/USD declines from current levels, we might see a decline in the number of margined shorts as BTCUSDLongs has already run into the 61.8% fib retracement level and faced a strong rejection. The buying interest that we see in the market is very likely to be short-lived as the market is on the verge of beginning its next major downtrend. It is a matter of when and not if that downtrend is going to occur. That being said, investors need to be prepared for all eventualities in case of unprecedented movements in the market because markets can stay irrational longer than you can stay solvent.