Bitcoin (BTC) bulls seem to be unfazed by the recent close below the 50 Day EMA. The price keeps on breaking out to the upside breaking past one resistance at a time. If we take a look at the 1H chat, we can see that the price is close to another such breakout that could potentially lead to the break of a key downtrend which will pave the way for further upside. The price has been steadily rising since the beginning of the day despite some sell off yesterday. There is a lot of fear in the market and the majority of traders are expecting further downside at this point which is another reason why we think it may not happen yet. The price could still rise above the 50 Day EMA and then end up closing above the 21 Day EMA before this move is complete. 
A lot of hodlers that bought around $13,000 are panicking right now as they have already lost a significant portion of their investments. Some of them are rooting for the price to fall hard so they can buy more to level the score but all of this is just wishful thinking. Hoping or wishing for something can be quite dangerous in financial markets. This is why it is always helpful to just rely on facts and put two and two together to outline different possibilities and probabilities. Then the mark of a good trader is to assess those probabilities and prepared for different eventualities. In the case of BTC/USD, this eventuality is a breakdown to $7,000 or a climb above $10,000 again. So far, we have seen that the price is doing the latter because it is in the interest of the market makers to do so.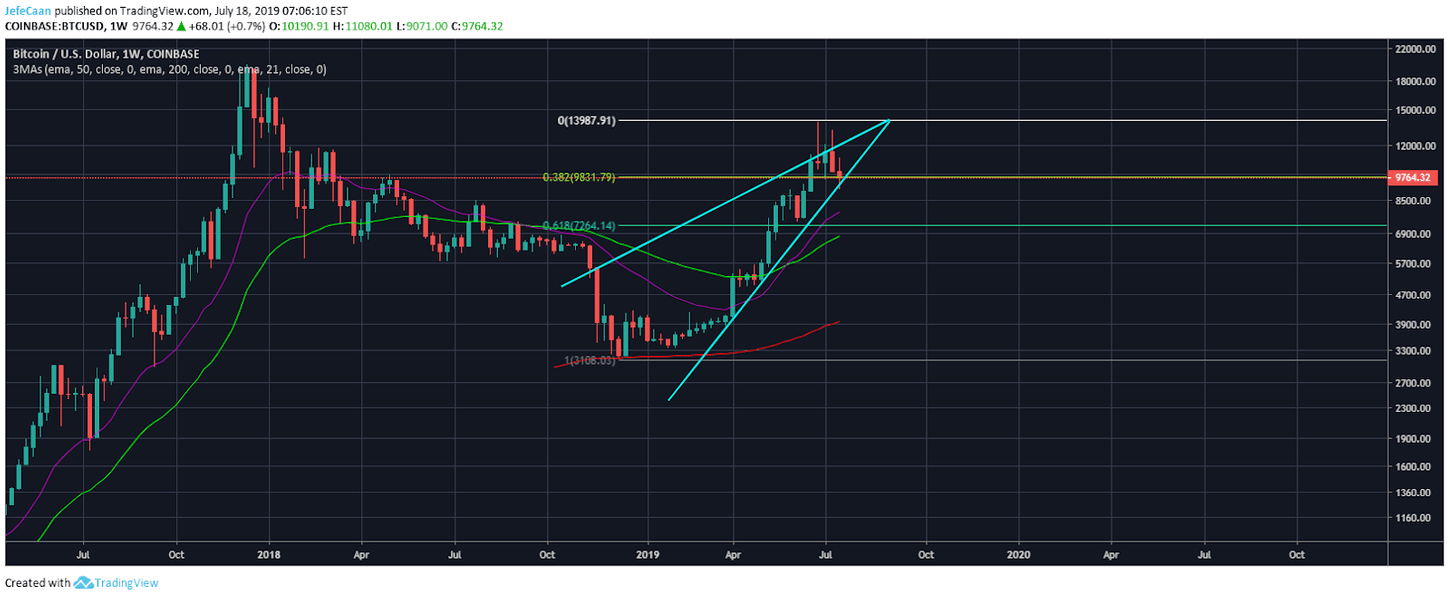 The daily chart for BTC/USD on the weekly time frame shows us that the price is still ready to rise some more within the rising wedge before it starts to decline below it. As long as this rising wedge holds, we can see further upside, but once it is broken, the decline from there is going to be brutal and a lot of hodlers are going to be caught off guard. That being said, we have seen a higher high and higher low on the weekly time frame which could be a good sign of further upside to come. 

Traders that are looking to profit off this rally would be better off with efficient risk management because the risk reward is not that attractive. The price could end up rallying higher but only to see further significant downside long term. This is not much different than buying around the top of the previous bull run while you know that the price has lost its bullish momentum and could decline from there any time now. The recent correction was impressive and the price has room to rally after that on shorter time frames but nothing has changed on the longer time frames.