Bitcoin (BTC) Crashed hard when it broke below the descending triangle but the 4H chart for BTC/USD shows us that it was still primed for further downside recently and it happened when the price touched the bottom of a falling wedge. That move has not come to fruition as BTC/USD has touched the top of the falling wedge again and is now on the verge of major further downside as we anticipated a fall towards the bottom of the wedge. This move is very likely to pull the price down to the low $7,000s. I expect the move to be a sharp one leaving a big wick to the downside because a lot of shorts are going to be liquidated and a lot of buy orders are going to be filled.

The cryptocurrency market as a whole has reached a point where it is very likely to have topped out. We may yet see further upside in some altcoins but I think we can say with certainty at this point that BTC/USD has topped out. That being said, we would still need to wait for a rejection at the previously broken descending triangle. The mark of a good trader is that you don't wait for that obvious a move to ascertain what is really going on. You have to be prepared for all outcomes but the moves has to be clear to you in advance otherwise it is just gambling hoping the price would swing in a certain direction. For Bitcoin (BTC) traders, this move is an eventual retest of the mid-low $9,000s in the days and weeks ahead.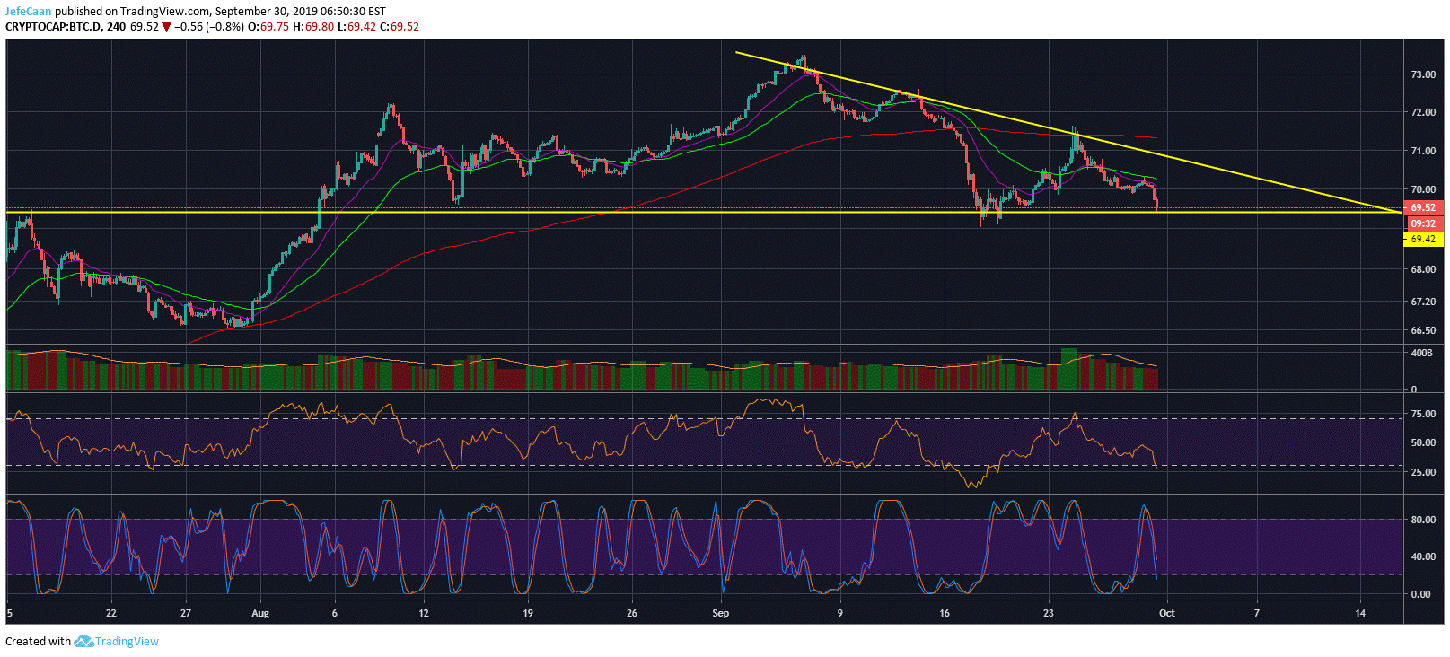 There are two kinds of situations in which BTC/USD might end up testing the mid-low $9,000s from here onwards. The first is Bitcoin dominance (BTC.D) rising and the price of Bitcoin (BTC) rising with it more aggressively compared to altcoins. This is the scenario I lean towards because I think investors are likely to cash out some of their altcoin profits into Bitcoin (BTC) at this stage.
The second scenario is that Bitcoin dominance (BTC.D) will actually break the descending triangle that can be so obviously seen on the 4H chart to kick off a new altcoin season. In that case we may see Bitcoin (BTC) struggle to rise towards mid-low $9,000s but altcoins are going to be rallying much harder compared to Bitcoin (BTC). This is a scenario that I think is possible but not very probable. The reason it is not very probable is because it would mean the beginning of a new downtrend in Bitcoin dominance (BTC.D) just when we expect it to rise further from here as it does before and during a major downtrend. The reason I think it is a possibility nonetheless is because altcoins topped out after Bitcoin (BTC) did during the parabolic advance of December, 2017.