Bitcoin (BTC) could trade sideways for now but it has already done what it was supposed to do. The price has now formed a double top just like it did at the end of the parabolic advance of late 2017. The price is holding above the 21 day EMA just as it did back then and when it finally breaks below it, we are likely to see it flash crash in the same manner that it did back then. After that it will find support on the 50 Day EMA again and then eventually decline below to fall even below the 200 Day EMA. This will be followed by a relief rally that will face rejection at the 50 Day EMA and then we will see a slow bleed downtrend follow till Bitcoin (BTC)'s next halving in June 2020. 
So, why are we so sure about these moves? First of all, BTC/USD has a fondness for repeating history. This happens in others markets too but throughout the history of Bitcoin (BTC), we have seen it repeat the same fractals over and over again while also following similar cycles. If we look at the parabolic advance between December, 2018 and now and compare it with the one in late 2017, we can see strong similarities. The price has also declined in a series of double tops throughout the bear market. Another reason why we expect the downtrend is because BTC/USD is now heavily overbought on larger time frames. Even if we take a look at the daily chart, we can see that the price is primed for a crash soon as the NVT falls below its RMA.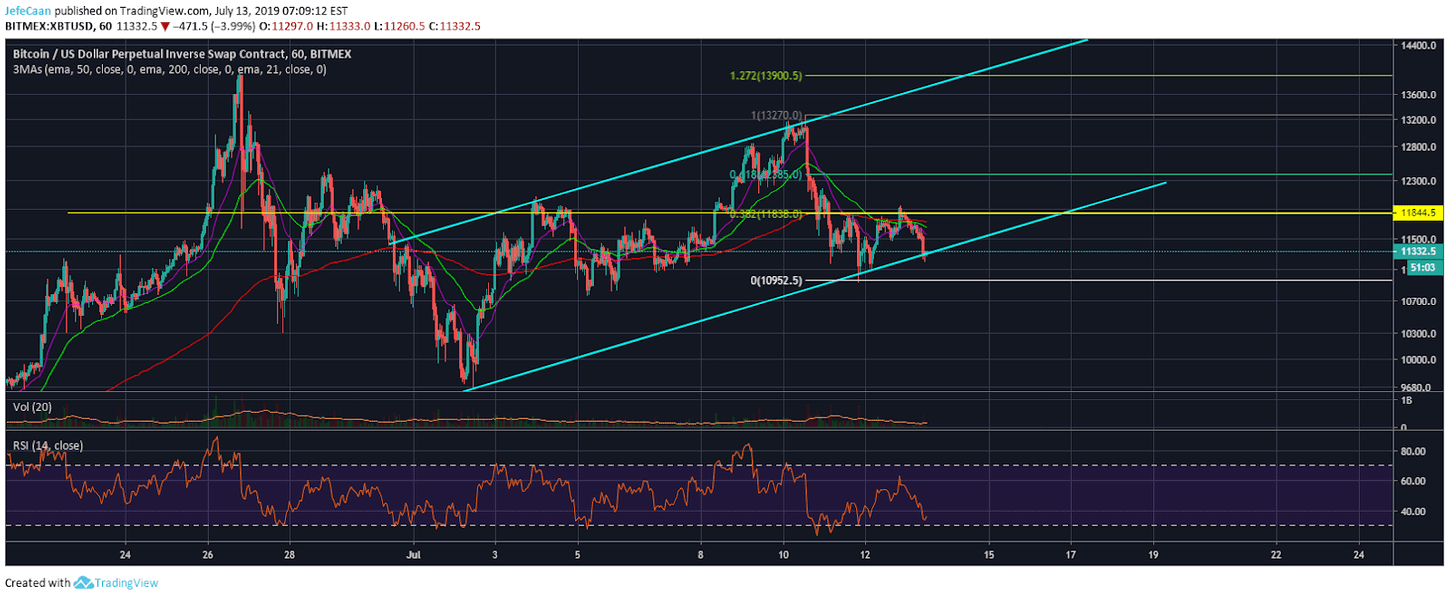 Bitcoin (BTC) bulls have one last chance to save the price before it breaks the parabolic uptrend. Frankly, I do not see a "save" scenario in light of macro-economic, political and financial developments but there could be a "stall" scenario where we might see prolonged sideways movement that could lead some more bulls into thinking that maybe BTC/USD  is just consolidating before it shoots up again. Needless to say, those that expect the price to shoot up to a new all-time high are in for a big surprise. 
For all we know, Bitcoin (BTC) might have been an experiment or it may be something that could actually become the one global currency. We do not know that and we should not care if our goal is to make money out of it. In every market, it is more useful to focus more on the technicals than the fundamentals. So, while we do know that Bitcoin (BTC) has a limited supply and it is a wonderful invention that has a real shot at global adoption, let us not let allow such statements to make us oblivious to the overbought technicals. Bitcoin (BTC) may or may not see another bull market, it is premature to say that but what is not premature to say is that the price is long overdue for a major correction to the downside.