Bitcoin (BTC) has declined well below $10,000 just before the most anticipated Bakkt futures launch. This has unnerved a lot of the bulls that were hoping for a rally to the moon by Monday. However, when everyone starts thinking the same way, it is best to think the opposite. Remember, Bakkt is "scheduled" to be launched on Sep 23, 2019. It was "scheduled" to be launched on December 12, 2018 as well and if you had been hoping in November 2018 that $6,000 was going to hold just because Bakkt was going to be launched then you would have made quite a loss as the price nosedived to $3,130 from there in a matter of weeks. So, what does this recent crash mean in light of what has happened in the past?

The market makers were waiting for investors to enter margined longs. They gave them plenty of time to do that as the price consolidating and doing nothing much. So, they kind of forced traders into making the decision now instead of waiting to enter a trade after the breakout because these past few days traders have been made to be comfortable buying into sideways action in anticipation of a pump as we saw in the case of Ethereum (ETH) and other altcoins. Most of them entered leveraged longs on BTC/USD in the hopes of profiting off a potential Bakkt rally. Those that had their stops just below the symmetrical triangle were shaken out but there are a lot more stops to be run just yet. The market makers might want to give investors another chance to long these dips so they can trap them again.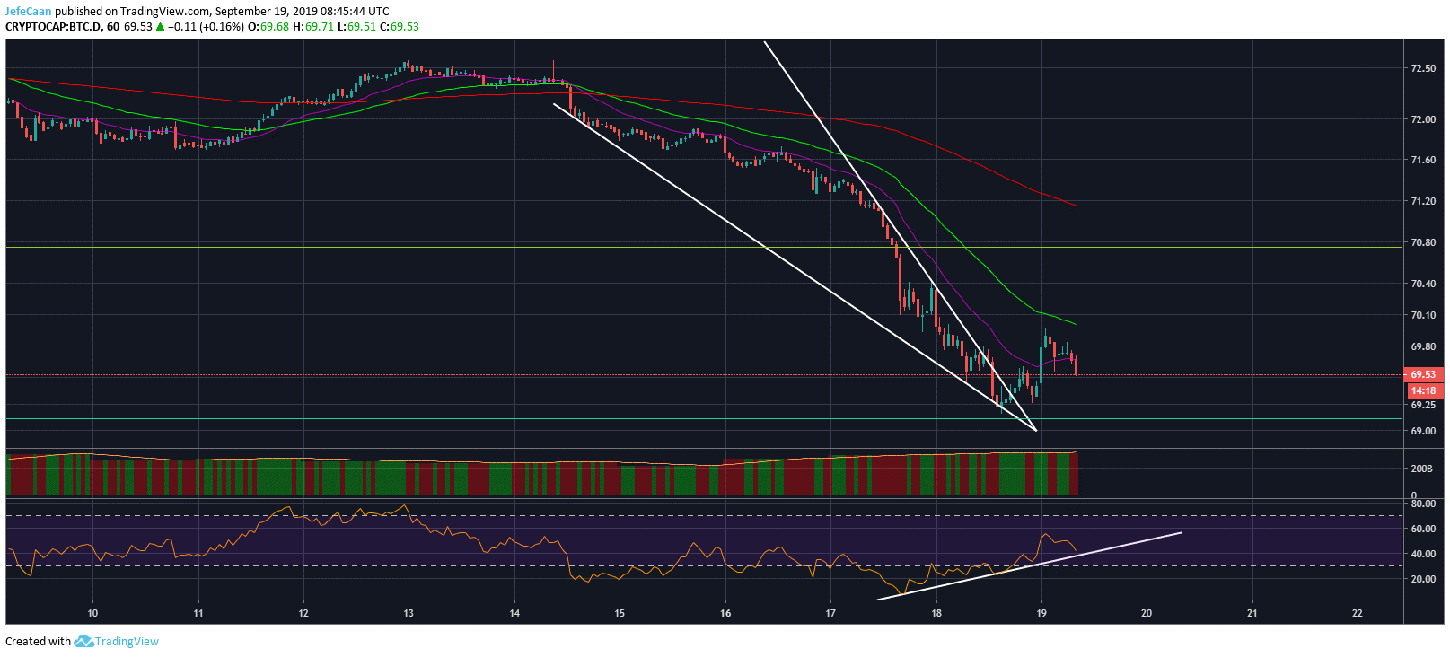 Bullish or bearish doesn't matter from the market makers' perspective. They are in the business of shaking out the traders hoping for easy money in this market. As I have said before this is not legal and if someone were to do this in the stock market they would find the SEC knocking on their door. However, anything is possible in this market in the absence of regulation. If we look at the 1H chart for Bitcoin Dominance (BTC.D), we can see that it broke out of a falling wedge and is now primed for further upside.
Bitcoin dominance (BTC.D) rises when either Bitcoin (BTC) is planning on outpacing the market at a certain point or we are primed for further downside and Bitcoin (BTC) is expected to hold its ground better than other coins. In both cases, this rising dominance in Bitcoin (BTC) does not bode well for the altcoin market which has yet to experience serious pain. There are a lot of useless projects in the altcoin market and it is only a matter of time before we see a strong downtrend that shakes out most of such projects. The fact that Bitcoin dominance (BTC.D) just broke out of a falling wedge and has now begun an uptrend is a testament to the fact that recent hopes of an altcoin season were just orchestrated attempts by the big players to lure retail investors into buying their altcoin bags before the next crash.