Bitcoin (BTC) crashed hard the past 48 hours. It has finally invalidated the bulls' favorite symmetrical triangle and has now broken below the descending triangle as we have been calling for these past few weeks. Now that it has declined well below the descending triangle, we have to see if it can stage a bullish recovery by rallying past the 200 day EMA. So far it has failed miserably at doing that. There is still a lot of fear in the market and investors are afraid to step in. As for the Tether (USDT) printing, this time it is going to take a lot more effort to pump BTC/USD because most of the overly enthusiastic bulls have been liquidated. Bulls go up the stairs but bears go out the window which is why it is very important not to buy at the wrong time.

Until margin trading became popular in this market, a lot of people would just hold their coins. They would undergo massive devaluations over periods of decline but at the end of the bear market those investors would see their investments appreciate eventually. This time, that trend has changed. More people today are interested in trading cryptocurrency derivatives instead of just holding their coins. The problem with that for most beginners is that they open traders at the wrong time and their stops keep on being hit. Eventually, they decide to use no stops at all and let the trade run only to see it being liquidated. At the end of that, not only have you made a loss as you would have if you were holding but you have permanently lost your coins. Patience, discipline and risk management is what matters the most in this market.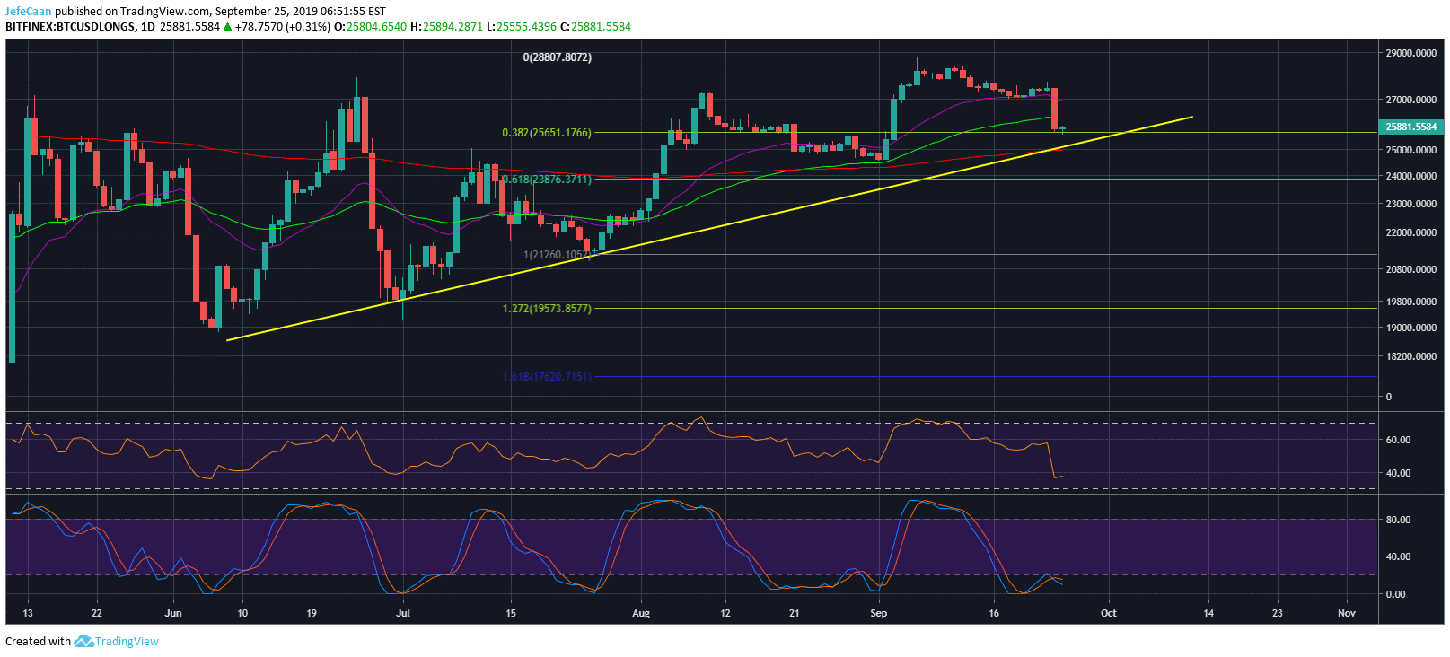 The daily chart for BTCUSDLongs shows us that the bulls might be better off using some of that patience because the price could sideways for a while until another potential move to the upside. The recent crash liquidated a lot of longs but it has not broken the uptrend. This means that we may still see the number of margined longs rise in the days and weeks ahead. This would coincide with a rise in the price of Bitcoin (BTC). RSI and Stochastic RSI on the daily time frame for BTCUSDLongs support such a move.
Just as nothing goes up forever, nothing comes down forever. This crash was extremely brutal but there is opportunity in chaos. There is a reason the saying; "buy when there is blood on the streets" works so well in financial markets. Most smart investors of all time have used this principle over and over again in their life with great success. This saying applies really well to the cryptocurrency market but the question you have to ask yourself is, "Is that all the blood or is there more to come?" In the case of Bitcoin (BTC) this is just the beginning and even though we may see short term bullishness in the market, this correction is certainly not over.