Bitcoin (BTC) invalided two descending triangle in the past seven days, one after another to test the 38.2% fib retracement level twice. Both of these times, the descending triangles were far too obvious and a lot of people talked about it on Crypto Twitter and other forums. It is not really about the setup; it is about what traders are thinking when a setup presents itself. It all comes down to whether they are comfortable or not comfortable playing that setup. If we look at the current 4H chart for BTC/USD, we can spot an even larger descending triangle but we can tell right away after the recent pump that most retail traders would be scared to play this setup even though the price has faced a strong rejection at the 38.2% fib retracement level.

We have now seen a downtrend begun in BTC/USD but traders are overly cautious and they will continue to be overly cautious after the recent move that liquidated a lot of bears. Manipulation or no manipulation, those that tried to aggressively short the market early on are now either out of positions or sitting on heavy losses. They do not want to risk it further. The few that have been waiting for a move like this to short the market would be bold enough to enter a trade here. Here's the thing though. Retail traders like to look at certain levels like the price breaking past a certain support or a certain EMA or breaking out of a certain formation but professionals just look at the price action. It is not easy to make money in this market with a retail trader's mindset even if you practice good risk management because you will get stopped out of your positions over and over again.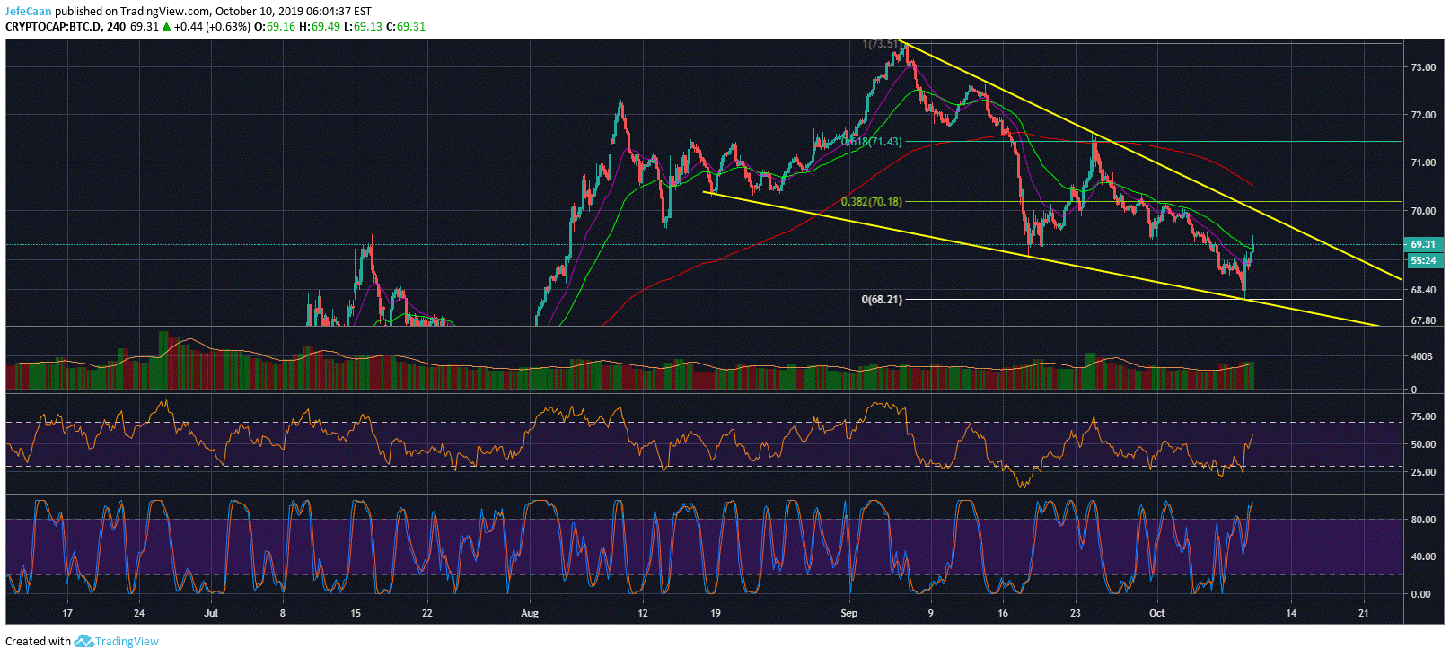 The 4H chart for Bitcoin Dominance (BTC.D) shows us that the falling wedge that it is trading in could soon be broken to the upside. The most probable scenario in which I see it happening would be for the price of Bitcoin (BTC) to hold its ground better compared to other cryptocurrencies when the market declines again. Bitcoin dominance has a lot of room to rally further and I think we are very likely to see an uptrend begin in the weeks ahead that would continue towards the end of the year and possibly towards Bitcoin (BTC)'s halving in 2020.
Bitcoin (BTC) despite being hailed as digital gold is nowhere close to being a safe haven asset. If we are being reasonable, it is hard to call it even an asset when most of the demand on exchanges is fake fueled by wash trading and other shady dealings that are soon likely to come to the public's attention after a recent lawsuit regarding market manipulation. This law suit has a very high probability of success and I would be very careful holding Bitcoin (BTC) or any other cryptocurrencies at this point. In fact, I would be careful holding even stable coins because the developments that are about to unfold would have serious implications for the entire market.