The recent Bitcoin (BTC) crash has taken a lot of people by surprise. For those that have been following the price action closely, it was a very probable pullback as the price fell straight below a rising wedge. BTC/USD fell slightly below the 21 day EMA and the daily candle ended up closing above it. In other words, for those that have been bullish on Bitcoin (BTC) this should not change anything short term as the price is still likely to test the $5,800-$6,000 zone. That being said, the odds of a rally past $6,000 have significantly reduced. Now that the bulls have seen that the price could crash in a matter of minutes after days and weeks of struggle, the price is not likely to make it past $6,000. In fact, I for one would be surprised if it ends up touching $6,000 after this.
While I remain bearish on Bitcoin (BTC) long term and expect the price to fall to $1,800 or lower levels in the months to come, I still don't see the price falling to $4,000 just yet. Recent events have convinced a lot of traders to switch sides and those that were calling for a bullish comeback are now calling for a fall towards $3,800. The fact of the matter is that most retail traders are restless and impatient. They just want to pick a side to make money. Now that they have seen the price crash on the recent Bitfinex/Tether news, they want to switch sides and follow the price lower. Normally, I would agree with this approach because the trend is your friend and there is nothing wrong about changing your opinion on something. However, there is no trend here. This crash may be very significant and could have some long lasting effects but it does not change much short term.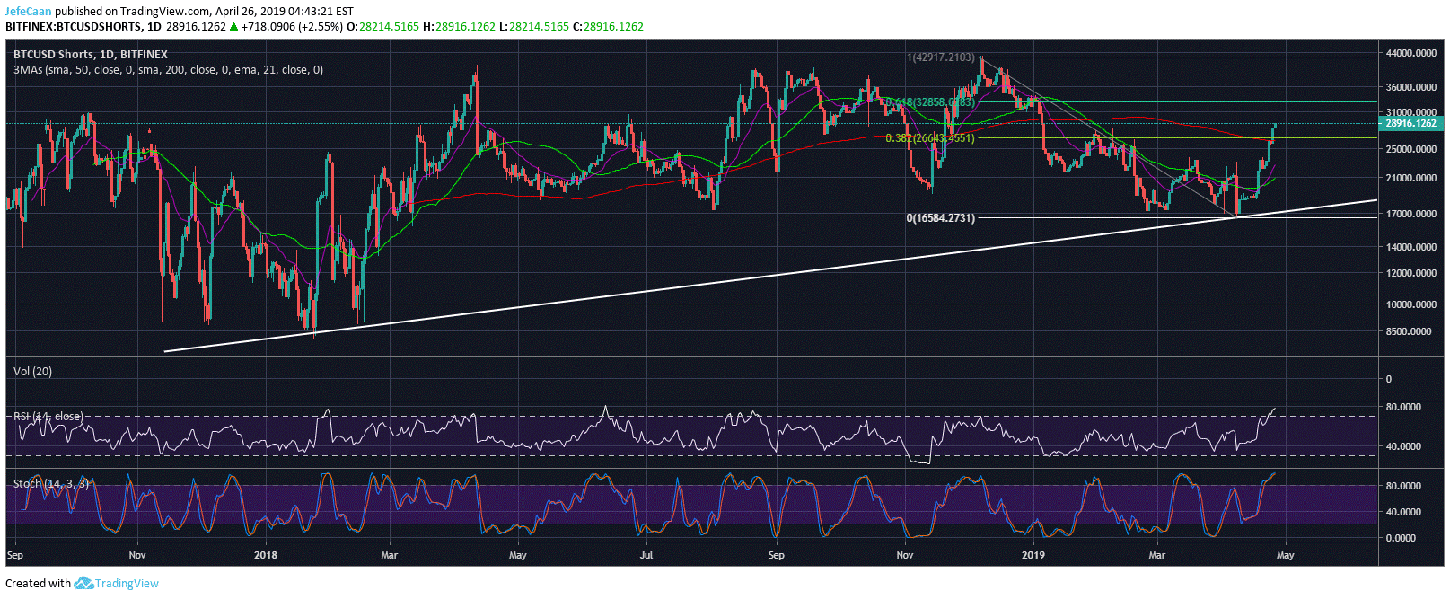 One strong observation that strengthens our case that the bear market is not over yet is that if you look at the price of Bitcoin (BTC) it takes weeks to climb, but minutes to dump. Most people in this space who are watching the charts 24/7 to look for good entries can't stop themselves from panic selling. Recent developments with Tether are going to make the situation even more difficult now. There might be some Bitcoin (BTC) buying to cash USDT into Fiat but any hopes of the price staging a successful rally past the $6,000 mark seems to be dead now. As for BTCUSDShorts, the number of margined shorts has been on a roll and is now due for a correction.
We saw BTCUSDShorts rally past the 200 day EMA as Bitcoin (BTC) crashed yesterday. The price of Bitcoin (BTC) declined first and the shorts piled up after. We can still see the number of shorts rise if the price continues to demonstrate weakness. However, we still expect a retest of $5,800 before the price can fall lower. People are now talking about a fall to $1,000 as a possibility, something which until now was considered ludicrous. This slow bleed is going to end up in a lot of people giving up on the market and that is exactly when we are going to bottom because the bear market is not over yet.