Bitcoin (BTC) is close to its next big move. If we take a look at the 4H chart for BTC/USD, we can see that the price broke below a critical trend line support earlier this month. It managed to climb back above it, but that move was nothing more than an attempt to liquidate shorts around the trend line. After that, the price broke below this trend line again and failed to break past it again. This time, the price has tested it again and is eyeing a breakout past the key trend line resistance again. Considering the recent price action, it would not be surprising to see a temporary break above this trend line again but most of this is inconsequential in the grand scheme of things. The price has yet to break past a key trend line resistance on the monthly time frame as we have discussed in many of our analyses.
The parabolic rally in BTC/USD might be about to come to an end as the price approaches a decision zone. In a few weeks from now, the price has to make that decision. So far, it remains clear to most professional traders that we will see a strong correction to the downside. However, what also remains clear is that the market makers are not going to just hand over good short opportunities to the bears. They are going to surprise them like they did last time when the price shot up above $6,000. This does not mean that they will surprise them by pumping the price up this time, but one thing is clear and that is that these market makers/casinos cannot allow the retail trader to win. Typically, the role of a market makers is to provide liquidity but when a space is this unregulated, they usually get more ideas and why would they not when there is no one stopping them.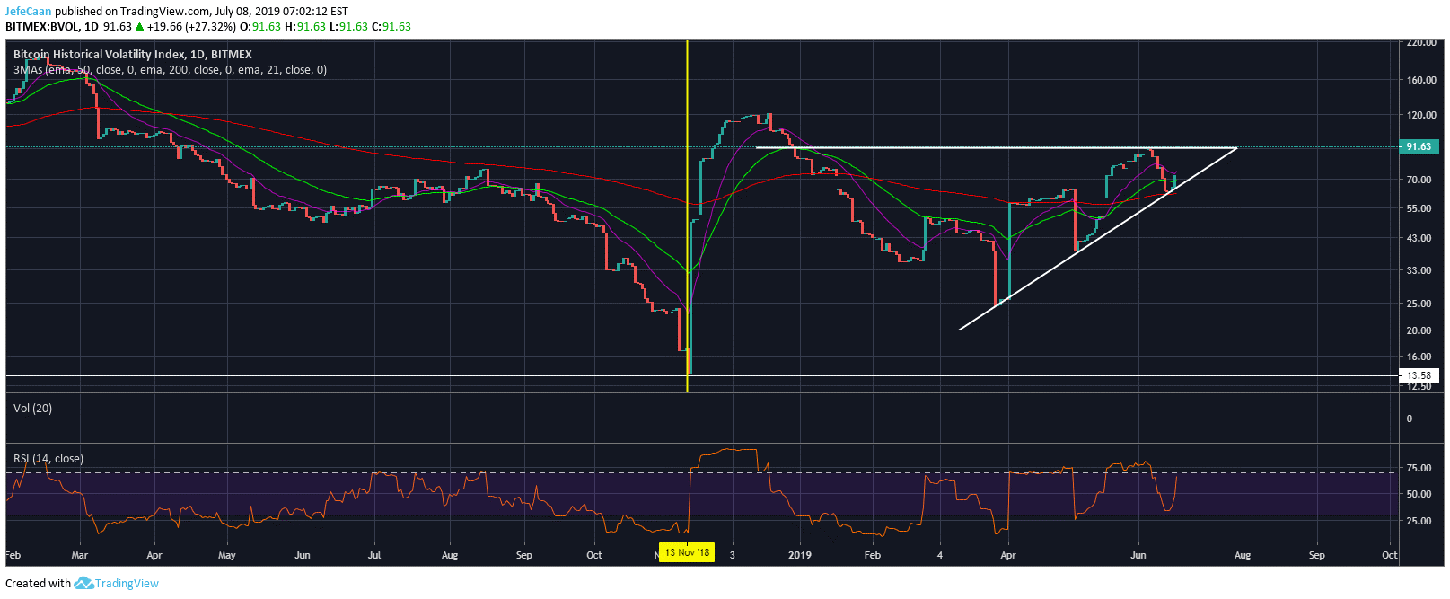 When the next downtrend begins, we are likely to see evidence of how some exchanges are trading against their users. Most such negative developments come to light during a bear trend all though some of us already know quite well who is doing what and how they are doing it. There is a lot of corruption going on this space. It wouldn't be reasonable to name one party without naming the others. Furthermore, this is a job for the SEC and other regulatory bodies. This is where they come in. That being said, there are a lot of people who would be more than happy to hand them the case on a plate.

If we look at the daily chart for Bitcoin Historical Volatility Index (BVOL), we can see that the last time the volatility shot up we saw the sharp downtrend in Bitcoin (BTC) that crashed the price below $6,000 in November, 2018. The ascending triangle on the chart shows that we might be close to a similar breakout that could have game changing consequences for Bitcoin (BTC).