Bitcoin (BTC) is trading within a bear flag that could soon break to the downside and then the price would be on its way to fall down to $9,473 again. We have been expecting a retest of this level and it is likely that it may happen soon. However, it is important to note that there is too much uncertainty in the market. Traders are unsure as to which way the price could go from here and that is seen in the form of extreme volatility in the market. There have been a lot of misleading moves today. At first, the price gave traders the impression that it was forming an ascending triangle. Soon after, it invalidated that triangle and entered a bearish pennant. Then it invalidated that bearish pennant and has now entered a bear flag.

The bear flag seen on the 15 min chart for BTC/USD has a very high probability of breaking to the downside. That being said, it may not necessarily see the price decline to $9,473. One thing to realize here is that the price does not have to form a double bottom. For all we know, it could start rallying from current levels and we need to be prepared for that eventuality. The market makers are having fun liquidating bulls and bears to both sides as uncertainty prevails in the market. The whales and market makers just love uncertainty and it is during such times that they make the most money. The same goes for professional traders. Eventually, Bitcoin (BTC) will fall below $9,473 and fall towards lower levels as it breaks below the descending triangle but before that happens, it is going to shake out a lot of impatient traders.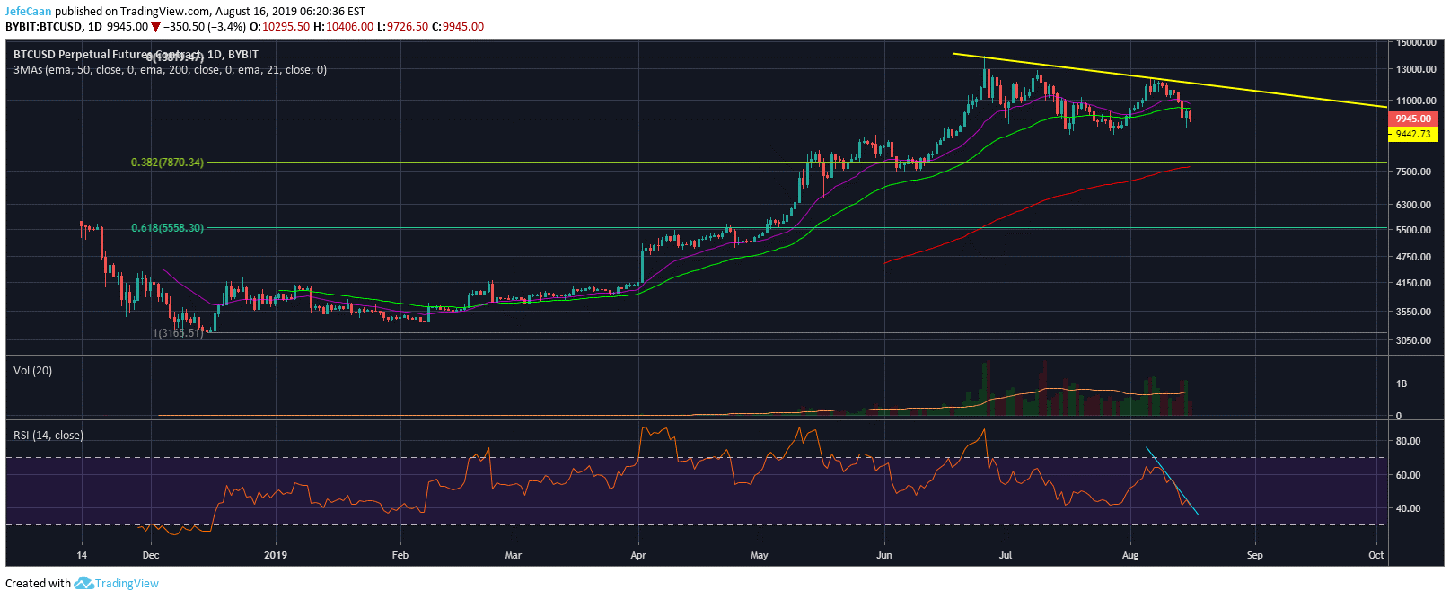 Bitcoin (BTC) is eventually going to break below the descending triangle seen on the daily chart and when that happens, it's all going to unfold very quickly. We still expect the price to rise towards the top of the descending triangle before it breaks below it but this should not be your focus as a long term investor. The move up from here might present trading opportunities but now that BTC/USD has topped out after the parabolic run up, investors need to realize that this is the time to be selling and not buying Bitcoin (BTC) or other cryptocurrencies.
The Fear and Greed Index is at 31 today up from 13 yesterday which is a sign of extreme bullish euphoria in the market. A lot of people are still too eager to buy the dips and this is why we are seeing this double bottom forming inside the descending triangle as the market makers and whales prey on this bullish euphoria. Long term, the price of Bitcoin (BTC) has to decline below $3,000 to find a bottom most likely between $1,200 and $1,800. We expect that to happen around Bitcoin (BTC)'s next halving. Despite Bitcoin (BTC)'s bearish outlook for the time being, we still believe that Bitcoin (BTC) has a real shot at becoming a global digital currency in the years ahead.