Bitcoin (BTC) is likely to see a speedy recovery next week if the price ends up closing above the 50 Week EMA. Historically, this has led to significant upside and we expect this time to be no different. In fact, we might see the price rally even more aggressive to liquidate some shorts and test the previously broken descending triangle as resistance. It is important to realize that even though BTC/USD has had a massive decline this week, we would still need to see a retest of the previously broken descending triangle and see a rejection there to confirm our bearish bias. Stochastic RSI on the weekly time frame indicates room for a rally from current levels of we see a bullish weekly close. 

We are hopeful of a bullish recovery because it is long overdue but that shouldn't make us oblivious to the change we have recently seen as the bears have taken control. The price of Bitcoin (BTC) is very likely to have topped out and is not likely to see another yearly high. Some analysts have been discussing the possibility of a fall down to $6,000 and then rally towards a new all-time high but I don't see how something so bearish could lead to something so bullish without the correction being completed. Not only are the bulls going to experience maximum pain but the traders that are hoping to catch the bottom like a knife would suffer as well. When BTC/USD bottoms it usually feels like the end of cryptocurrencies but so far we haven't seen anything even close to that.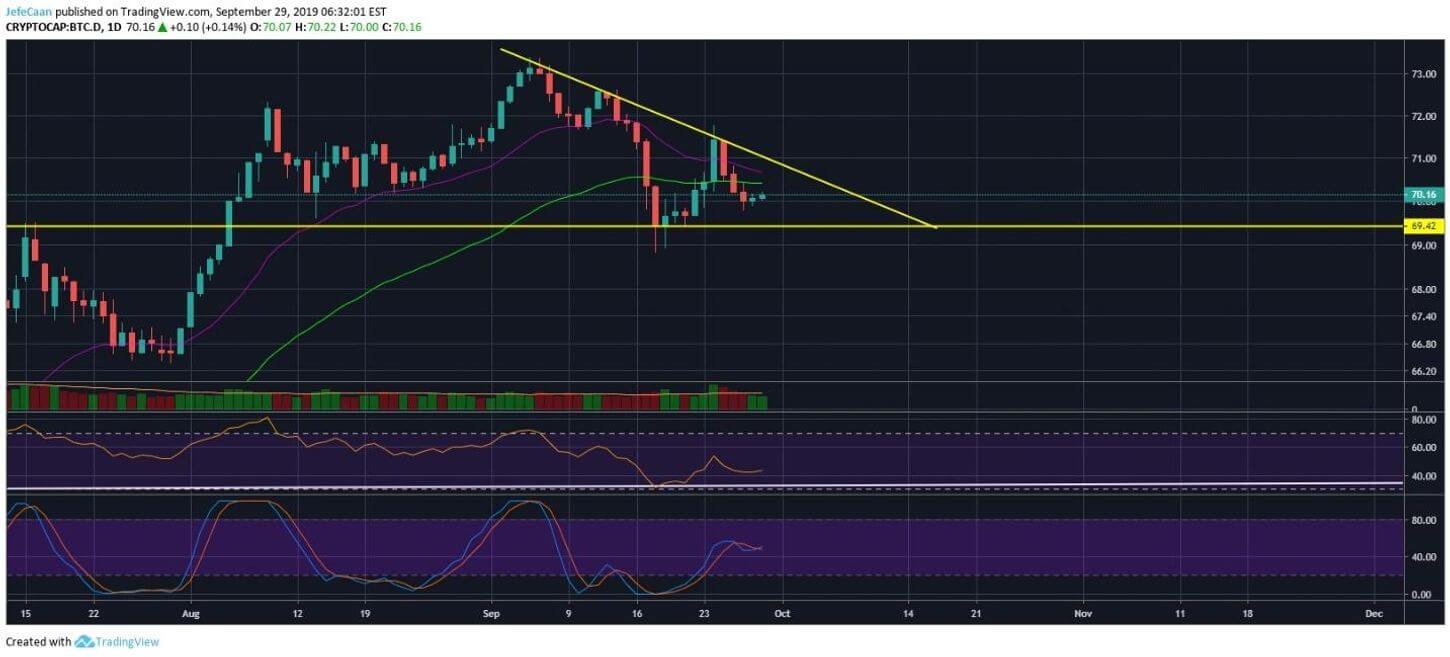 If Bitcoin does see a recovery short term it will most likely coincide with the whales cashing out of altcoins into Bitcoin (BTC). This view is supported by a rising Bitcoin dominance (BTC.D) at a time when further upside is expected in Bitcoin (BTC). We have seen such scenarios play out in the past before major corrections and I think the whales are well aware that Bitcoin (BTC) is extremely unlikely to break past the previously broken descending triangle. Equally unlikely is the probability of a break below the descending triangle in Bitcoin dominance but it still remains a possibility. Unless the market was preparing for another parabolic run which I highly doubt, the odds of Bitcoin dominance breaking below the descending triangle are too low. 
The cryptocurrency market as a whole has a lot more catalysts that could trigger the next downtrend compared to catalysts that could trigger an uptrend. The most anticipated event of the year, the Bakkt launch was a massive disappointment for investors and traders. There's nothing much that could save the price from crashing hard if we see a few bans or hacks. So, even though it is tempting to long Bitcoin (BTC) here in the hopes of profiting off a long overdue correction to the upside, it is not worth the risk reward as the price could tank very aggressively if we face a rejection at the previously broken support turned resistance at the descending triangle.