Bitcoin (BTC) finally made the move that we've been calling for in our analyses for weeks now. It was the move towards $9,916 and that finally came to fruition. However, like us, many other professional traders expected that move so when it finally happened, they took profits and got out of their positions. This resulted in a weakening of the bearish momentum. Make no mistake; there are a lot of retail bears still hoping for the price to fall to $8,800 or lower levels from here. I don't see it happening at this point. The most probable scenario that I see based on the setup on the 1H chart for BTC/USD is a move towards $10,500 from here. If we are being more bullish than the highest I see it going is $10,900 but I don't see it touching $11,000.

History may not always repeat itself but it does rhyme. If we compare the fractal from August, 2019 to what we have now, we can see that the price ended up falling down to the trend line support and then shot up to the 61.8% fib extension level from there. If the same were to happen again, we would see the price rising as high as $10,500 but I would not be surprised if we see some shorts get liquidated at those levels and the price ends up rallying towards $10,900. I would be surprised if we see the price testing the top of the symmetrical triangle though. We are close to seeing a large move to the downside this month but before that happens I expect more of the aggressive bears to be shaken out because the casinos cannot afford for people to make easy money.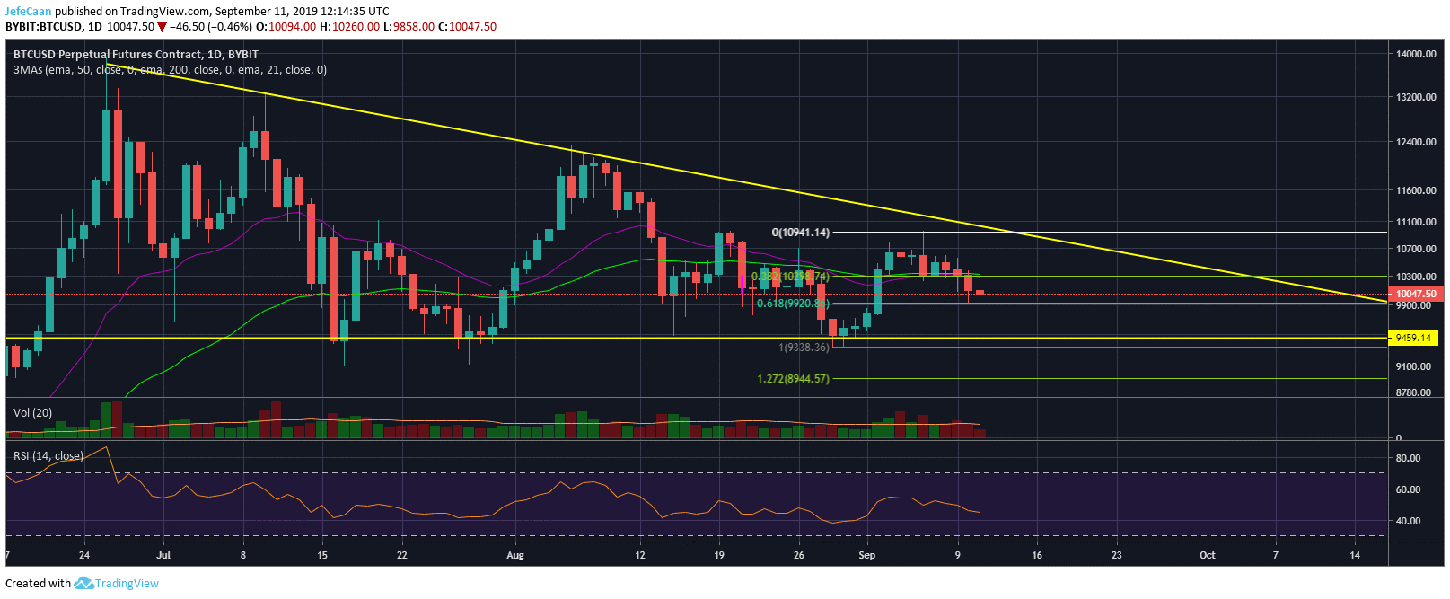 Times are bad for exchanges and market makers and you shouldn't expect any fair play when it comes to them saving their own skin to remain in business. In every battle, you have to understand who you are and who the enemy is. You are trading against other retail traders, yes but there are other bigger forces that you are trading against and they control most of the fake volume. If you have been paying attention, they have been playing mind games on shorter time frames to analyze and assess how you are going to react when that larger symmetrical triangle is close to a breakout.
You cannot compete with the forces that control the large movements in BTC/USD and its overall direction but you can learn their tricks to remain under the radar and stay profitable. If you make the expected moves, you will fall in their traps. After the price declined recently, everyone is expecting further downside now. So, a lot of people will enter aggressive shorts at this stage only to be liquidated soon after. What's sad is that they are going to see their positions being liquidated and the price will fall below this descending triangle and eventually decline to lower levels without them on board. So, don't fight the market and let the price come to you rather than chasing it.