Bitcoin (BTC) is on the verge of a major decline as the price has just found resistance at a trend line support turned resistance. BTC/USD declined from there but before it could continue its decline below the 38.2% fib extension level, it rallied higher from there to shake out the bears. This is nothing surprising because the market makers have always attempted to shake out the bears before the biggest and most meaningful crashes. There was a strong probability that this might happen and the big move to the upside that left a long wick shows us how much real buying interest there actually is in the market. This is nothing more than excessive manipulation and a short term pump before the inevitable crash. 

There is no doubt that Bitcoin (BTC) might have a future if it turns out to be a global currency and the fix to our broken financial system but it is important to realize that price and tech is not the same. Most of the trading volume on exchanges comprises of wash trading or bots trading among themselves with fake orders. When times are good, exchanges make their money from the fees but when interest in cryptocurrencies is low, some of them that have the power to do so resort to such schemes to bet against their users and pocket their coins. That being said, it is no excuse to say that you lost money because the market is manipulated. There are ways to protect gains and minimize losses that traders need to make use of in order to protect against such stop hunts.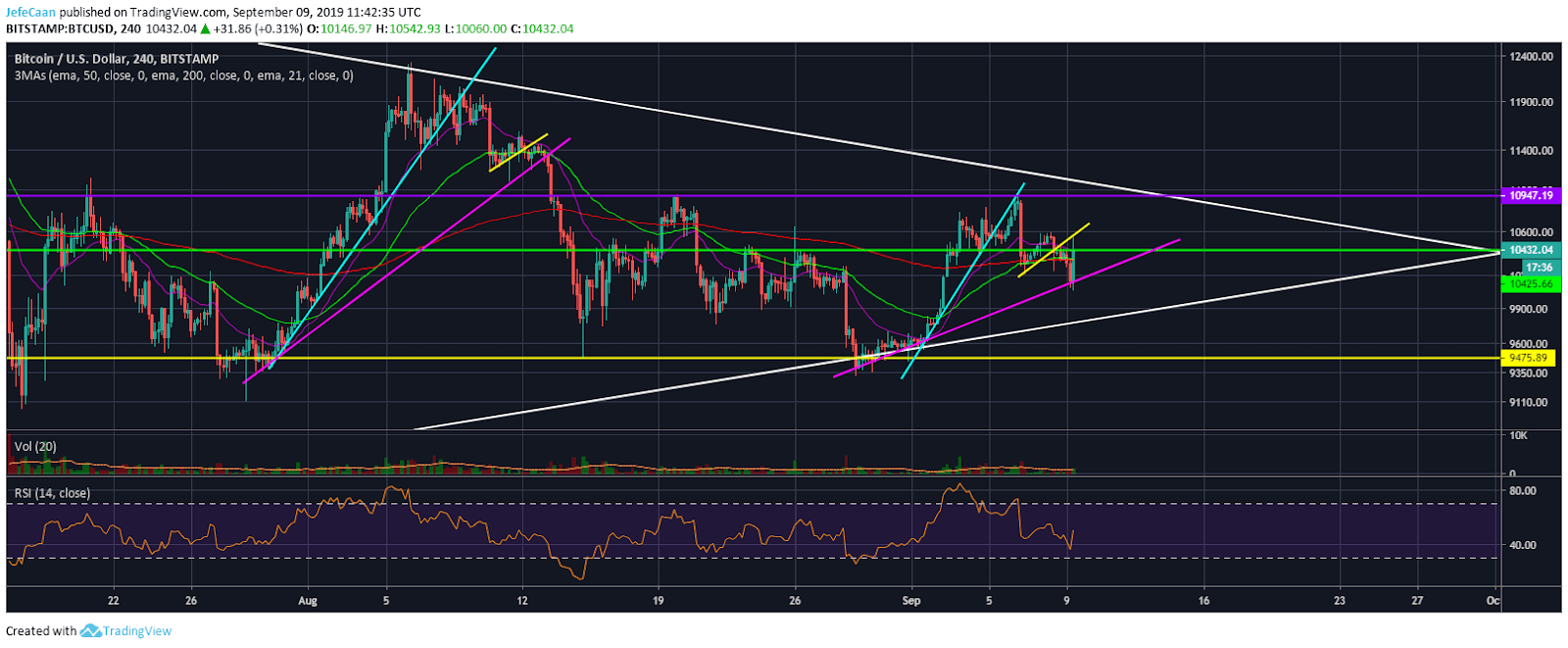 Bitcoin (BTC)'s recent big move to the upside does not seem so surprising when we take a look at the August, 2019 fractal. The price ended up testing the 21 EMA on the 4H time frame before it declined. The same has happened this time with the price retesting the 21 EMA. BTC/USD could trade sideways for a whole from here but a big move to the downside is very probable and only a matter of time. We are likely to see this move invalidate the symmetrical triangle but not the descending triangle just yet. We might still see a short term corrective rally from the bottom of the descending triangle to the upside before further downside follows. 
Bitcoin (BTC) faces strong resistance at multiple points which is why it cannot stall a decline for much long. This move was just a temporary ploy to shakeout greedy bears and to scare other bears so they won't short the market as it prepares for a bigger downtrend. This is why it is important to realize the intent behind this move to the upside. It is not a sign of strength but a sign of desperation. The market makers had to go out of their way to pump the price much higher than necessary to scare off the bears and to trap in more bulls. We are now days away from a turning point in the cryptocurrency market. That is when a lot more people will realize that the bear market isn't over just yet.