Bitcoin (BTC) has once again declined to a four digit price contrary to overly bullish expectations. A lot of traders almost bought the idea that this may never happen again but then the price kept on revisiting the 50 day EMA and the bullish resolve kept getting weaker till the price eventually declined below this level. So, what does this mean? It means that if BTC/USD ends up closing below the 50 Day EMA for the second time within the past two weeks, chances are it is going to go down a lot harder. Market makers have done a good job of keeping the bulls overly optimistic as they keep on expecting a rocket to the moon on Baakt future launch or Coinbase getting millions of new users. Certainly, these are bullish developments for the market long term but they have nothing to do with the price short term.

If anything, most of these events like Baakt futures launch are already priced in which is why they are likely to result in a price decline close to the event because investors generally buy the rumor and sell the news. This is one of the reasons why the market has had such a strong reaction to Justin Sun's lunch postponement with Warren Buffet. People are eager to always find reasons as to why something has happened. I personally do not believe in that. I think the price is the best guide of what is likely to happen next. Usually when something is supposed to happen, we see market events that accelerate that kind of move. For instance, if BTC/USD is primed for a decline, we could see some regulatory crackdowns, arrests or hacks that could cause the price to decline quickly. Events like these happen in the past and they had their desired effect.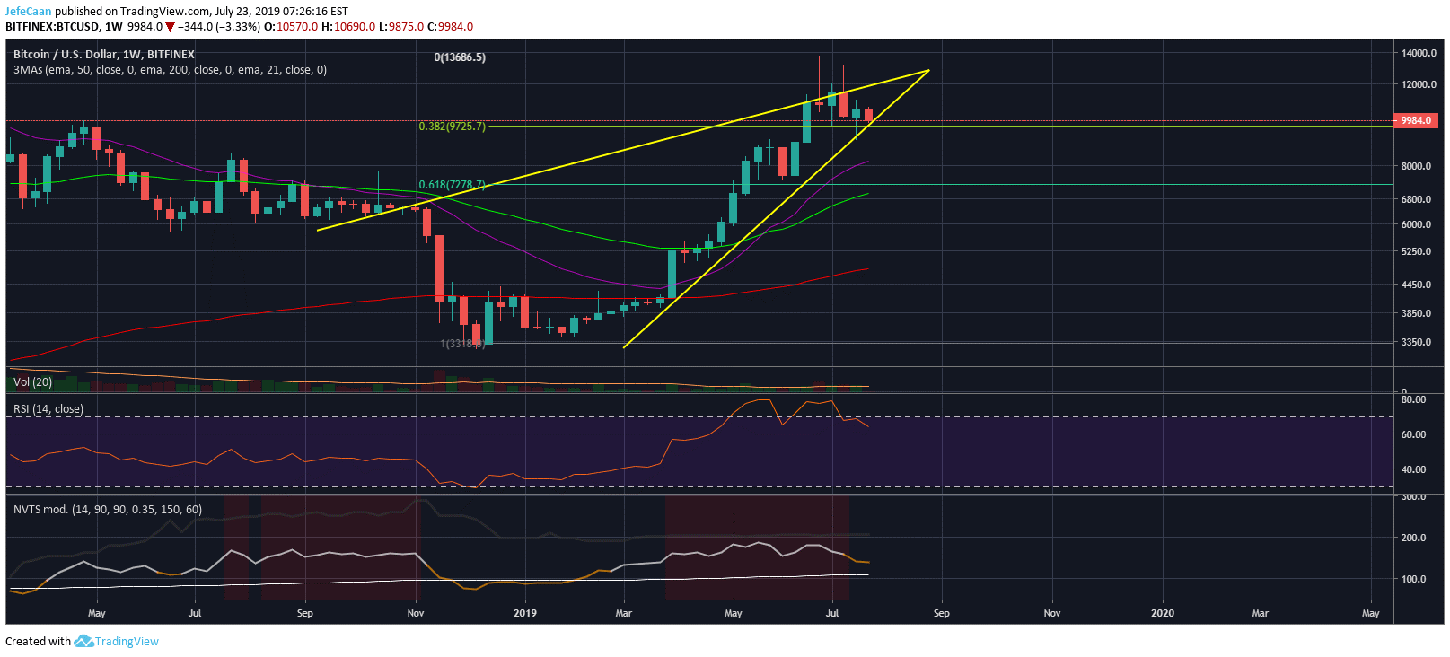 I'm not going into detail of how these events happen. If you are interested to find out, I encourage you to look at stocks of companies like Boeing and Lockheed Martin around key political events in history. You might come to the same conclusion that price action on charts is supported by world events, not the other way around. If we take a look at BTC/USD on the weekly time frame, we can see that the price is hanging by a thread and could fall below the giant rising wedge any time now.
This rising wedge is a ticking time bomb waiting to go off. The most that could happen here is that the price could stall a move to the downside and may end up crashing next week or maybe even later but it cannot delay the inevitable for long. The price is going to crash below this wedge and when that happens BTC/USD would have formally broken the uptrend and would then be on its way to a sharp crash to the 61.8% fib retracement level around $7,200 and eventually a lot lower than that as it declines below the 50 Week EMA.