Bitcoin (BTC) stays strong above the 50 Day EMA. Despite recent attempts to pull BTC/USD below the 21 Day EMA, we see significant strength in the market. The bulls are not ready to cede control and the bears are not determined to bet heavy on a decline from here now that the price has closed above the 50 Day EMA. Bitcoin (BTC) has started the day in red as it retraced from the 21 Day EMA like we expected. We could see it fall even further but the most likely scenario is that it is going to start rising before even touching the 50 Day EMA as support again. This is because the bulls are very eager on buying the dip now that the price has closed above the 50 Day EMA and has completed a major correction at the same time. 
If the price breaks above the 21 Day EMA and closed the day above it, we are likely to see it rise all the way towards $12,000. We might see a wick close to $12,000 but it is more likely to begin its downtrend from there. For those that want to be long and short at the same time, the market is now offering good hedging opportunities. So, traders that believe that the market may be bearish long term but still want to hedge their bets can take long positions here with caution. It is important to realize though that as long as the price remains below the 61.8% fib retracement level from the previous all-time high, there is little to no chance of a bull run. We could see the current move continue without much resistance but things could change quickly on larger time frames.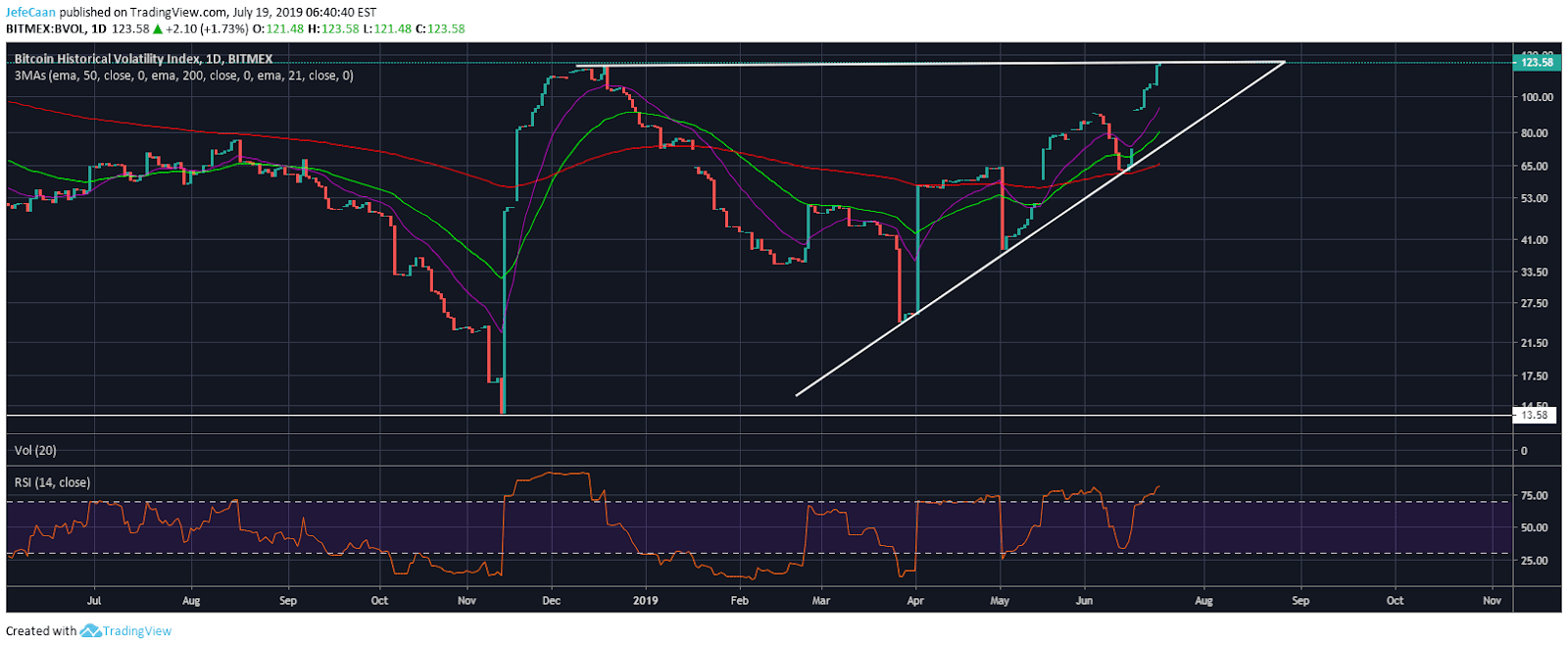 If we take a look at the Bitcoin Historical Volatility Index (BVOL), we can see that a big move is in the offing. What has happened now is that the volatility index has run into resistance which means the big move could be stalled for now and the volatility will decline and the price will continue its current uptrend for now. However, soon as the index breaks past the ascending triangle, we are likely to see something like November, 2018 unfold again. 

Bitcoin (BTC) has had an impressive run since December, 2018. Even traders that bought high and sold low were given a second chance. There's a saying in financial markets that the market believes in second chances but not third chances. All the technical support this statement and this is most likely going to be the last move to the upside before we see the brutal downtrend begin. That downtrend is ultimately going to see the price bottom close to its next halvening in 2020.