Bitcoin (BTC) has completed its big move to the bottom of the descending triangle. The price plunged below $10,000 and touched our target of $9,482 before it bounced back up. It is now expected to keep going up from here till it reaches the top of the descending triangle again. This recent crash in BTC/USD was triggered by a break below the fib circle on our weekly chart. Soon as it broke below this circle, it declined below $10,000 and completed the move towards the bottom of the descending triangle in one go. As this move is now complete, we might a relief rally to the upside, but investors need to be very cautious because the price is trading within a descending triangle that has a very high probability of breaking to the downside.

The Fear and Greed Index is up by two points from yesterday but is still at a level of extreme fear (13). This means that retail traders are scared and they are not so eager to buy the dip anymore. This is just short term sentiment shift that is going to turn back towards positive when the market rallies from here. The real sentiment change is going to happen when BTC/USD breaks below this descending triangle and starts its decline towards the next fib circle. That is going to unnerve a lot of investors and traders who will finally realize that the bear market is not over yet. You might have noticed that some of the popular accounts on Crypto Twitter have also recently changed their tone from "Bear market is absolutely over, we are in a bull market" to "there is no reason to panic yet". Why should there be any reason to panic if you said the bear market was over?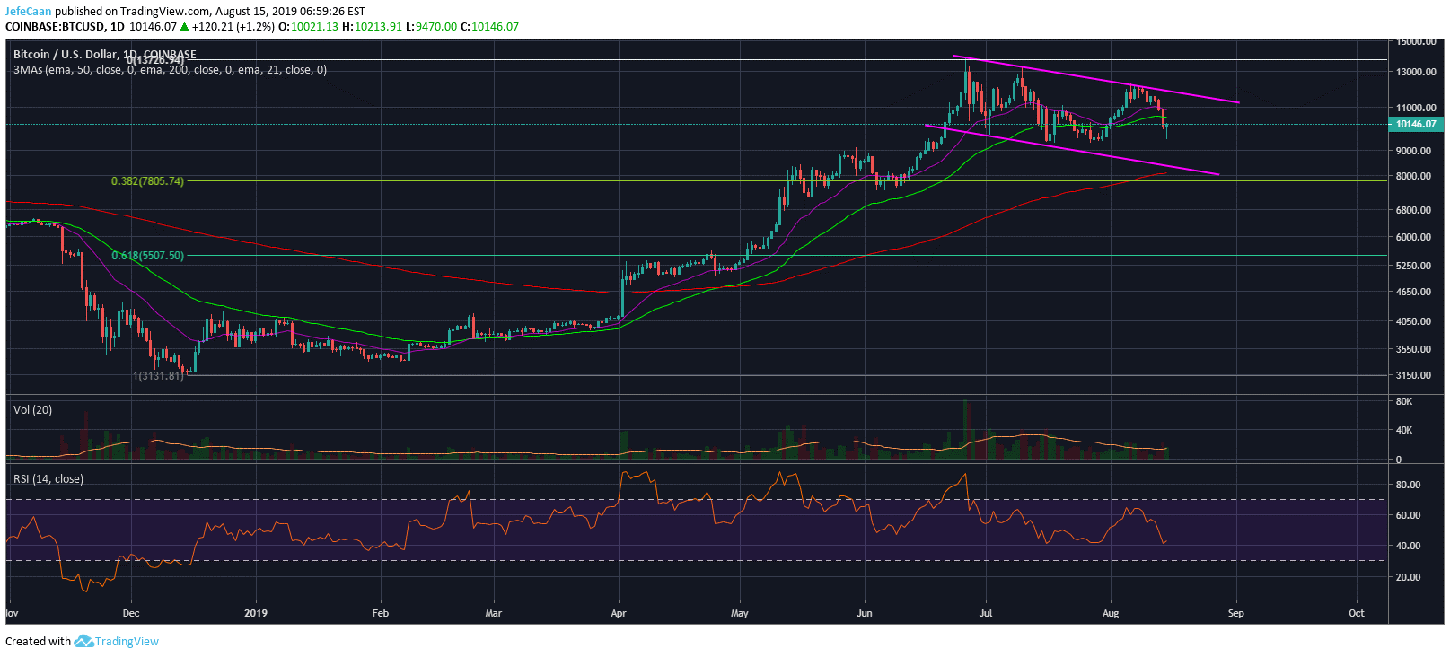 Crypto exchanges skirt around regulations here and there but if you've been using traditional brokers, you would have noticed a disclaimer on their website that says something like "75% of the traders lose money". The reason so many of them lose money is because they listen to what's popular. People like to listen to what they want to believe to be true. Just like most things in life, the popular opinion only lands you in trouble in the markets. When the price was trading below $10,000 the last time, a lot of people started tweeting "this is the last chance to buy at a four digit price".
You will see the same people saying that again this time. If they were good traders, they wouldn't be wasting their time shilling. Now, if we take a look at the daily chart for BTC/USD, we can see that it still remains in a downtrend. A move up from here will get a lot of people excited once again but they will conveniently choose to ignore the double top between June and July because that would mean that the same thing could happen again. When that finally happens, they will see the descending channel as part of a major bull flag. If you have a bias, there is no shortage of reasons to support that bias but if you are unbiased there are signs and indicators beyond charts that tell us that the worst is yet to come.