Bitcoin (BTC) is very likely to have already topped out around $13,941. This rally is a lot similar to those that we have seen in the past that leads to the formation of a double top that triggers a downtrend. BTC/USD has been on a parabolic run for the past few months without any significant correction. It is not a question of if the price is going to begin a downtrend but when it will begin the downtrend. Some retail traders might disagree in light of the bullish euphoria and actually think that this could go on forever but history tells us otherwise. Every financial asset follows cycles and Bitcoin (BTC) is no stranger to such cycles. The current Tether (USDT) pumped rally has made a lot of traders overly optimistic and made them believe that this is the beginning of a bull market, but a thorough analysis shows us that we are not even half way through the bear market just yet.

The price is still following the 2014 part of the last cycle which means that we are far from seeing the price bottom just yet. Before even looking at the technicals or the fundamentals, if we take a look at what industry leaders and influencers on Crypto Twitter are saying, they are all on the same page. If BTC/USD were to rocket towards $20,000 from here all of them would be right and all of them would be cashing out. If that were to happen, how would the casinos stay in business? Some of the popular accounts on Twitter are even sharing posts about a large number of Tether (USDT) being printed every now and then as if it is a good thing. As traders, there is nothing wrong with trading Bitcoin (BTC) or a useless altcoin as long as the risk/reward is worth it. However, at this point the risk/reward is just not worth it.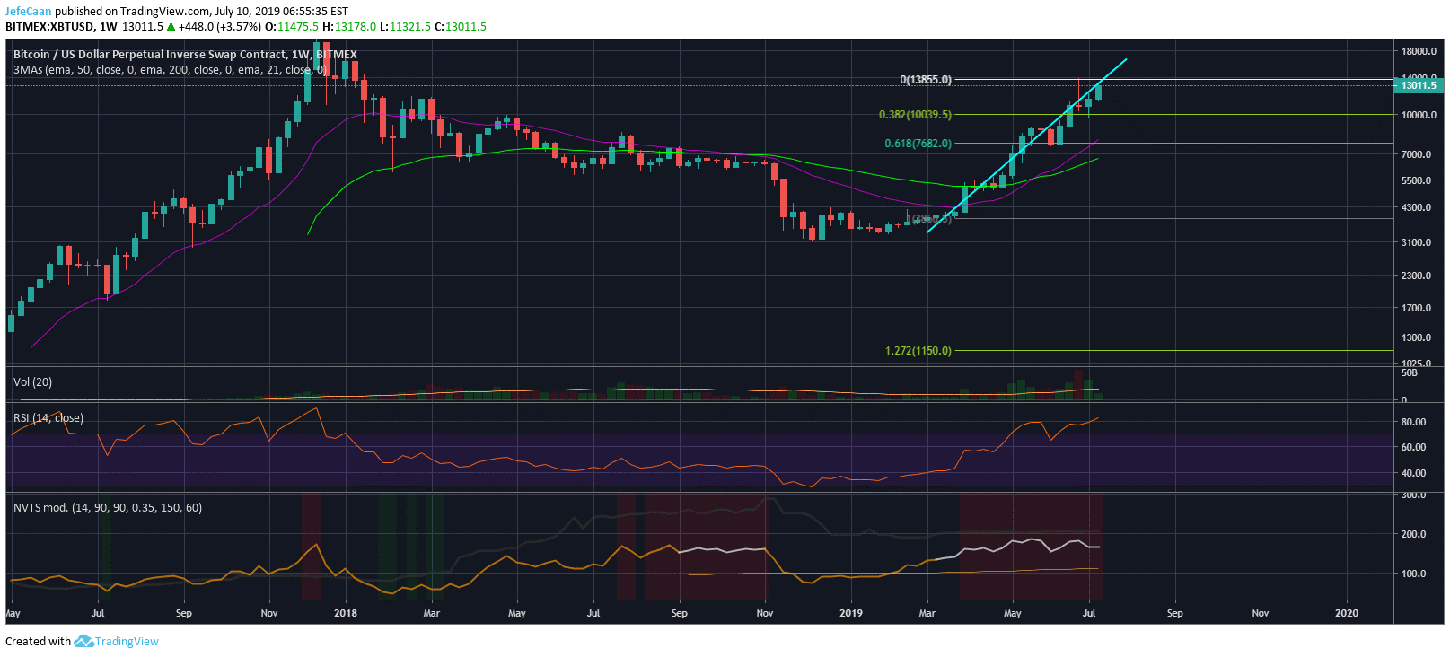 The SEC is preparing to go after crypto tax evaders. They are also seeking cooperation of tech giants in this regard. Meanwhile, the NYAG has submitted evidence of Tether and Bitfinex conducting business in New York. In other words, the market is not short of catalysts that could tank the price in a matter of minutes. There is a reason why most investors are in Bitcoin (BTC) and not altcoins at the moment. They want to be able to sell soon as they see fear coming.
Some big players may see it coming; others that believe the price could shoot past $20,000 might be left holding the bags when the price eventually declines to find a bottom between $1,800 and $1,200. NVT Indicator on the weekly chart for XBT/USD is flashing a sell signal again and it is only a matter of time before we see the price decline to $7,682 and subsequently a lot lower in the weeks and months ahead. It is important to note though that altcoins are likely to experience the most pain when