Bitcoin (BTC) is primed for significant further downside from here now that it has completed the big move to the upside and ran into a strong resistance. In my opinion, the price has either topped out here or very close to topping out. In other words, I don't see it rising to $11,000 from here but if it did as a trader I would be prepared for that outcome. Now, the reason I expect BTC/USD to decline from here is because this is the same fractal the price printed in 2014 before its decline. The price has also retested the 50 day EMA as it did last time. There are a lot of similarities and if history is any indication that means that we might see the price trading sideways for a while from here till it breaks down. 
We have long been talking about the formal beginning of a bear trend and that is finally happening now. The thing with BTC/USD is that most of the moves made during this entire bear market have resembled the 2014-15 cycle. However, investors had no idea as to what part of the cycle the price resembled until that move was complete. This is how we were not sure in the beginning whether the price was repeating 2015 or 2014. I always assumed it to be 2014 because resembling 2015 would mean that the ongoing cycle is shorter than the previous one which does not make sense. So, if this cycle is longer than the previous one as I expect it to be, I see BTC/USD trading sideways at least for a week or two from here. This would also give the bulls plenty of time to trap themselves.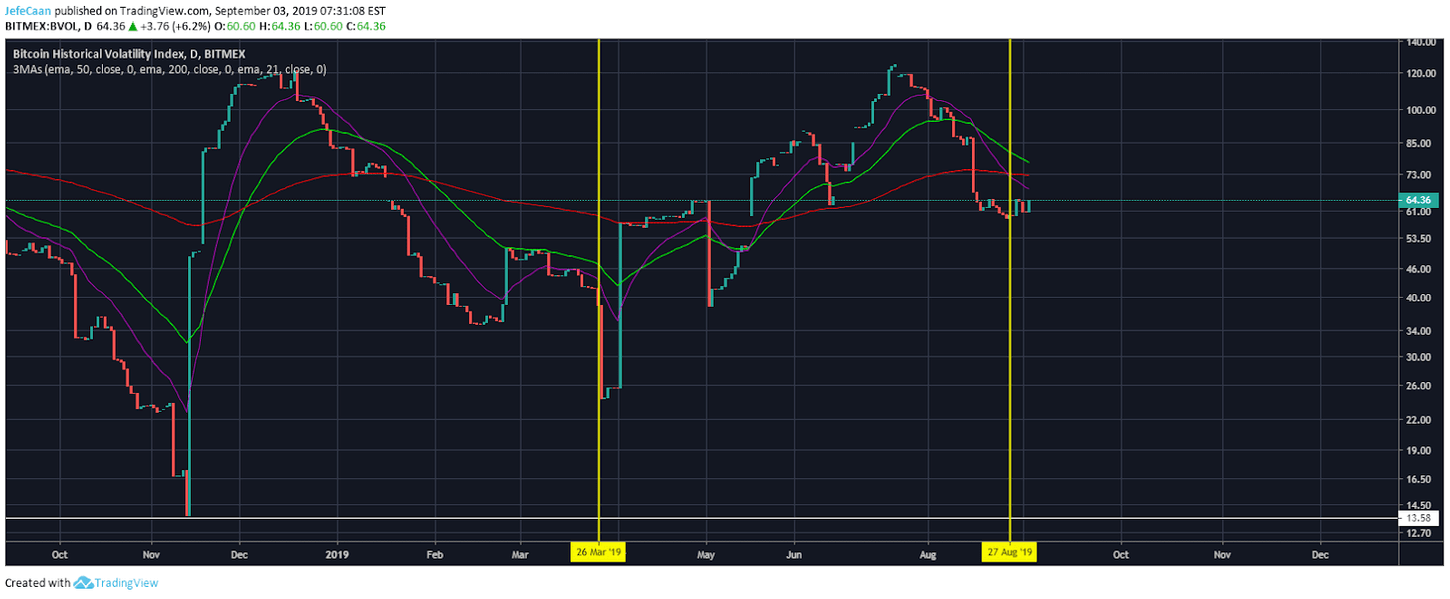 As for the bears, there are retail bears and there are professional bears. So, the retail bears would be too scared to short the price after this move now that their favorite descending triangle has been invalidated. I have been repeatedly saying in my previous analyses that this descending triangle would be invalided to the disappointment of the bears and it has finally happened. Now, if we take a look at the Bitcoin Historical Volatility Index (BVOL) we can see that a big move is in the offing. 

The last time the index was at the point of a breakout we saw a big move to the upside in Bitcoin (BTC). This time, a rise in volatility would coincide with a big move to the downside. Some people are taking useless factors like Bakkt into account to push for a bullish case. I think that is very unreasonable to do because these events have been repeatedly postponed before and I would not be surprised if something like that happens again. We need to be focused on the charts as everything else comes second to what the charts tell us.