Bitcoin (BTC)'s next move is going to shape the direction of the market. Many of you might be wondering, "isn't that obvious?" Well, it's not. For the past few days, Ethereum (ETH) not Bitcoin (BTC) has been dictating the direction of the market because it has been winning the dominance battle. Ethereum (ETH) has won a couple of battles but can it win the war? I don't see it happening. If BTC/USD holds its ground while altcoins begin their correction, we might see a trend reversal in Bitcoin dominance which would pave the way for more downside in the market in the days and weeks ahead. So far, BTC/USD is confused whether to break below the descending triangle or break above. Much of this confusion is because of the lack of incentive to trade BTC/USD at the moment because of funding.

If you are a bull, your goal is to pay as less a premium as possible on your longs. If you are longing BTC/USD you are paying a premium of more than 0.03% compared to 0.01% on Bitmex. This makes Ethereum (ETH) more appealing for the whales to long and it makes Bitcoin (BTC) more appealing to short. However, if you are a bear, you would be more interested to short Ethereum (ETH) instead of Bitcoin (BTC) at this point, so this is why Bitcoin (BTC) is currently in a standstill looking for direction. The recent pumps in Ethereum (ETH) while BTC/USD has been trading sideways is a testament to the fact that there is a lack of real buying interest and it's just the whales stop hunting and shaking out aggressive bears. The Fear and Greed Index shows that there is still a lot of fear in the market. Crypto Twitter also shows that most traders were caught off-guard by the recent move. Even most of the bulls did not expect Ethereum (ETH) to rally beyond $200.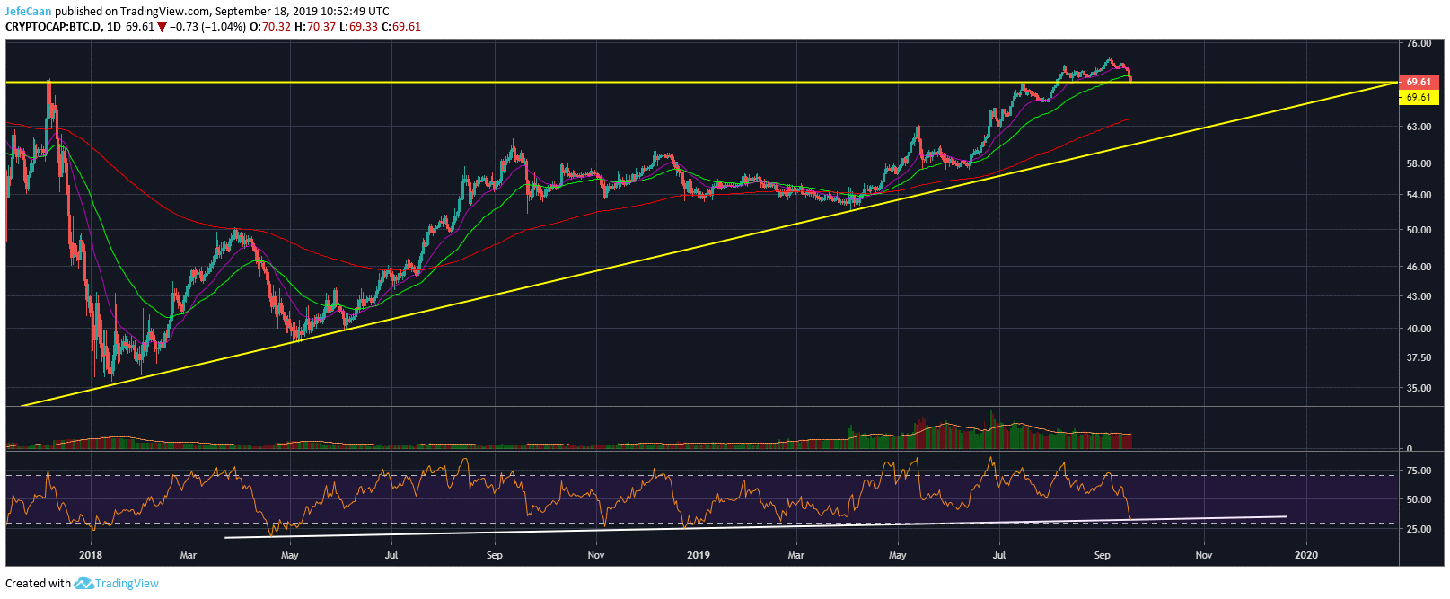 Regardless of whether the recent move in Ethereum (ETH) was manipulation or not, it forced Bitcoin Dominance (BTC.D) to decline to a key support. Bitcoin (BTC) has to hold this support at all costs. If this level breaks, we would have another altcoin season and Bitcoin (BTC) will continue to lose ground against Ethereum (ETH) and other altcoins. In my opinion, something like that would only happen if we were on the verge of a bull market.
As I believe that we are still in the 2014 part of the last cycle, I don't see this support breaking. RSI on the daily chart for Bitcoin Dominance (BTC.D) has also declined to a strong support that extends to April, 2018. The most probable scenario from this point forward is a temporary rise in Bitcoin (BTC) as investors take profit on altcoins. After that they would need to cash out in anticipation of the next downtrend which is when we will a sharp decline in the market marking the beginning of the next downtrend.