Bitcoin (BTC)'s parabolic advance seems to have come to a halt all of a sudden after a strong rally past our $12,500 target. However, on closer observation, we can analyze why this might have happened and what it entails. Before we delve into that, let us first take a look at the monthly chart for EUR/USD. We can see right away that the pair is in a strong downtrend. It has been in this downtrend since the global financial crisis of 2008-09. Over the years, government and businesses have gotten used to this model and it is unlikely to be changed anytime soon especially now that Christine Largarde has been made President of the European Central Bank. Coming back to the chart, we see the pair faced a rejection at the 50% fib retracement level and is now eyeing a break below the descending triangle to resume the downtrend.
If this downtrend resumes as we expect it to, we might see it coincide with some turmoil on the global political and economic scene. Donald Trump says he wants a weaker dollar and that he is tired of the Euro being manipulated but actions speak louder than words and his actions tell us that we are unlikely to see a weak dollar anytime soon. If the US government continues to follow existing policies, we might see EUR/USD decline till the next US Presidential Election. Fed Chairman, Jerome Powell's testimony before congress on Wednesday is going to be another important event that could have major implications directly for this pair and indirectly for Bitcoin (BTC). Analysts think this testimony could make or break the stock market rally. In case of Bitcoin (BTC), there is nothing much to suggest a bullish reaction to a positive stock market outcome of this testimony.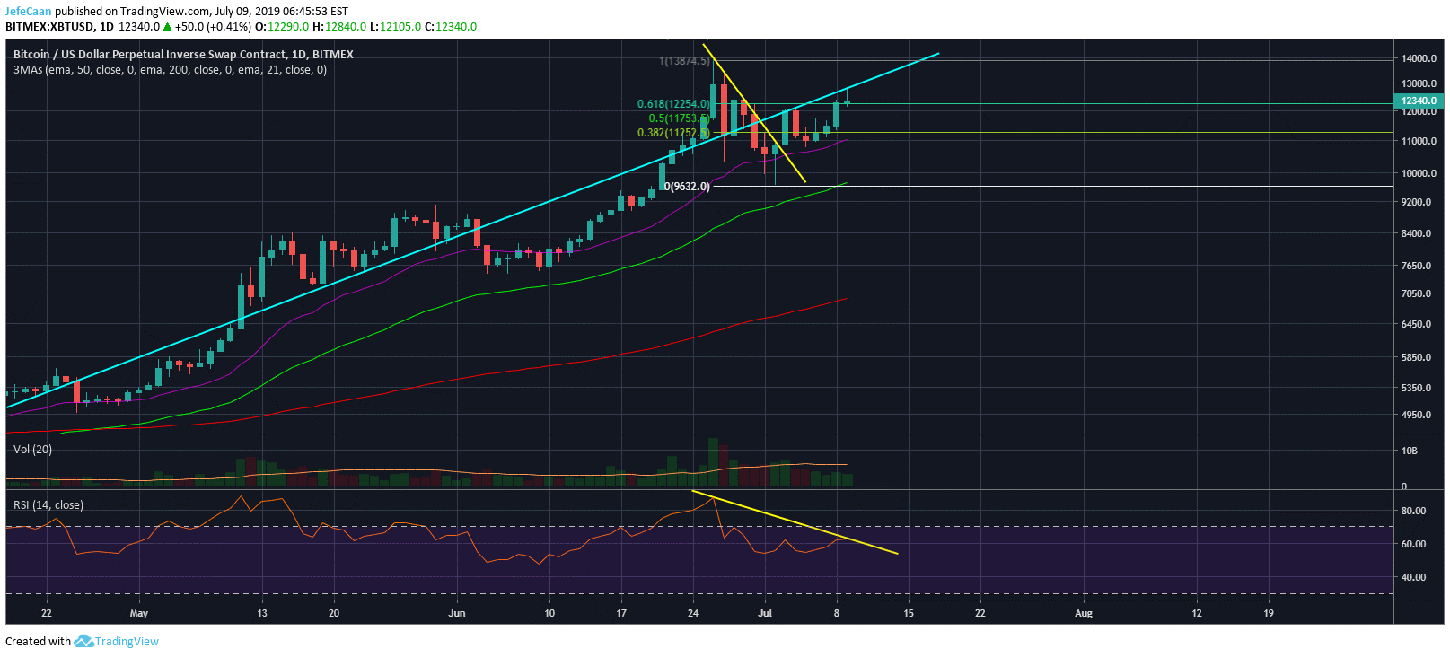 However, if the outcome is bad for the stock market, we expect it to be worse for Bitcoin (BTC) and other cryptocurrencies. This is because BTC/USD has been on a parabolic trajectory for months now and the majority of investors are still expecting this to continue without any retracement. Many of the big accounts on Crypto Twitter are overly bullish. Meanwhile, the Fear and Greed Index is back at 84 in the "Extreme Greed" territory. Traders should expect a lot of volatility for the next few weeks because Bitcoin (BTC) is at the point of a trend reversal.

If BTC/USD begins its downtrend from here, we would expect the fall to be quick and the price will tank before traders have an opportunity to sell or short sell. Meanwhile, Bitcoin (BTC) has also outperformed a lot of altcoins which suggests that during the next downtrend, most of them are likely to break key support levels against Bitcoin (BTC). Many of the renowned industry leaders like Arthur Hayes and Tone Vays do not expect most altcoins to reach their previous all-time highs during the next bullish cycle. This means that we might finally see a long awaited market cleansing when BTC/USD begins its next downtrend.