Litecoin (LTC) keeps on testing the 38.2% fib extension level but it lacks the momentum to break past it. However, it has not faced a strong rejection either. In classic technical analysis, when the price keeps testing a certain level whether as support or resistance, it is very likely to eventually break it. So, if LTC/USD keeps testing this level, we are likely to see it break to the upside to test the 50 day EMA again. It is premature to say if it will end up rising as high as $100 to form another shoulder of the head and shoulders formation that is in the making on the daily chart. Earlier, a lot of traders assumed that we already have the right shoulder but now it is becoming clearer that we might still see the right shoulder form and the price could rally higher from here.

The price of Litecoin (LTC) is on the verge of a breakout. The daily RSI shows that there is plenty of room for a rally to the upside. In the past LTC/USD has been a leading indicator of what happens to Bitcoin (BTC). It is likely that the same could happen again. If LTC/USD closes above $71, we will have confirmation that further upside could follow in the cryptocurrency markets. For the past two months, LTC/USD has been in a steady decline and there is no denying that it has topped out. I don't see LTC/USD rallying towards a new yearly high from here. However, that being said, it does not mean that we cannot see further upside from here after weeks of continuous downtrend. Now that the price keeps on testing the 38.2% fib extension level, the probability of a big move to the upside is even higher.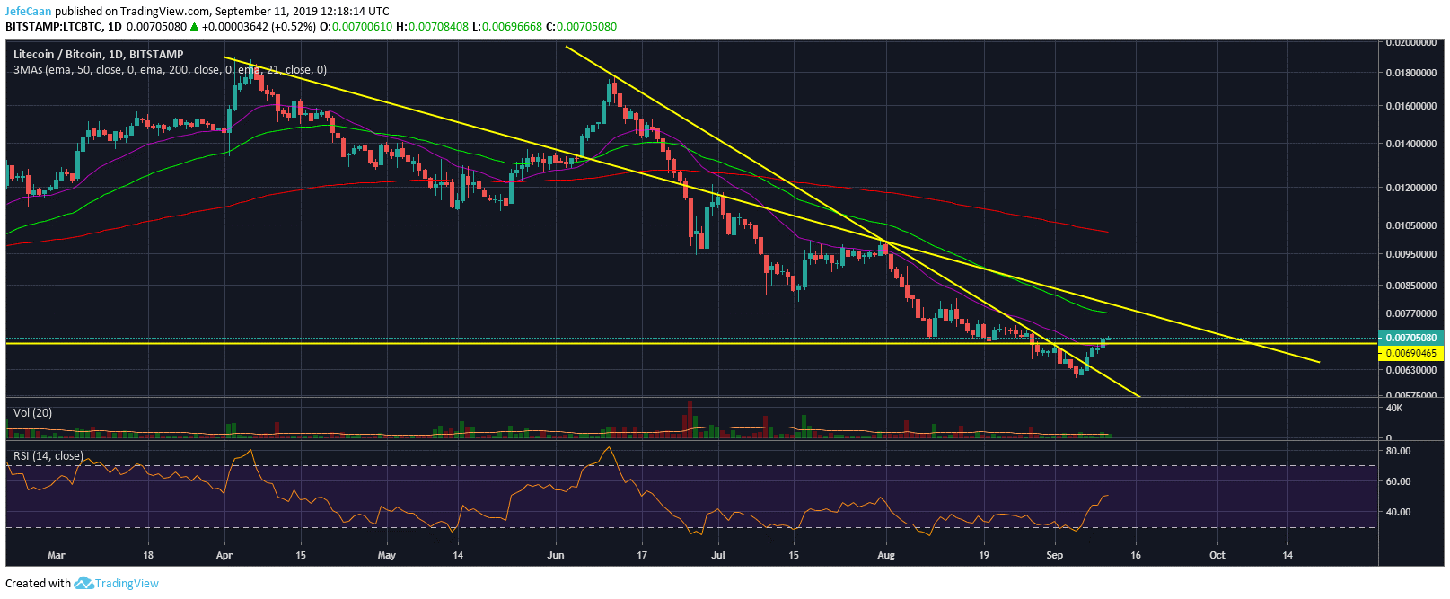 Litecoin (LTC) has already broken a key trend line resistance against Bitcoin (BTC) which is another strong reason why we expect further upside from here. We are likely to see LTC/BTC rally towards the next trend line resistance and that is when we will also see a retest of the 50 day EMA. The RSI shows that there is plenty of room for such a move which means that the odds of Litecoin (LTC) rallying against Bitcoin (BTC) are quite high from this point forward.
It is important to realize that Litecoin (LTC) would not be breaking a key trend line resistance against Bitcoin (BTC) if it did not mean to rally against Bitcoin (BTC) short term. Now that LTC/USD has broken past two key horizontal and trend line resistances, it is reasonable to expect that it might keep on rallying. This rally would likely coincide with a break past $71 in LTC/USD and we might see it rally towards $100 in the days and weeks ahead while Bakkt keeps the euphoria high. That would also be the time when most people would buy the top and be left holding the bags when LTC/USD makes an even bigger move to the downside.