Candes Gentry and her son Poet co-authored a cookbook that inspired a fund supporting community initiatives for nutritious, sustainable, and locally sourced food.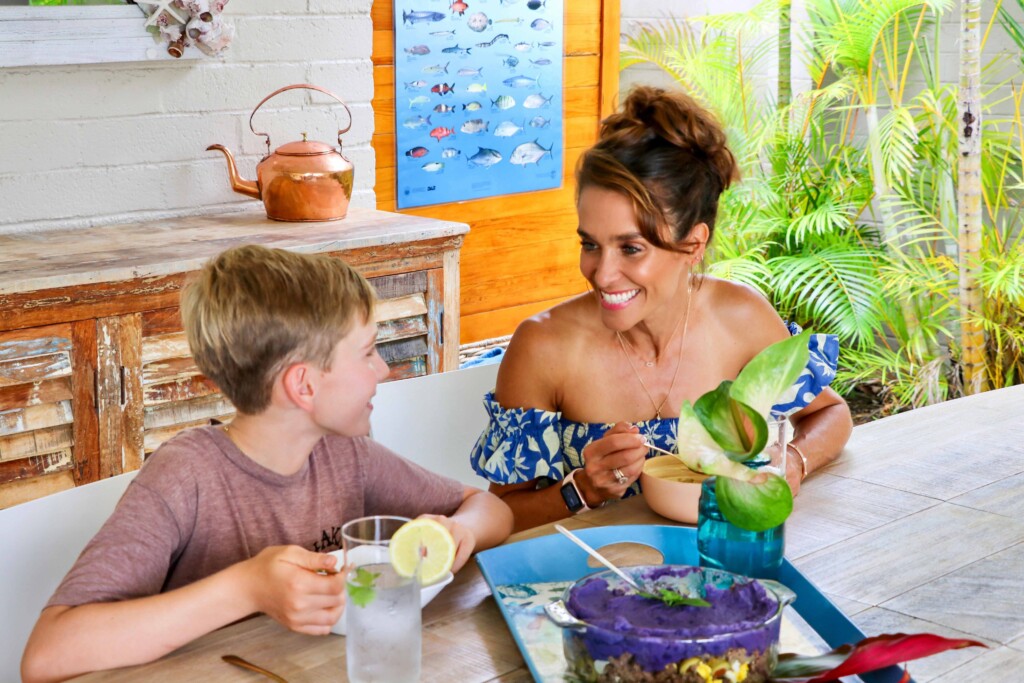 At first, Candes Gentry was taken aback when her son, Poet, refused a hot fudge sundae as a treat. "Why would we eat that?" he asked. "I thought you said empty calories aren't good for you?"
Her first reaction was to wave away his reservations. "I grew up eating fast food occasionally, and I survived," she told him. "Actually, I flourished as a competitive athlete."
But Poet kept asking deeper questions—What are nutrients? Where does our food come from? What's fertilizer? Why don't we compost?—and it became clear this wasn't just a typical 8-year-old being inquisitive. Gentry says she realized that celebrating Poet's bravery in questioning their choices required her to address the concerns driving his questions.
That effort led to a cookbook, "Eat Pono," which they co-authored as a pandemic project, packed with nutritious recipes—many of which are easy for kids to make themselves, like Poet's favorite, overnight oats, and an entire section dedicated to smoothies.
Published in 2021, the book is a manifesto that can be summed up as, "Source locally. Eat nutritiously. Live sustainably." It's also a testament to the power of children to inspire change in their families and communities.
"I feel like we're putting so much on our children," Gentry says. "There's this eco-anxiety kids are facing right now, a world that's sort of broken, but they don't really know or feel like there's much in their power that they can control. Poet inspired us to say, well, we can try to live more sustainably at home. That's within our power."
Further inspiration came from Poet's father, Steve Shropshire, a fourth-generation farmer passionate about understanding where our food comes from and promoting love for the land. Rooted in her family's legacy of community service, Gentry established the Eat Pono Fund at Hawai'i Community Foundation (HCF), to benefit community projects aligned with its mission: providing hands-on opportunities for children to learn to make healthy choices for themselves and their planet.
Starting with kids is a more efficient approach to instilling sustainable behaviors, Gentry theorizes. "It's almost like there's an internal sustainability that needs to be there first, that leads to an external sustainability in the outer world. Kids are going to be one step ahead of adults, who have to backpedal from learned behaviors that are unhealthy for themselves, unhealthy for the planet. But kids are more pliable and flexible. They're moving forward."
She also says it's more effective to support organizations already doing good work. That's why she is working with HCF to determine which organizations the Eat Pono Fund will partner with and support. "I am so inspired by how many capable, incredibly passionate, selfless humans there are working on these issues already."
Learning from her son's experience, Gentry says she wants to build a future in which children are empowered to ask questions, make choices, and take actions that benefit themselves and their planet. "When we give children the confidence to have a voice, that's when they can make a difference," she says.
To learn more about how Hawai'i Community Foundation can help you reach your philanthropic goals, visit hawaiicommunityfoundation.org/donors or call (808) 566-5560.