Ethereum Classic (ETC) has rallied successfully on short term bullish revival in the market. The price is now retesting a strong trend line resistance that it is unlikely to break. This is because the price has rallied too far too fast and now lacks the strength to break past it. This is likely to result in a rejection which will then push ETC/USD back towards the bottom of the ascending channel. Ethereum Classic (ETC) is a recovering blockchain project with promising prospects long term. However, it has a history of lagging behind when the rest of the market rallies. That being said, it continues to be one of the top cryptocurrencies in terms of daily trading volume. This means that there is still a long term interest in this cryptocurrency. Ethereum Classic (ETC) (original Ethereum chain) was left to die first when most of the developers switched to the newly forked Ethereum (ETH) and later when ETC Dev announced its shutdown.
Even when all odds were against it, Ethereum Classic (ETC) managed not only to survive but thrive. The blockchain had made a lot of progress even though the price has failed to reflect that. ETC Labs has managed to turn things around and save the project from being disbanded. There are a lot of interesting milestones Ethereum Classic (ETC) teams have set out for themselves but we have yet to see anything extraordinary. The cryptocurrency has become more competitive than ever and people keep on looking for the next hot technology to back. Ethereum Classic (ETC) could have benefitted immensely off its IOT Compatibility milestone back in November, 2018 but it was delayed which left a lot of ETC enthusiasts disappointed. That being said, the Ethereum Classic (ETC) community is one of the most loyal as it holds morals and principles above all else.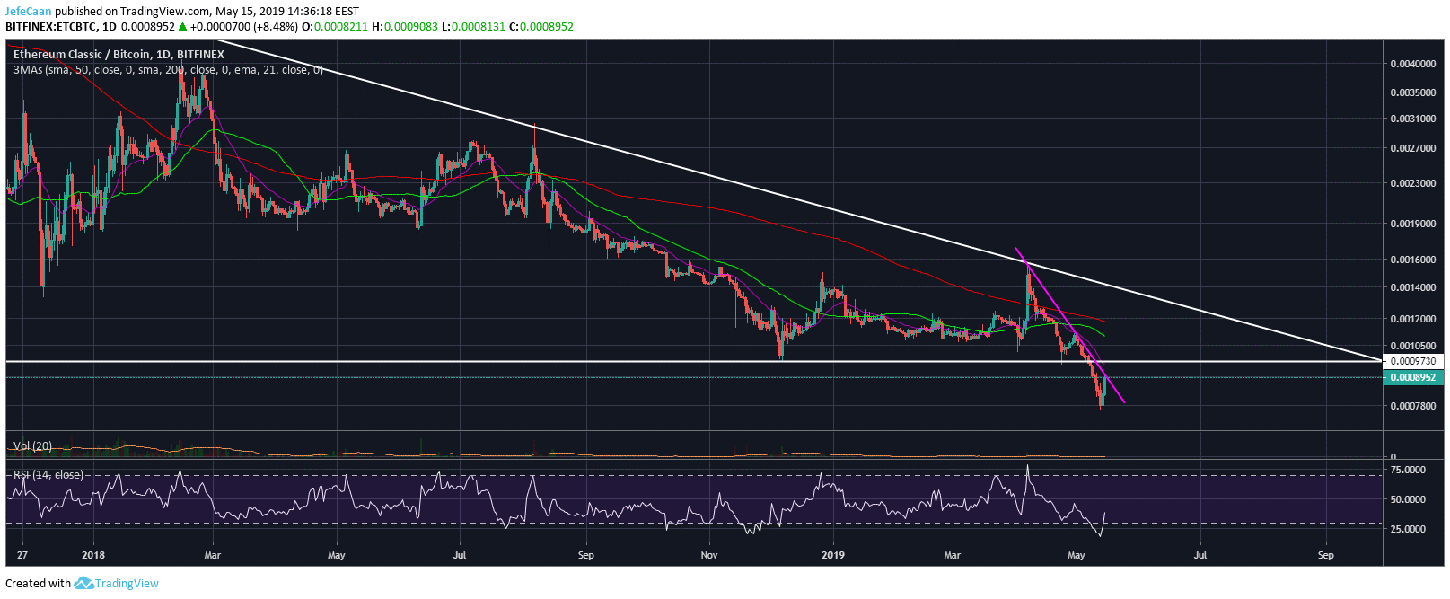 Ethereum Classic (ETC) rallied hard against Bitcoin (BTC) today rising more than 8% but as the daily chart shows, ETC/BTC is now up against a strong trend line resistance. The price is very unlikely to break past this resistance despite the current bullish euphoria. This is because the price has rallied too far too fast and the rally has not been a result of genuine buying interest returning to the market. In fact, it was fueled by a series of pumps that led to some desperate buying. When the dust settles, most cryptocurrency investors are going to realize how bearish this whole development has really been.
Pumps like these are always followed by dumps. We don't even have to look at any other market to see that. This market has plenty of cases of that. They could have let the price rise organically on its own no matter how long it took, but that was not the intent. The intent was to shake out the bears with a strong pump to the upside and to shake out the bulls with a strong move to the downside (yet to happen). This shakeout of both sides is a perfect example of how retail traders get shaken out on both sides as the whales grab their coins. This is how the market inflicts maximum pain and this is what has to happen before the next cycle begins.