Bitcoin dominance has been on a steady rise much to the disappointment of Ethereum (ETH) and other altcoins as this invalidates the bullish case. A lot of people were expecting Bitcoin Dominance (BTC.D) to start its downtrend from 70% but that did not happen and now it is above the 200 Week EMA. All of a sudden the bulls are not talking about it because it does not suit their agenda. Bitcoin dominance would not be rising in this manner if we were in a bull market. The fact that it is rising tells us that the market is primed for further downside and Bitcoin (BTC) as always would be holding its ground better compared to Ethereum (ETH) and other altcoins.
Bitcoin (BTC) has seen a bear market before but this is the first time in the history of Ethereum (ETH) that it is not seeing just a correction but a long bear market. This bear market is far from over yet and I see ETH/USD declining below $80 before it comes to an end. A lot of bulls may disagree with that but I want to emphasize that this is only a conservative target. If I were to be more bearish I would expect the price to fall to decline below $50. In the worst case scenario for Ethereum (ETH), it could decline to a single digit price. I have no doubt that it could happen and Ethereum (ETH) like other altcoins would be seriously battered and the bulls would experience maximum pain.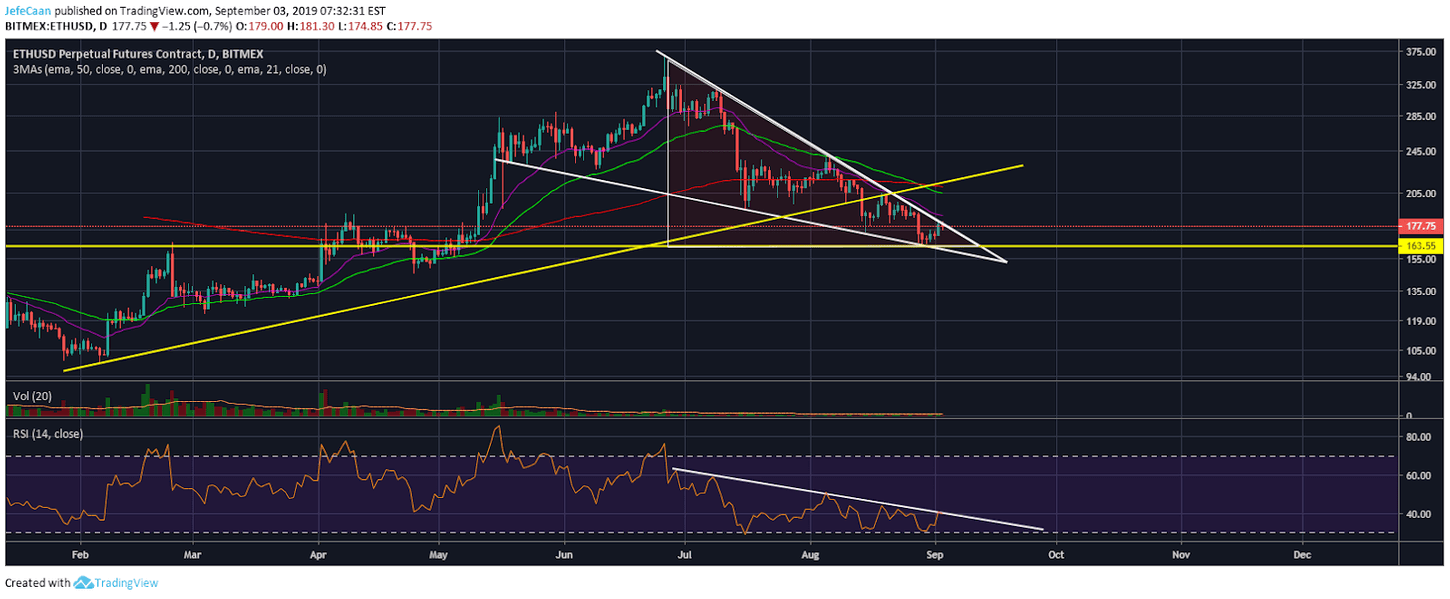 Ethereum (ETH) is on the verge of a major decline from current levels. The descending triangle that we see on the daily chart for ETH/USD does not look so promising now and the price seems to be in no position to break above it. In fact, the most likely scenario is that we might see it consolidate further within the descending triangle before it declines further. This would be very devastating for the price and we might see the beginning of a brutal downtrend from here. 

The price is currently in a sharp downtrend and unless it breaks above the falling wedge to form a higher high and a higher low, nothing has changed. It is as bearish as it was since the beginning of the downtrend but now it risks further downside because the market has topped out. RSI on the daily time frame points to further downside from here. The price is very likely to begin its downtrend before the end of September. I would not be surprised if it breaks below $100 in its next move to the downside. Eventually, I see ETH/USD declining much lower with a strong probability of finding a bottom below $80 towards the end of this bear market.