Ethereum (ETH) has faced a strong rejection at the 22,169 satoshis resistance against Bitcoin (BTC) but this week's close is going to be important to determine which way it is going to head next. Before we get into that, let us look at what it means to be bullish or bearish at this point. If we look at the weekly chart for ETH/BTC, we can see a large descending channel that the price has been trading in. So, if we look at the recent pump, it is just a small pump to the upside on the big picture. The overall bearish setup that the pair is trading in still remains intact. Nothing has changed on that front and ETH/BTC has now been stopped by a strong resistance which means that it is very likely to fall back into the descending channel. 

From a risk/reward standpoint, if you are bullish on ETH/BTC at this point, you are betting on two things. First of all, you are betting on the price breaking past this strong resistance. Second, you are expecting the pair to rally towards the top of the descending channel again without declining to the bottom first. Expecting all that when the price is this oversold on smaller time frames is not worth the risk. Furthermore, if it starts to decline from here, the move to the downside would be far too aggressive for most traders to protect against losses. In addition to all of that, the price has faced a strong rejection at the 21 week EMA. This is very significant and if the price closes below it, we could see a strong downtrend follow next week.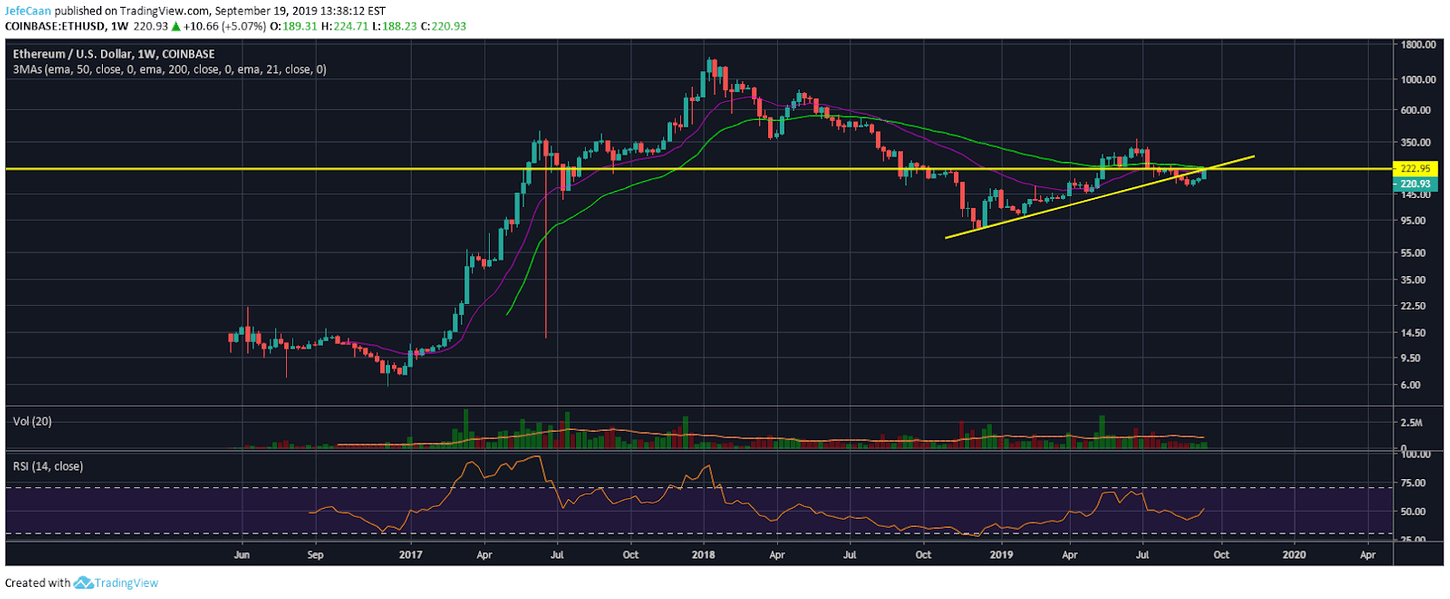 Let us now take a look at the ETH/USD chart to further assess why being long on Ethereum (ETH) is not worth the risk/reward at this point. As we can see on the weekly chart, the price has run into a confluence of resistance zones. Not only would it have to break past the strong resistance level of 222.95 that served as resistance just before the November 2018 crash, it will also have to break past the trend line support turned resistance as well as the 50 Week EMA. Considering that ETH/USD is heavily overbought at the moment and breaking out from here would only mean beginning a new bullish cycle, the probability of Ethereum (ETH) beginning a downtrend from this point forward is much higher compared to the probability of it rising. 
If Ethereum (ETH) declines from current levels as we expect it to, then it would most likely decline below $80 by the end of the year. I see ETH/USD finding a bottom between $50 and $60. I wouldn't discount the possibility of it falling much lower than that as the weekly chart indicates that there is a lot of room for further downside from here. There is no lack of catalysts that could bring Ethereum (ETH) down. I expect most of the useless ICO projects to go belly up or experience maximum pain in the months ahead and it could seriously hurt Ethereum (ETH) through potential regulatory action, disputes, controversial settlements and such.