Ethereum (ETH) bears get too excited all of a sudden as ETHUSDShorts jumps more than 7% a day. This was a consequence of ETHUSDShorts closing above the 50 day moving average yesterday. The number of margined shorts against ETH/USD is now expected to continue to rise towards the 200 day moving average. However, considering that Bitcoin (BTC) has already started to rally, we might see ETH/USD follow suit just like most other cryptocurrencies have. This would make it the wrong time to be going short on ETH/USD. Ethereum (ETH) shorts are still quite low compared to that of Bitcoin (BTC) but we are seeing a similar pattern here as the bears are beginning to get too confident too soon. This does not end well for retail traders and the whales often end up chasing them out of their positions.
In the past few weeks, Ethereum (ETH) has lagged behind Bitcoin (BTC). That trend seems to have changed as Ethereum (ETH) is up more than 2% against Bitcoin (BTC) today. Most altcoins are up even higher and it seems that Ethereum (ETH) as well as other altcoins could rally while Bitcoin (BTC) struggles to rally towards $5,800. Traders should be very careful not to open untimely short positions especially when a mini run in altcoins can be expected in the days and weeks ahead. Ethereum (ETH) is unlikely to break past its previously broken market structure but it could test it again along with Bitcoin (BTC). This would put the bears at a serious disadvantage as the whales could trigger a buying frenzy after some organized stop hunting. It is important to be right about the direction but it is more important to be right about the timing.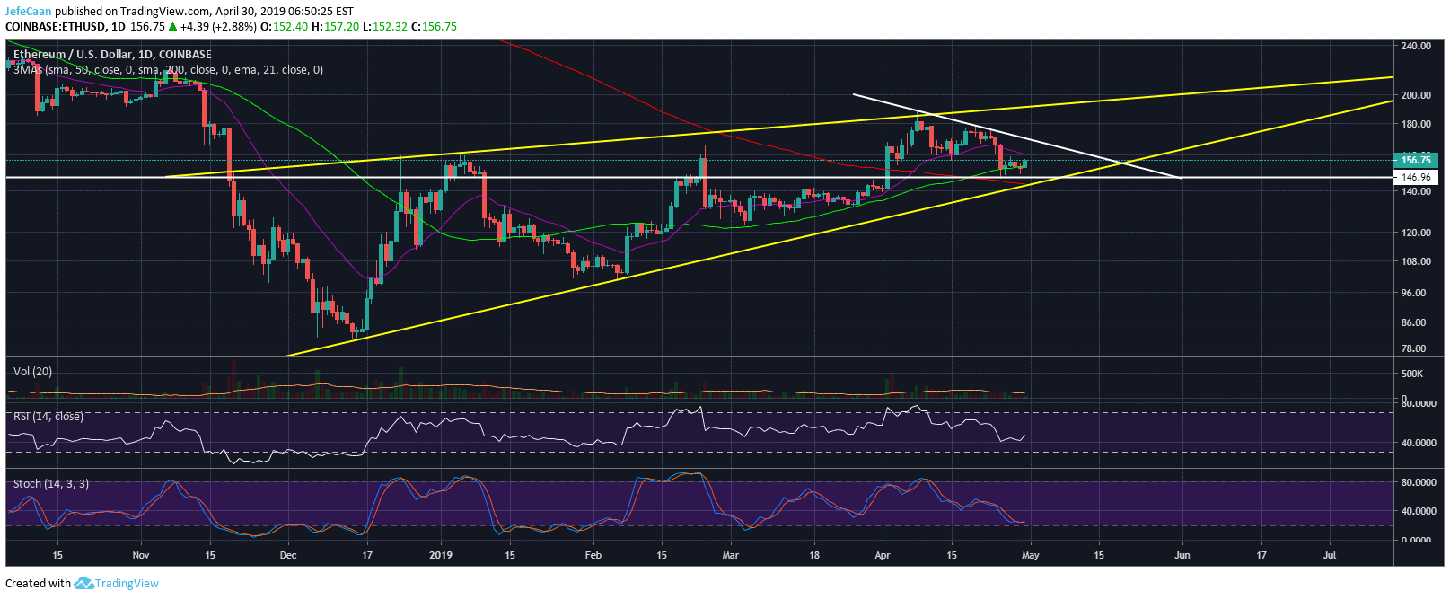 Traders that are going short on ETH/USD at this point seem to be right about neither the direction nor the timing. The price is clearly going up and is likely to test the trend line resistance. It is already trading above the 50 day moving average and is up almost 3% for the day. It is also possible that the price could break this trend line resistance and shoot towards the top of the rising wedge if some of these short positions get liquidated. Both the RSI and the stochastic indicators favor such a move which is why it would be unreasonable to take a big short position against Ethereum (ETH) at this point. 
Even traders who were able to enter short positions in the $180s might want to reconsider as the price could end up testing those levels. The daily chart for ETH/USD shows the price trading in a descending triangle which breaks to the downside most of the time. However, the market is very likely to punish overly aggressive bears before that happens. We could see a fake out that leads to ETH/USD breaking above the descending triangle to touch the rising wedge before it falls back into the triangle and ultimately breaks below it.