Ethereum (ETH) has made some big moves recently that have panicked the majority of retail bears. They have good reason to be panicked because a lot of bears were wiped out the past 24 hours when the price just kept on surging in a parabolic manner. This was surprising for most as traders expected a break below the descending triangle. However, that did not happen and instead we saw a sharp rally to the upside that triggered a massive stop hunt. So far, the bearish sentiment has been battered hard and it is unlikely for the majority of retail bears to start shorting the market again anytime soon. However, for the disciplined traders with no regard for emotions, we make a case that the big picture still remains intact.

To analyze that thoroughly, we will have to look at the daily chart for ETH/USD. The trend line we have sketched on this chart goes back to December, 2018. The reason we have sketched this line is because it makes it simple to make a decision here. Either you are bullish or you are bearish. If you are bullish, then you expect a break to the upside from here which would see the price rallying towards a new yearly high because it would be in the clear to do that once it breaks past the trend line resistance. However, if you are bearish, then you expect the price to decline further after facing rejection at the trend line resistance. There is another approach and that is to do nothing and wait and see how it plays out. In my opinion, this is the best approach for traders with not enough experience in financial markets. You may not make as much gains but this would be a very prudent decision.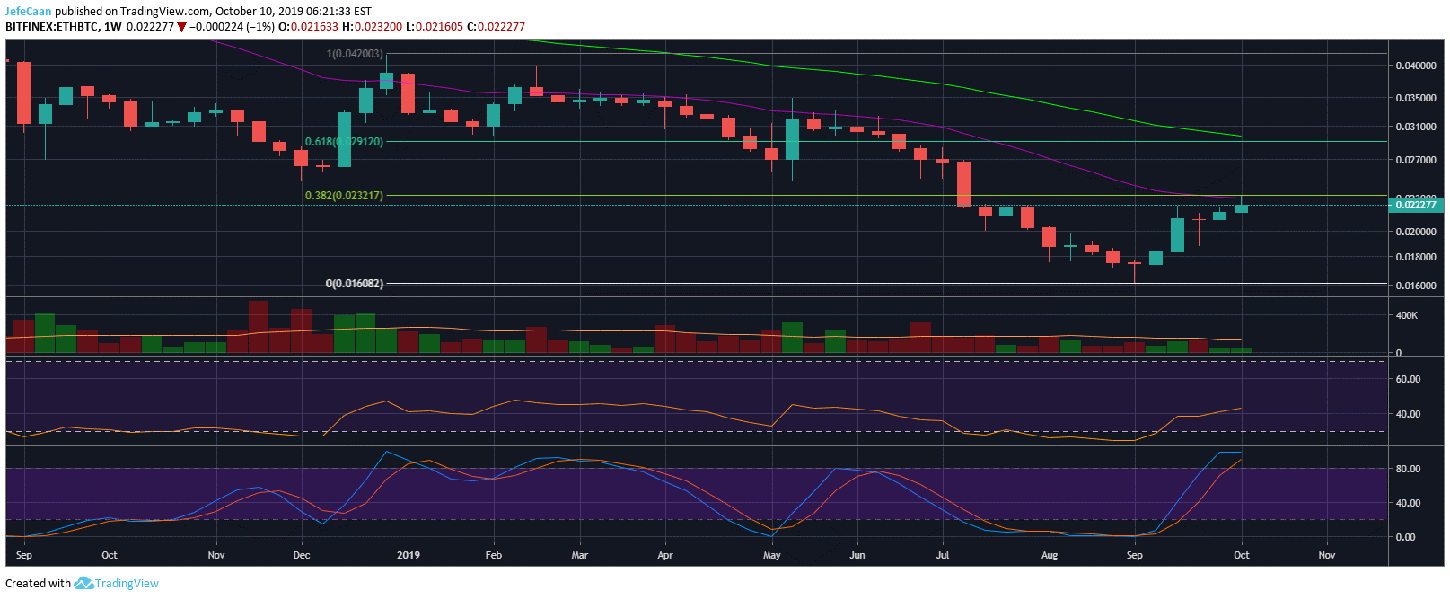 The weekly chart for ETH/BTC tells us that Ethereum (ETH)'s bullish spree against Bitcoin (BTC) might be about to come to an end. The pair has just faced a strong rejection at the 38.2% fib retracement level as well as the 21 Week EMA. Meanwhile, the Stochastic RSI is preparing for a bearish crossover. All of these developments do not bode well for Ethereum (ETH). In a bear market for Ethereum (ETH) to lose ground against Bitcoin (BTC) means the overall market entering a downtrend where altcoins lose more than Bitcoin (BTC).
Ethereum (ETH) has been on a parabolic run up for the most part since the beginning of the year. We have yet to see a correction of some sort which is why in light of the overall market developments investors need to be even more cautious being bullish on cryptocurrencies like Ethereum (ETH) at this point. It may be a wonderful blockchain with a lot of use cases but it is important to separate the tech from the price. I think we are very close to the beginning of a sharp downtrend in the market and when that happens, cryptocurrencies like Ethereum (ETH) will be hit the hardest.