Ethereum (ETH) bulls have failed to capitalize on what could have been a very bullish opportunity. The price broke out of a large falling wedge but instead of shooting up it started to show signs of weakness. This was to be expected as the Stochastic RSI has reached extremely overbought levels and is now signaling a decline in the price. Even if we don't see a sharp decline in ETH/USD, we may still see a small decline followed by sideways movement before any upside could follow. Investors are very fearful to enter Ethereum (ETH) longs on margin which should be an opportunity for contrarians. However, at the same time, caution is advised because things could change very quickly if Bitcoin (BTC) nosedives towards low $7,000s.

It is pertinent to note that Ethereum (ETH) like other altcoins dances to the tunes of Bitcoin (BTC). Some people don't like to see Ethereum (ETH) as an altcoin because of it being the second largest coin by market cap but technically it is an altcoin or an alternative coin to Bitcoin (BTC). It is not immune to the effects of Bitcoin (BTC) whether positive or negative and as such it relies on Bitcoin (BTC) for direction most of the time. While this falling wedge was a bullish opportunity to capitalize on, we need to realize that BTC/USD is still struggling to break past the 200 day EMA which means that until that happens; the outlook of the whole market in general remains bleak. Ethereum (ETH) is no exception to that which is why I don't see anything bullish to happen until BTC/USD breaks past the key 200 day EMA resistance.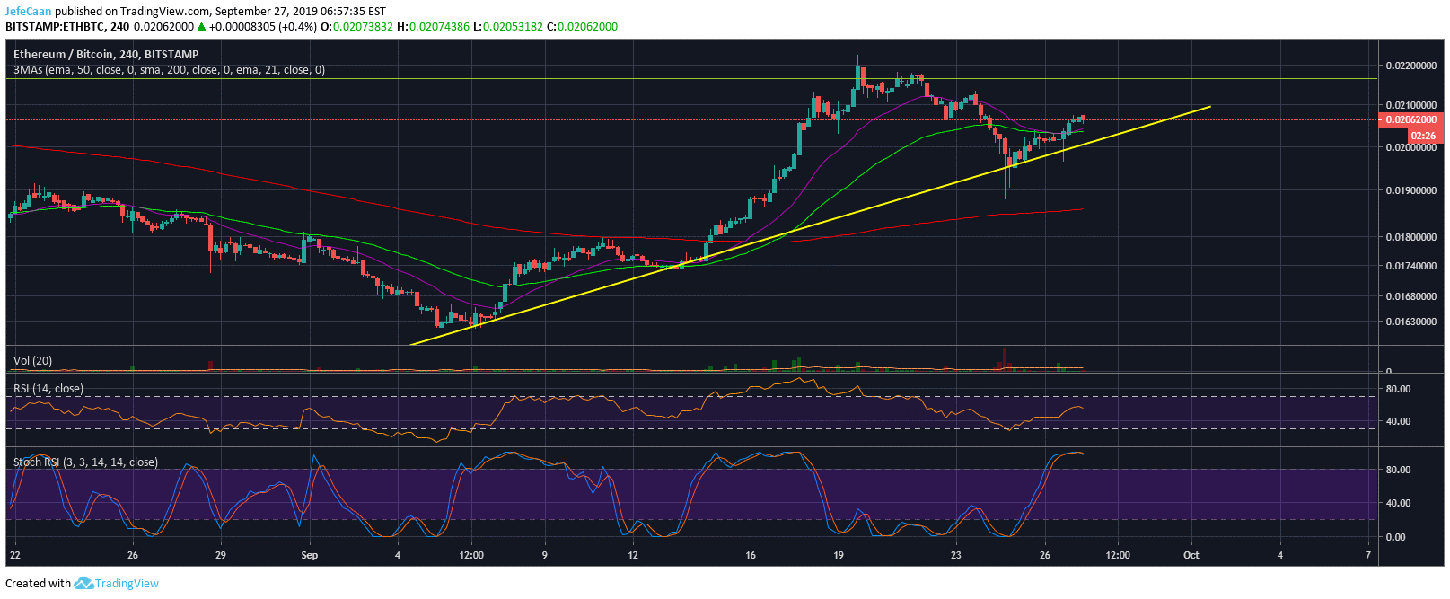 Ethereum (ETH) rallied hard against Bitcoin (BTC) this month. We have yet to see it break below the key trend line support that it has used as a launching pad for fresh gains. However, we have seen a slowdown and the fact that ETH/BTC did not rally much after the 21 EMA crossed over the 50 EMA is alarming. That coupled with an overbought Stochastic RSI tells us that a trend change could be around the corner and it would not be surprising to see ETH/BTC break trend line support.
It is still riskier to be long on altcoins compared to Bitcoin (BTC) even though it seems a lot more tempting. The potential gains in altcoins if we do see a Bitcoin (BTC) rally towards $9,323 are expected to be much higher. However there is another possibility to consider and that is Bitcoin (BTC) rising towards $9,323 while altcoins lag behind. The reason for that would be investors converting their altcoins to Bitcoin (BTC) so they can convert it to fiat. This is something that has happened in the past so we need to take it into consideration. However, on the bullish side for Ethereum (ETH) there is also the possibility that Ethereum (ETH) might take longer than Bitcoin (BTC) to top out as it did during the last market cycle.