Ethereum (ETH) bulls lost control of the price when it declined below $175 and kept on declining all the way till $165. The price is now attempting to retest the previously broken support levels as resistance but it lacks the strength to push through now that it is close to breaking out of the descending triangle. The 4H chart for ETH/USD shows that the price has faced a strong rejection at the trend line support turned resistance. The most probable scenario will be for the price to continue its descent from here towards the bottom of the descending triangle. It would not be surprising to see the price break below this triangle during the upcoming attempt. 

This decline would then see the price plunging below $150 and eventually finding temporary support at the 61.8% fib extension level from the beginning of the parabolic rally to its top. This coincides with a price target of $144. Even though the price has declined significantly in the past 48 hours, it is important to realize that we are very close to seeing it break out of the descending triangle which means it could decline a lot more aggressively from here. There is an old saying in financial markets that the bull goes the steps but the bear goes out the window meaning that it takes more time for money to get into the market but less time for money to get out of the market. We have already seen that in the manner in which ETH/USD has been declining recently.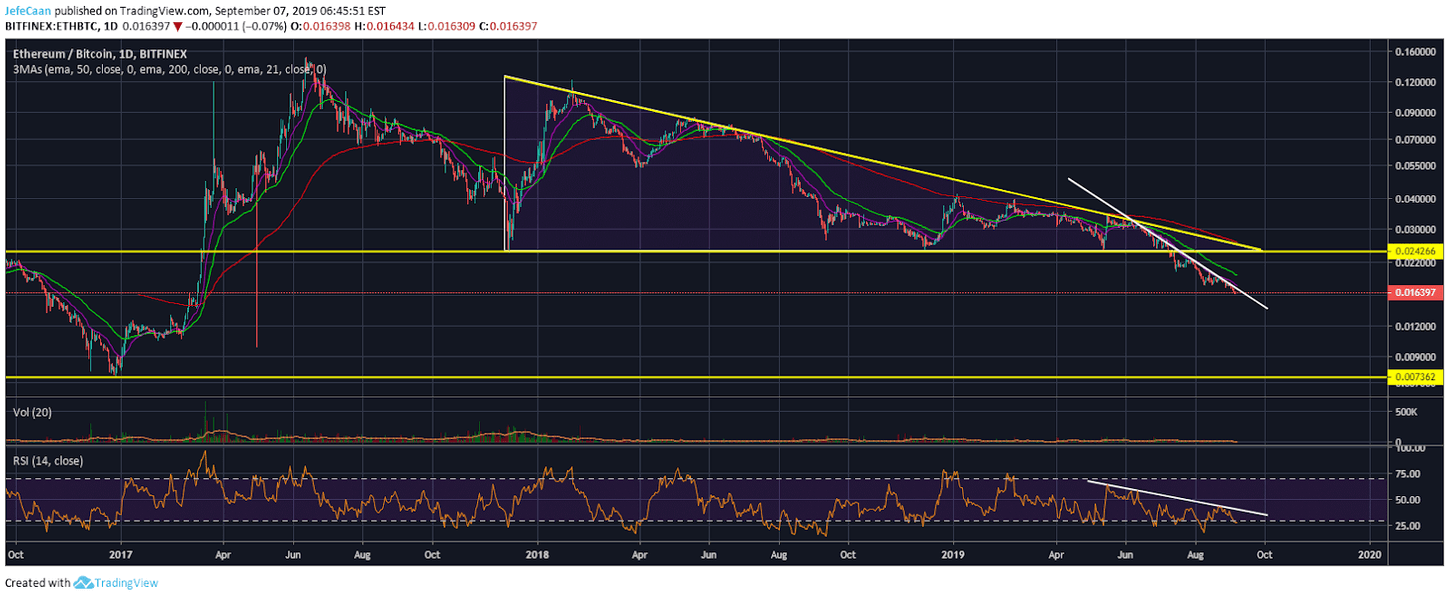 The daily chart for ETH/BTC shows that the downtrend keeps getting steeper and the next big move to the downside could make it even steeper. Ever since ETH/BTC broke market structure, we have been talking about a decline to the 2017 lows. There is a strong probability that this time ETH/BTC may even make new lows. Confidence in altcoins like Ethereum (ETH) keeps on declining. That does not mean that altcoins don't have a future but it does mean that they might have a different future. Until recently, people have been investing in all sorts of new coins without any regard for their use case or long term outlook. 
However, recently a growing percentage of investors have become very careful about the kind of projects they invest in. As we see the market decline further and most altcoin projects go down, more investors will be careful in the future. The end result of all of this is that the hype factor will eventually die down and cryptocurrencies will be valued on their individual strengths and weaknesses. In that case, it is hard to see how Ethereum (ETH) could retain its position as the second largest coin by market cap during the next bullish cycle. The previous altcoin cycle was about ICOs but it is very likely that the next one might be about STOs or other useful models that actually give investors equity in the company.