Ethereum (ETH) is very likely to see further bullishness if it ends up rallying past the trend line support turned resistance that it recently faced a strong rejection off. This line is what stands between ETH/USD and its next rally towards the 38.2% fib retracement level from the yearly high. I have no reason to be so bullish to say the price will test the 38.2% again but I do believe that Ethereum (ETH) is in a much better position to rally compared to Bitcoin (BTC) if it rallies past this trend line. RSI and Stochastic RSI on the daily time frame for ETH/USD support such a move. The most likely scenario is that we might see some sideways movement before another retest of the trend line. The more the price tests this trend line, the higher the chances of it breaking past it.

Ethereum (ETH) like other altcoins has one of the most devastating crashes in a long time. This was a surprise for a lot of people that were expecting altcoin season or a rally to the moon in cryptocurrencies. We have been warning against all that and in our previous analyses on Ethereum (ETH) and Bitcoin (BTC) we made it clear that a crash in this market was an eventuality and it was a matter of when and not if that is going to happen. The question a lot of you are interested in is, "What happens after this?" Well, based on recent developments it is very reasonable to say that the bears have finally won and. That being said, the bulls are not going to go without a fight and I do expect some temporary bullishness to follow.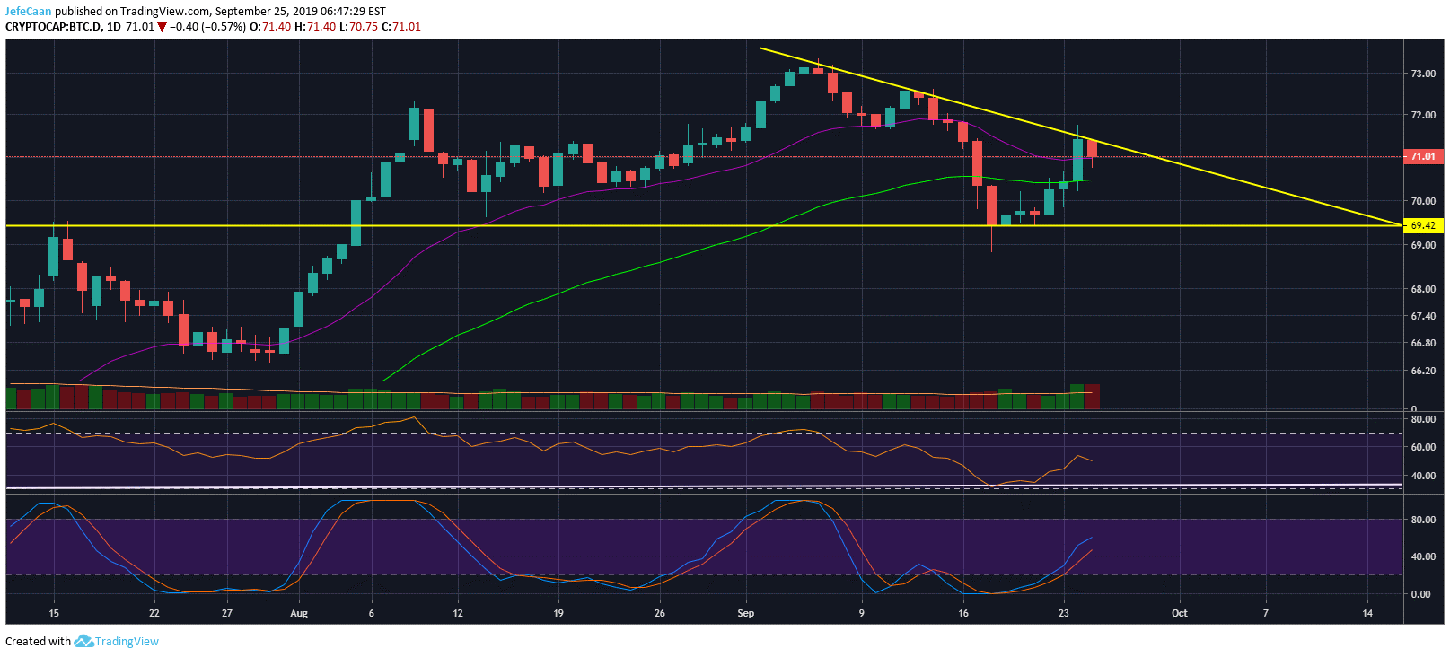 The daily chart for Bitcoin Dominance (BTC.D) shows us how that could happen. If it declines below the 21 day EMA and closes below it then we might be primed for a short term altcoin rally that would see coins like Ethereum (ETH) gaining aggressively against Bitcoin (BTC). The descending triangle that we see on the dominance chart for Bitcoin (BTC) has to be invalidated for us to conclude that there is no hope of an altcoin rally. If Bitcoin Dominance (BTC.D) closes below the descending triangle and declines to the bottom of the descending triangle then it would be extremely bullish for altcoins. That would also increase the possibility of altcoins rallying even towards new yearly highs.
It does seem far-fetched at the moment but if Bitcoin dominance (BTC.D) breaks below the descending triangle then that is exactly what we would be expecting. If we go back to December, 2017, we can see that Bitcoin (BTC) topped out first but Ethereum (ETH) and other altcoins took much longer to reach an all-time high and to top out after that. So, that is something to keep in mind if the altcoin situation plays out like last time. Barring all of that, I see no reason to be bullish on Ethereum (ETH) or other altcoins. In fact, altcoins remain a riskier play than Bitcoin (BTC) until that happens.