Ethereum (ETH) held its ground against a major potential decline yesterday and instead shot up towards the 50 day EMA. We are not going to speculate on how real or unreal that move was but we will talk about what that means for the price near term. If we take a look at the daily chart for ETH/USD, we see that the price has faced a strong rejection at the 50 day EMA today but at the same time it has not broken below the 21 day EMA. In fact, the 21 day EMA seems to be a strong support now and if the price closes the day above it, then I would expect it to begin its rally towards the top of the symmetrical triangle to test the $200 mark and rise even higher than that.

There are many reasons why I think the price could rally past $200 short term. As bearish as the price seemed recently before yesterday's move, I was not fully convinced that the downtrend had started and I talked about this in my analyses on Ethereum (ETH). The RSI on the daily chart has run into a strong resistance but the Stochastic RSI tells us that this downtrend could soon be broken if the price closes the day above the 21 day EMA and begins the next day in green. I think there are many stops just close to the $200 mark that the market makers would love to run. Doing that, we might see Ethereum Dominance (ETH.D) finally test the 200 day EMA. The same goes for the ETH/BTC chart on the daily time frame.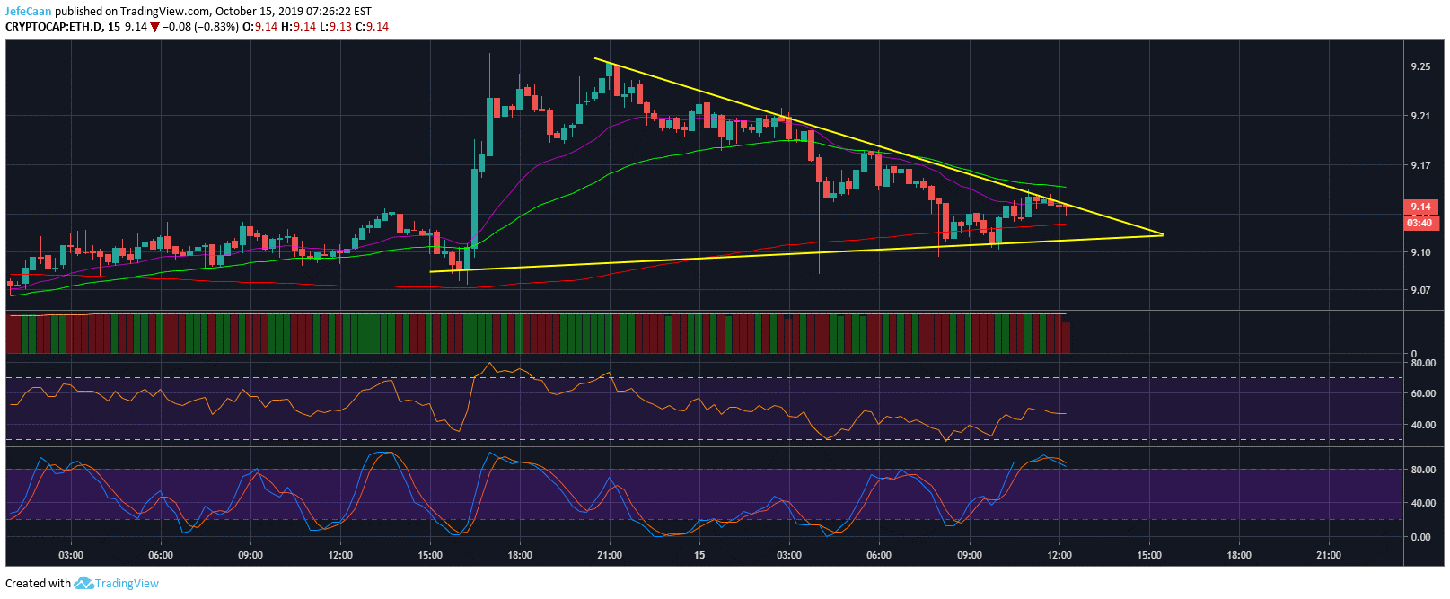 The 15 min chart for Ethereum dominance (ETH.D) shows us that dominance has found temporary support atop the 61.8% fib retracement level. If we see this pennant on the 15 min chart break to the upside, then we are looking at another short term bullish reversal in Ethereum (ETH). I think we could see Ethereum (ETH) and other altcoins rally against Bitcoin (BTC) short term if we see a breakout to the upside in Ethereum dominance (ETH.D).
Ethereum (ETH) has a very bearish outlook long term and lest we get distracted by short term noise and confusion in the market, we needn't forget that the big picture remains intact and Ethereum (ETH) is on the verge of a major decline. However, before that decline kicks in, we will see the bears experience more pain and the bulls would talk about an altcoin season once more. I think things are lining up to paint that picture and this is why traders that are bearish on Ethereum (ETH) need to be very careful short term as I think a move to $200 from here is not only possible but also very probable.