Ethereum (ETH) is primed for a massive decline against Bitcoin (BTC). It has yet to fall towards the next fib circle which means that we might see a next wave of downside similar to what we saw in August if not more devastating. The daily chart for ETH/BTC shows that Ethereum (ETH)'s downtrend against Bitcoin (BTC) remains intact. As long as it remains below the 21 day EMA, we can expect further downside to follow in an aggressive manner. The next few weeks are expected to be brutal for Ethereum (ETH) as it will lose most of its gains not just against Bitcoin (BTC) but also against the US Dollar (USD).

The problem with the current form of the cryptocurrency market is when cryptocurrencies like Ethereum (ETH) fall, most altcoins fall with it regardless of how good or bad they are. Similarly during periods of an uptrend, most coins rally with the market regardless of their fundamentals or technicals. As the cryptocurrency market matures, this trend is likely to go away and we will see altcoins rise and fall based on their own merits and demerits. In the stock market, not all stocks do bad in times of a crisis. For instance, stocks of companies like Lockheed Martin or Raytheon do well in periods of a military crisis. Similarly, there are companies that do well in times of a recession. In other words, all stocks don't have to rise and fall with Google and Amazon.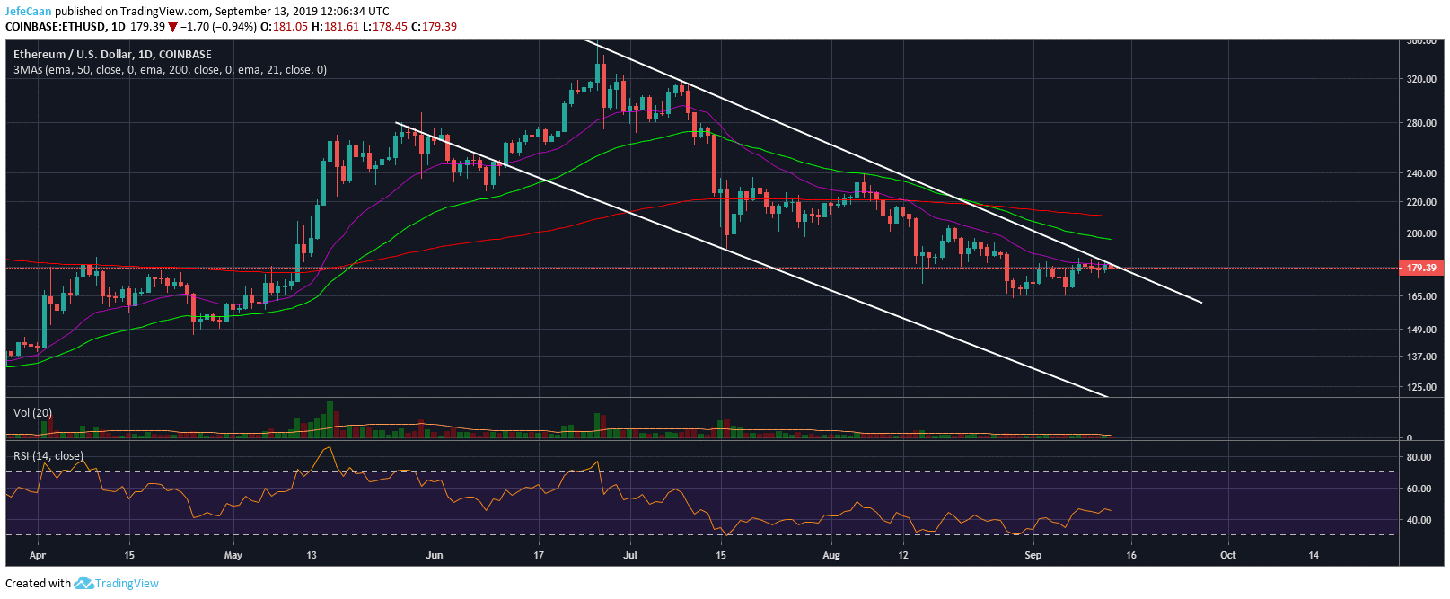 Unfortunately in the cryptocurrency space most of the coins have no real purpose. They are not even tokens that get you equity in the company that issue them. So, while they may not rise if Ethereum (ETH) or other large cryptocurrencies rally, you can be sure that they will definitely fall when Ethereum (ETH0 or other large cryptocurrencies decline. As we can see on the daily chart for ETH/USD, the price remains within a large descending channel. The next decline from here is going to be very devastating for Ethereum (ETH) but it is going to be lethal for most small cap altcoins.
Ethereum (ETH) is all set to decline towards the bottom of the descending channel. This move is very likely to come to fruition this month. It is likely to be similar in momentum to what we saw in July which is why investors need to be very cautious buying at current prices because they would be buying at a local top. The price remains below the 21 day EMA and we have not seen a bullish crossover which gives us absolutely no reason at all to be bullish but there are many reasons to be bearish. This parabolic move to the upside which was mostly a result of Tether fueled manipulation is about to come to an end and when it does it is going to inflict a lot of pain on the altcoin market. It is therefore not a good idea to be holding altcoins at this point especially those with a small market cap and weak fundamentals.