Ethereum (ETH) has failed to see organic buying interest. We haven't seen much that could make for a bullish case apart from the occasional pumps with no follow through. Some might argue that when the price moves to the upside it is easy to criticize it as manipulation but when it goes down it is real selling interest. Well, the fact of the matter is that in this market in its current state of an extreme lack of real volume, it does take some effort to move the price higher because money has to be printed out of thin air as we have seen in the form of recent Tether pumps. Every time there is a notification about Tether being printed, a lot of bulls get very excited thinking it's going to pump the price up. 
It might take some work to pump the price up but it does not take a lot of work to tank it down because then everybody panic sells. While the buying may be fake (Tether fueled or else), the selling is mostly real people selling their coins to get out of the market. This is why ETH/USD is at risk of a bigger decline despite the recent price pumps. The 4H chart shows that the price is still trading within a descending triangle and is now extremely close to a break out. The most likely scenario is that we might see a break below this triangle as the price faces a strong rejection in the form of a trend line support turned resistance as well. So, there are two trend lines that ETH/USD is struggling to break past which increases the odds of a break to the downside even more.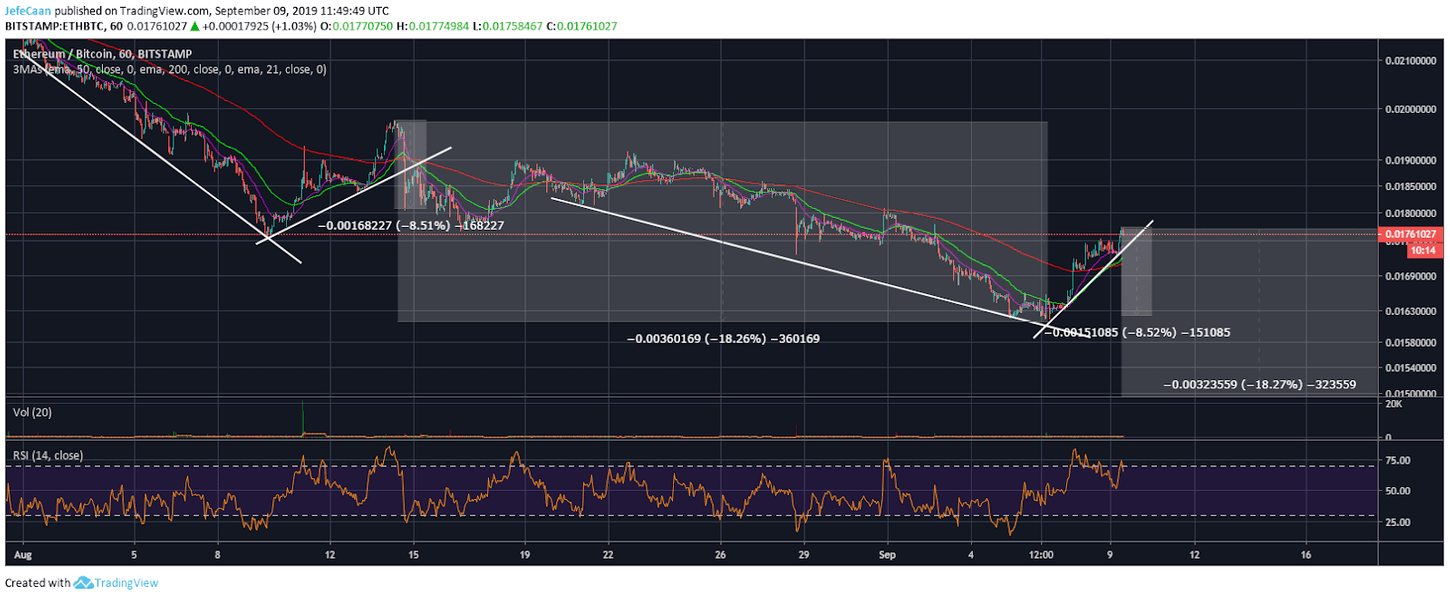 Ethereum (ETH) has once again rallied against Bitcoin (BTC) but that does not change the long term trend. In fact, if we analyze the ETH/BTC chart closely, we can see that there is a strong probability that the price might decline in a similar manner as it did when it last rallied past the 200 EMA to attempt a bullish breakout. It failed and was followed eventually by an 18% decline. If the same scenario repeats, we will see another 18% decline in Ethereum (ETH) against Bitcoin (BTC). 
It is important to note that the intensity of decline is changing for now. We are seeing ETH/BTC flatten out which points to the possibility of Ethereum (ETH) and altcoins close to bottoming out against Bitcoin (BTC) even if it is short-lived. When Bitcoin (BTC) completes its next big move below $10,000, investors could look for opportunities to accumulate altcoins short term. However, it is very important to realize that we are not out of a bear market just yet. We are not even close to an altcoin season. Any temporary relief rally in altcoin is likely to be just that and it must not be mistaken for the beginning of a new bullish cycle.