Ethereum (ETH) has declined below the 21 week EMA at last and is now struggling to defend the 200 Week EMA. If ETH/USD ends up declining below the 200 Week EMA, we are not likely to see the 61.8% fib extension level hold it again. In fact, the price could fall straight through it and decline a lot lower because this time, the uptrend that started in December, 2018 would be formally broken. If we take a look at the weekly chart, the price declined well below the 21 Week EMA last week but it ended up closing above it. The 21 Week EMA is a very critical level of support. I like to call it the acceleration EMA because if the price stays above it and bounces up quickly, we normally see the uptrend resume as the price shoots up quickly. However, if the price closes below it, we normally see a downtrend follow and the price crashes hard to mark the beginning of that downtrend.

The price is holding the 200 Week EMA quite effectively so far but things do not take long to change in this market and now that the Baakt futures launch and Justin Sun's lunch with Buffet have not had their desired effects, investors are short of reasons to think the price can go up from here. That being said, we have been closely following the price action and it appears that a lot of big traders, and not just retail traders are very keen on buying the dips. Even ETH/USD has held its ground better than Bitcoin (BTC) during the current decline which shows us that investors are still hopeful that this is just a minor correction and an opportunity to accumulate more at lower prices. Now, that seems like a good thought that one might wish to come true but ground realities are quite the opposite.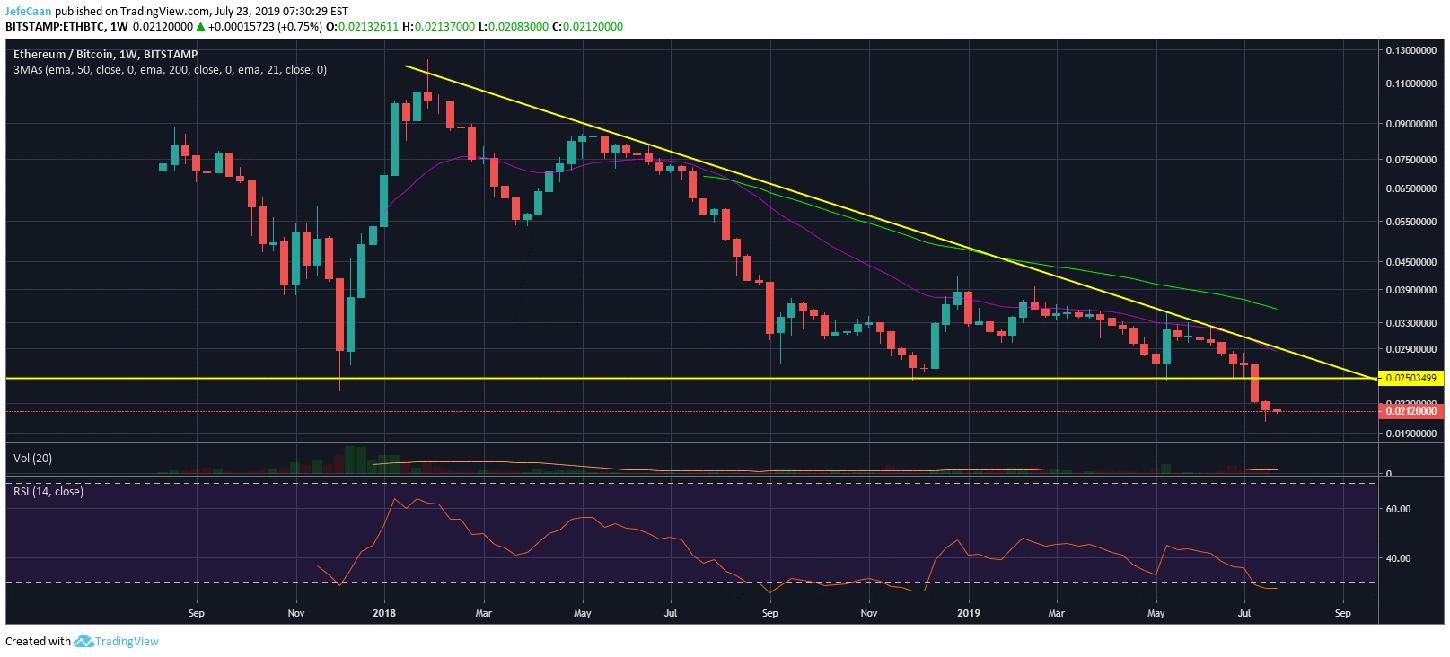 If we take a look at this chart for ETH/BTC on the weekly time frame, we can see that Ethereum (ETH) is still in a downtrend against Bitcoin (BTC) and nothing has changed. The price has not even retested the supported turned resistance again but investors are hoping that it may happen. In all fairness, I do not see it happening because the price does not have the momentum to go up against Bitcoin (BTC) at this point now that it has broken a key support level. Besides, the market makers would not want Ethereum (ETH) shorts to stack up.
If things remain the same, we are likely to see Ethereum (ETH) and the rest of the altcoins get crushed a lot harder against Bitcoin (BTC). Any hopes of a bullish reversal or an altcoin season will get completely obliterated when that happens. In our past analyses we have been constantly discussing that the market has yet to inflict maximum pain. We think this is the perfect time for that to happen and as soon as the price begins its next downtrend, we are going to see a lot of pain inflicted on the altcoin market. We expect Ethereum (ETH) to decline to a double digit price as a result of this pressure when it finds its true bottom.