Ethereum (ETH) has begun the day in red which seems to have panicked a lot of investors but let us not forget that the cryptocurrency just found a strong support atop the 50 day exponential moving average. It bounced off strongly from those levels and is now likely to rally towards the previous yearly high of $288.97. Ethereum (ETH) was just declared as a consumable currency by the SEC. This is big news for the crypto community and a sigh of relief for founders who held their ICOs on Ethereum (ETH). It also shows that a lot of people are willing to fight for this cryptocurrency to see more projects built on it in the future. All of this points to a promising outlook for Ethereum (ETH) long term. However, as investors we also need to pay close attention to the short term and medium term outlook.
The daily chart for ETH/USD shows that Ethereum (ETH) is primed for a rally towards the top of the rising wedge. This rally is likely to see the price rise above $300 and make a new yearly high. The probability of that happening is very high because so far, ETH/USD has clearly formed higher highs and higher lows. If the pattern continues, we could see a new high above $300 which will be followed by a pullback to the bottom of the rising wedge. Coming to the medium term outlook, the higher the price moves within this rising wedge, the easier it becomes to break below it. Once ETH/USD breaks below this rising wedge, we are going to see it decline sharply to a double digit price. Eventually, we expect the price to end up around $60 or lower before it finds its true bottom. That is the medium term outlook and it cannot be ignored regardless of how bullish the price might be short term.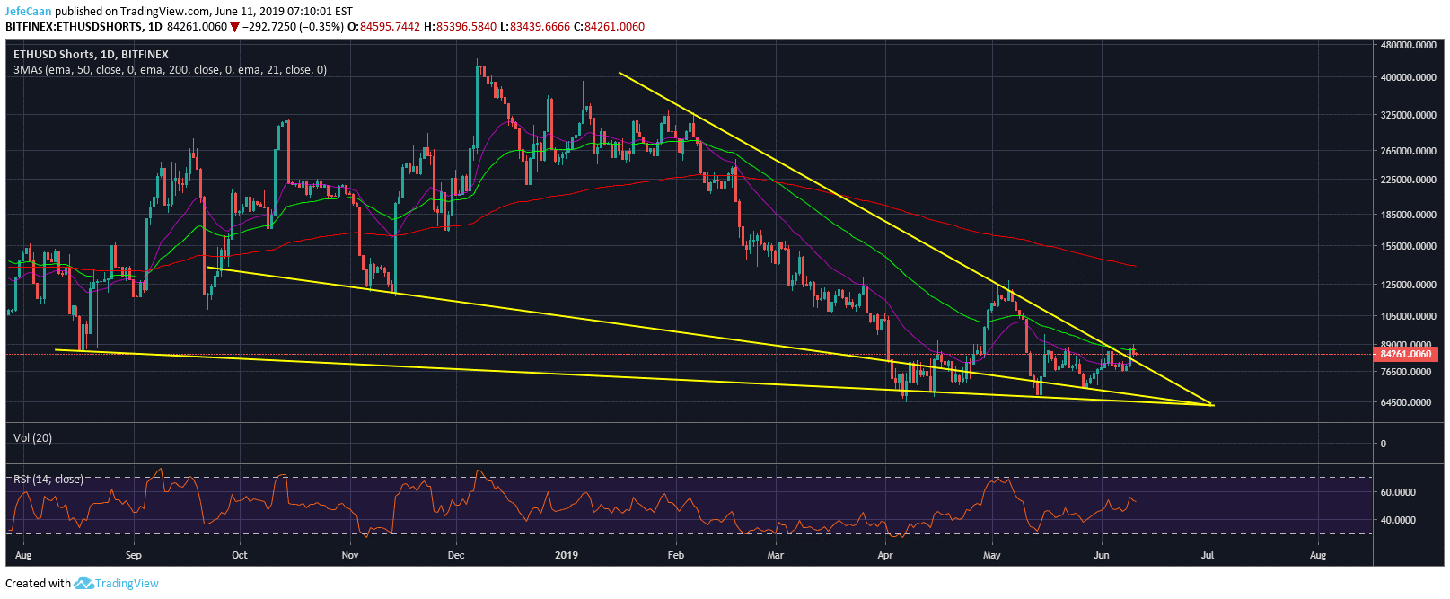 The daily chart for ETHUSDShorts shows that the bears are ready to fight for control but it might not happen so fast. As we can see, ETHUSDShorts broke past the trend line resistance but it immediately ran into the 50 day EMA. Since then, it has continued lower and the most likely scenario would be that ETHUSDShorts will continue to fall further along the trend line resistance turned support. This will give the bulls more time to finish what they started before the bears take over.

A lot of retail traders remain very bullish on Ethereum (ETH) compared to Bitcoin (BTC) for some reason. Perhaps, this is because most of them expect an altcoin rally. However, the reality on ground is that Ethereum (ETH) remains highly overbought against Bitcoin (BTC) and is poised for a major decline not only against the US Dollar (USD) but also against Bitcoin (BTC) in the months ahead. Even its pace of growth against Bitcoin (BTC) during the recent rallies has not been very impressive compared to other altcoins like Litecoin (LTC). Ethereum (ETH) might rally aggressively for the next few weeks but trouble looms over in the months ahead and sooner or later it will have to decline hard to find its true bottom.