Ethereum (ETH) failed to capitalize on the bullish golden cross but all hope is not lost yet as the price has found a strong support atop the 50 day moving average after the recent sell-off. Cryptocurrencies nosedived on Tether news and as always altcoins like Ethereum (ETH) were the ones that suffered the most. While we still think that ETH/USD does not have much room to go anywhere from here as it has already tested its previous market structure and faced a strong rejection, we still expect it to rally for a retest of the previous market structure once again. The technical indicators are now favorable for such a rally. The recent crash should be seen as a pullback and not a crash. The price still maintains a higher low and we can expect it trade further within the rising wedge.
The bears have been eager to short Bitcoin (BTC) the past few weeks and we have seen the number of margined shorts for BTC/USD pile up. However, we have not seen the same sentiment towards Ethereum (ETH) as the number of margined shorts for ETH/USD still remains very low. It is a bit surprising to see why that is because Bitcoin (BTC) has yet to test the levels it broke below in November, 2018 but Ethereum (ETH) has already tested those levels and already faced a strong rejection. The number of margined shorts has risen in the past few weeks but it still does not compare to what BTCUSDShorts has seen over the past few weeks. For those that missed the opportunity, this is certainly not the time to be going short on Ethereum (ETH). In fact, one might be better off looking for entries for short term longs.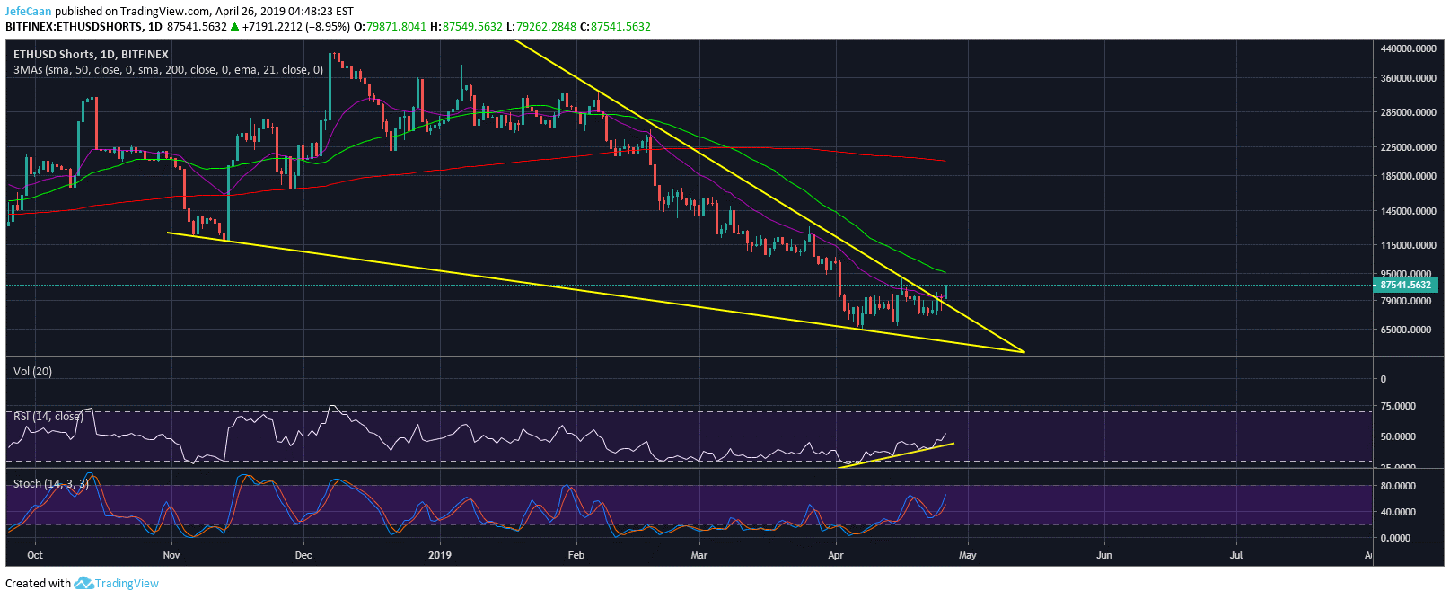 Ethereum (ETH) has seen a deadlier decline in its price the past 24 hours compared to Bitcoin (BTC) but we still don't see the shorts rising as much. In fact, ETHUSDShorts just broke out of a falling wedge today and is now expected to rally. The RSI and Stochastic indicators show that margined shorts against ETH/USD have a lot more room to go compared to that against BTC/USD. That being said, a strong move to the upside most likely triggered by Bitcoin (BTC) buying short term to convert USDT to fiat is likely to unnerve a lot of traders and the shorts could decline again.
We still maintain that Ethereum (ETH) is heavily overbought on larger time frames and is due for a sharp decline that could see it reach a price target of $60 or lower before it finds its true bottom. The technology is making a lot of progress and big corporations like Samsung are beginning to experiment with Ethereum (ETH). However, that does not mean that the price cannot go down further. When something is this lucrative, you can expect the big boys to play all sorts to games to shake out all weak hands. Those that are holding will continue to hold for more losses and those that sell to strong hands will have to be constantly on the lookout for good entries for long term.