Bitcoin (BTC) dominance falls and all of a sudden we see life pumped into the altcoin market again. This time, the altcoin dominance has fallen so much that there is a lot of room for further upside from here. Ethereum (ETH), hailed as the mother of altcoins is going to be the coin to watch for movements in the altcoin market. If we take a look at the 15 min chart for ETH/USD, we can see that Ethereum (ETH) is on the verge of breaking past a key ascending triangle. This breakout will lead to breaching a key resistance level and the price will be in the clear to rally towards $250 and eventually higher in the days and weeks ahead. 
For the past few weeks, the market has been very hard on Ethereum (ETH) and other altcoins. A lot of traders lost hope in altcoins and traded their coins for Bitcoin (BTC) which further accelerated the fall of altcoins. All of this has now hit rock bottom as the sentiment regarding altcoin is recovering from its lows. Altcoin dominance is beginning to rise and the next few days and potentially the weeks leading to the end of the month could be very helpful for the altcoin market. With Litecoin (LTC)'s halvening in August, we are likely to see the altcoin hype peak up any time now. This hype could send most coins to new yearly highs. It still remains a possibility and the probability of that happening is higher in the case of altcoins compared to Bitcoin (BTC) because altcoins have already declined brutally against Bitcoin (BTC).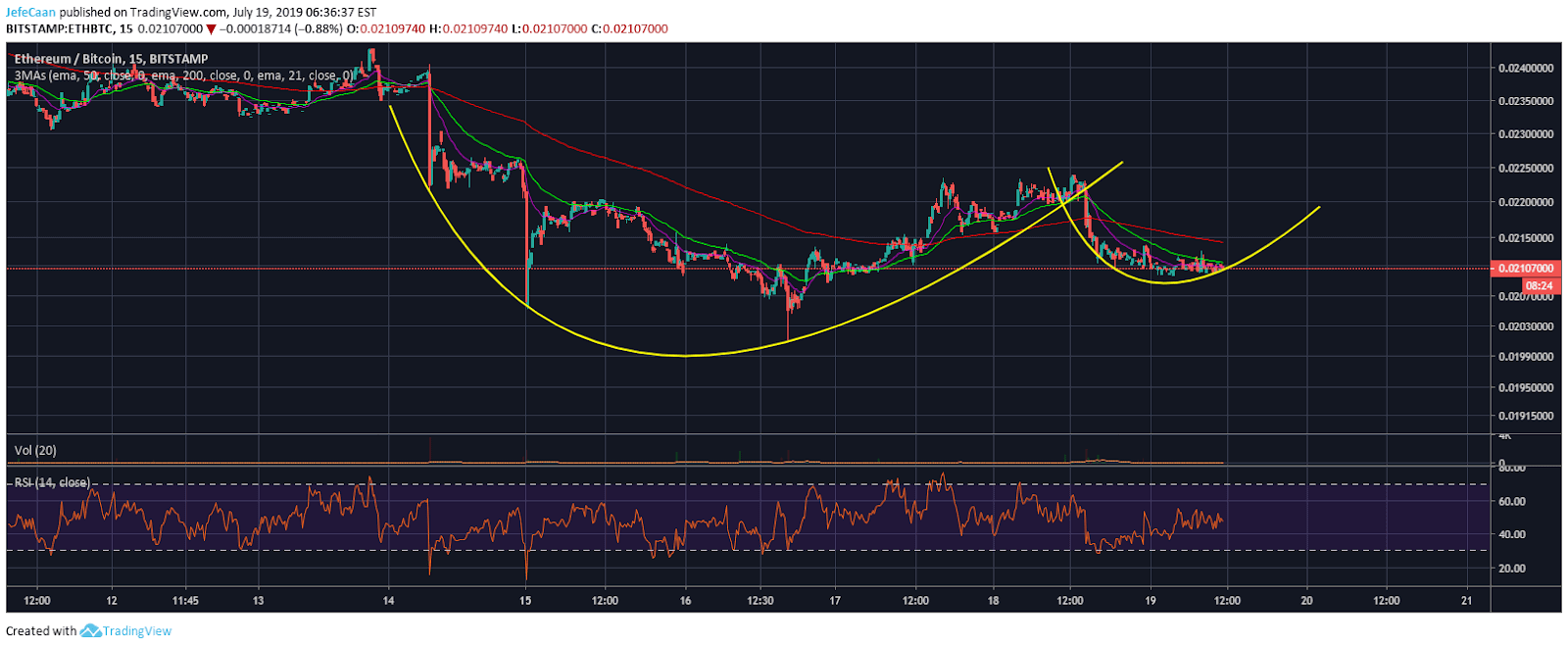 The argument was and still remains that during a period of downtrend, if the market is crashing, a lot of investors are going to want to hold Bitcoin (BTC) instead of altcoins. This is why we always see altcoins crashing harder than Bitcoin (BTC). However, for those that would rather stay in altcoins, Ethereum (ETH) might be a safer bet given that it is a well-established coin with a lot more adoption that many of the other cryptocurrencies. It could get seriously battered during a downtrend, but it is still likely to remain above water. 

If we take a look at the 15 min chart for ETH/BTC, we can see a cup and handle in the making. This has historically been a sign of a strong bullish breakout in financial markets. If this pattern comes to fruition, we might see Ethereum (ETH) shoot up against Bitcoin (BTC) as early as next week. This uptrend is likely to continue till early August. However, when Litecoin (LTC) tops out before its upcoming halvening in August, just as it did the last time, we are likely to see it drag the rest of the market down with it. When that happens, it would be a lot easier to get out of Ethereum (ETH) than mid cap or small cap cryptocurrencies because of its high liquidity and availability on most exchanges.